Welcome to the official web site of the Cape Cod Baseball League
and the 2017 Cape League season.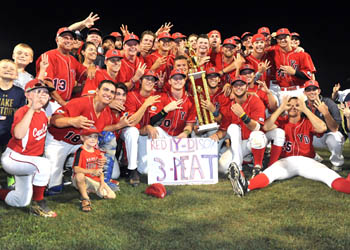 The 2016 Y-D Red Sox repeat back to back to back Cape Cod Baseball League Championship titles.
photo by SportsPix
The premier amateur baseball league in the nation since 1885, the Cape League embarks this June on one of its most exciting slates to date, featuring a 44-game regular-season schedule and an action-packed postseason made up of best-of-three quarterfinal, semifinal and championship series. Among the highlights will be the 2017 Cape League All-Star game on Saturday, July 22 at Spillane Field, home of the Wareham Gatemen.

Join us for Opening Day ceremonies, as the Cape League schedule opens with five games on Wednesday, June 14, 2017.

Exciting changes and additions also await Cape League fans on the league's official web site. The web site, which is entering its 14th season of offering free, daily updated statistics to fans and media alike, had more than 875,000 visits last season.

The web site offers printable game schedules, an expanded archives section, including access to more than 265,000 high-quality photographs from the 2000-16 seasons by SportsPix, team and league news and feature stories, and individual and team statistics. An analysis Cape League alumni shows 297 CCBL Alumni In the Majors 2016. One in seven MLB players played in the Cape League. In the June 2016 First-Year Player Draft, 258 CCBL alumni were drafted, with 17 CCBL alumni players chosen in the first and supplementary rounds.

To navigate around the web site, please note the links on the home page are only the beginning. Links to each of the Cape League's 10 franchise team web sites for camp and clinic information, up-to-the-hour press releases and stories, dozens of photo archive pages from seasons past and much more await those who simply can't get enough of the nation's premier college baseball circuit.

The Cape Cod Baseball League celebrates its 132nd season in 2017 and continues to provide fans with competitive baseball entertainment in which the country's top college players display multidimensional skills in their purest form.

After being populated mostly by GIs returning from World War I in 1919 and WW II in the late 1940s, the CCBL continued to be populated by a combination of local and regional college players until 1963, when it became officially sanctioned by the NCAA.

Following a decade (1974-84) of using aluminum bats, the Cape League became the first collegiate summer league to use wooden bats in 1985 and became even more popular with major league scouts and college players and coaches.

With more than 1,100 all time alumni performing at all levels of professional baseball, in 2016 a record total 297 former Cape Leaguers populate major league rosters, including New York Yankees center fielder Jacoby Ellsbury (Falmouth 2004), former Cy Young Award winner Tim Lincecum (Harwich '05), slugging first baseman Mark Texeira (Orleans '99), AL Manager of the Year Eric Wedge (Yarmouth-Dennis '88), AL Comeback Player of the Year Carlos Pena (Harwich '96 / Wareham '97) former Cy Young Award winner Barry Zito (Wareham '97 & '98), former AL batting champion Nomar Garciaparra (Orleans '93), former NL Fireman of the Year Billy Wagner (Brewster '92) and New York Yankees manager Joe Girardi (Cotuit '84).

The list of Cape League all time alumni in MLB totals more than 1100 names, including those of Baseball Hall of Famer Harold "Pie" Traynor (Falmouth '19), former New York Yankee greats Red Rolfe (Orleans '30) and Thurman Munson (Chatham '67) and former AL MVP Frank Thomas (Orleans '88), major league managers Bobby Valentine (Yarmouth '67) and Buck Showalter (Hyannis '76), Cy Young Award winners Steve Stone (Chatham '68) and Mike Flanagan (Falmouth '72), Firemen of the Year Wayne Granger (Sagamore '62) and Jeff Reardon (Cotuit '74-76), major league scout Lennie Merullo (Barnstable '35), slugging first baseman Jeff Bagwell (Chatham '87-'88) and Craig Biggio (Y-D '86), the only former Cape Leaguer to amass more than 3,000 hits in the major leagues.

The Cape League is recognized as the best amateur summer leagues in the country by college coaches and professional baseball scouts. Players from across the USA and representing all college divisions are recruited to play in the 10-team loop.

Seeing your favorite team is never a problem. Teams are located in Bourne, Brewster, Chatham, Cotuit, Falmouth, Harwich, Hyannis, Orleans, Wareham and Yarmouth-Dennis. The Cape League relies on these communities for their support.

From housing and jobs for the players, to volunteer work within the league itself, the league could not enjoy its growing success without a total team effort. The hard work by each franchise pays off, as the ultimate reward is to see the stars of tomorrow take the field on Cape Cod today.