Alumni Transactions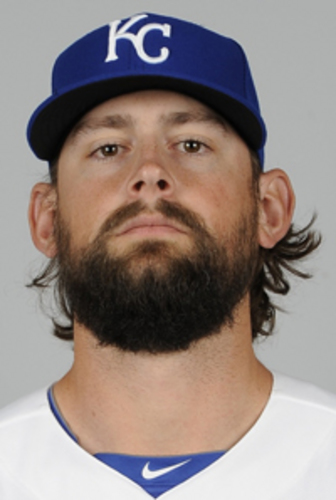 If the Kansas City Royals are to contend in the American League Central Division this season, they will have to do it without former Cotuit closer Luke Hochevar.
"I feel terrible," the right-handed reliever said Friday (March 7) after deciding to undergo Tommy John surgery to reconstruct the lunar collateral ligament in his right elbow. Hochevar, a seven-season MLB – and Royals – veteran, won't play in 2014 as he rehabs from the procedure which is expected to take place within the next two weeks.
The 6-foot-4, 200-pound pitcher is no stranger to elbow issues. In 2010, he suffered a ligament tear that sidelined him for about 10 weeks, but he came back and was able to pitch with no problems until he tore it again last Monday in a Cactus League game against the Chicago White Sox.
Hochevar said he felt a pain in his elbow when he threw his next-to-last pitch against the White Sox in his spring training appearance. He told reporter Dick Kaegel of MLB.com, "It was just one pitch that grabbed me. I made another pitch and the pain was still there."
After being examined, the former University of Tennessee star was given three options: short-term rehab, long-term rehab or surgery. When the severity of the injury became clear, the first two were ruled out. "If I try to rehab it, in a nutshell I'm probably going to fail," he told Kaegel.
The Royals selected Hochevar with the first pick in the 2006 amateur draft, signing him to a guaranteed four-year major league contract worth $5.3 million. He received a $3.5 million signing bonus.
On Sept. 8, 2007, Hochevar made his major league debut against the New York Yankees.
For most of his career, Hochevar has been a good pitcher on a bad team. In 2007, the year he broke in, the Royals won just 69 games and finished fifth, 27 games out of first place. They continued to lose until last season when their 86-76 record put them in third place, seven games out, and ended a nine-year string of under-.500 futility.
Still, it has been nearly 30 years since Kansas City has made a post-season appearance. In 1985, the Royals won the World Series, beating their cross-state rivals, the St. Louis Cardinals, in seven games. Their only other World Series appearance came five years earlier when they were beaten by the Philadelphia Phillies in six games.
Hochevar's career record stands at 43-61 with a 5.10 earned run average, mostly as a member of the rotation. But last year, manager Ned Yost sent him to the bullpen, where he responded with the best year of his career. In 70 1/3 innings spread over 58 appearances, he compiled a 5-2 record and a 1.92 ERA. He walked only 17 batters (2.2 BB/9) while striking out 82 (10.2 SO/9).
A Denver native, Hochevar was raised in Fowler, Colo., where he starred on the high school baseball team coached by his dad, Brian. He was drafted by the Los Angeles Dodgers in the 39th round (1,191st overall) in 2002, but chose to enroll at the University of Tennessee, where as a freshman he was used primarily in relief, striking out 73 batters and walking 24 in 77 innings.
Manager Mike Roberts tapped him for the closer role on the 2003 Cotuit staff and Hochevar did not disappoint. The 19-year-old was 1-1 with a 1.10 ERA for the Kettleers, working 16 1/3 innings over 11 games. He issued only three walks, struck out 21 and picked up six saves. Two other members of that Cotuit staff – right-handers John Axford and Mark Worrell – also made it to the major leagues.
An injury-plagued sophomore season saw Hochevar miss eight weeks of playing time, but he recovered in time to be selected for the U.S. National Baseball Team, which took the gold medal in the FISU II World University Baseball Championships in Tainan, Chinese Taipei. Hochevar started and went seven innings to earn the victory as the U.S. won the title game against Japan 4-2. He scattered five hits, walked nobody and struck out seven.
In his junior season at Tennessee, a healthy Hochevar put it all together. He set a school record with 154 strikeouts while posting a 15-3 record and a 2.26 ERA and was named the SEC's Pitcher of the Year. He also won the Roger Clemens Award as the NCAA's Division I Pitcher of the Year.
Once again, the Dodgers selected Hochevar in the 2005 draft, this time with the 40th pick in the first round. A bizarre set of events followed as Hochevar fired his agent, Scott Boras, during the negotiations with the Dodgers and hired Matt Sosnick, who crafted a deal that would give Hochevar a $2.98 million signing bonus. However, Hochevar had second thoughts about switching agents, returning to Boras and reneging on the deal.
Amid much bitterness, the talks resumed, but over several months the two sides never came close again. To stay in shape, Hochevar pitched in an independent league, where he struck out 34 batters in 22 2/3 innings. He re-entered the draft in 2006 and was selected first overall by the Royals, who signed him two months later.
Hochevar thus became the seventh Cape League graduate to be selected with the first pick of the draft. He was the last to hold that distinction until Stanford pitcher Mark Appel (Yarmouth-Dennis, 2011) was chosen with the initial pick by the Houston Astros last June.
-ccbl-