Events and Announcements
It's Official ! Cape League All-Stars
To Play on July 23 at Fenway Park
In Boston after 22-Year Absence
"We're coming back!"

That's the rallying cry for the Cape Cod Baseball League, which will return to Fenway Park in Boston on Thursday, July 23, for the 2009 Under Armour Cape League All-Star Game, presented by the leading banks of Cape Cod -- TDBanknorth, Bank of America, Cape Cod 5 Cents Saving Bank, Cape Cod Cooperative Bank, Eastern Bank, Rockland Trust and Citizens Bank.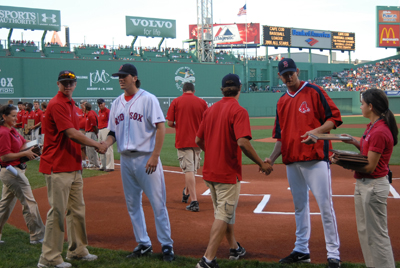 CCBL All Stars honored at Fenway Park 2006
photo by swilson / 2006
The game will start at 7:05 p.m., will be televised live by the New England Sports Network (NESN) and will be preceded by the annual Home Run Hitting Contest, colorful opening ceremonies, autograph sessions and other "fan fun" activities in the Fenway concourses.

The Red Sox officially released the news on Monday, April 13, confirming months of media speculation. The Sox announcement noted that this will be the first Cape League All-Star Game at Fenway since 1987 when an 18-year rivalry ended between the Cape League and the Atlantic Collegiate Baseball League.

That series, which began in 1970, featured games at various sites, including Fenway Park, Yankee Stadium, Shea Stadium and Philadelphia's Veterans Stadium. The Cape League was 6-0-1 in the Boston games and 13-2-1 over-all against the ACBL. Bad weather and scheduling problems resulted in no games being played in 1972 and 1978.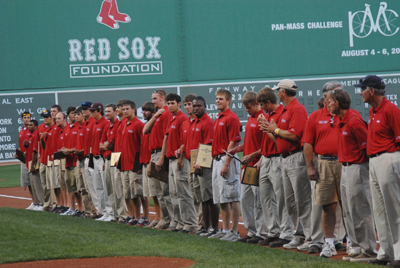 CCBL All Stars honored at Fenway Park 2006
photo by swilson / 2006
Cape League President Judy Walden Scarafile said that the league is excited to return to Fenway Park. "We're particularly pleased that the players participating in this year's contest will get a taste of what it is like to play in a major league ballpark," she said.

The Fenway contest on July 23 will match the Cape League's East Division and West Division All-Stars, a format that has been followed since 1988 when the West squeezed out a 4-3 victory at Eldredge Park in Orleans. Last year, 8,629 fans at Chatham's Veterans Park and a live NESN television audience saw the East score a dramatic 8-6 victory to extend its winning streak in the series to six straight and eight in nine years. Over-all, the East has won 11, the West nine and one game ended in a tie.

Scarafile said the return to Fenway presents a number of unique opportunities for the Cape League, its players and its fans.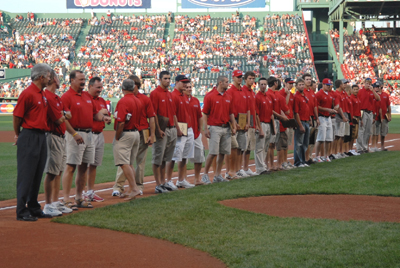 CCBL All Stars honored at Fenway Park 2006
photo by swilson / 2006
She said, "The Red Sox are working with us to allow our Home Run Contest to take place as usual. The players are going to love taking aim at the Green Monster. And the opportunity to visit and explore historic Fenway Park at an incredibly low price is great for our fans. All seats will cost just $10 and will be general admission seating. Imagine sitting in the first row, right behind home plate, for just $10!"

The Cape League president said the Red Sox and the Cape League will work together to promote this year's event in a variety of ways.

Tickets went on sale at noon on Wednesday, April 15, and may be purchased by logging on to www.redsox.com/capecod or calling 877-REDSOX-9. Fans with disabilities may call 877-REDSOX-9 to purchase accessible seating (while supplies last). The Red Sox TTY number for hearing-impaired fans is 617-226-6644. There's also a link to the Sox ticket page on the Cape League's web site, www.capecodbaseball.org.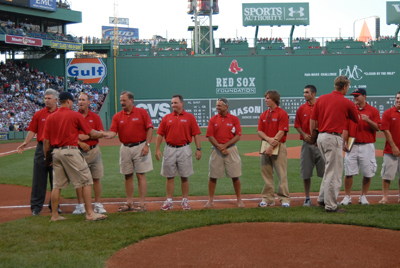 CCBL All Stars honored at Fenway Park 2006
photo by swilson / 2006
Scarafile expressed confidence that local supporters of the Cape League will want to be part of this historic return to "America's Most Beloved Ballpark" and that many fans will see the game as an inexpensive and family-friendly event at Fenway Park. The two all-star teams playing at Fenway that day will include many eventual major leaguers," she promised.

Last June's amateur entry draft underscores the validity of that view. A total of 218 Cape Leaguers were selected, including 14 of the 30 players chosen in the first round. No. 5 selection Buster Posey (Yarmouth-Dennis 2006 & 2007) received a $6.2-million signing bonus from the San Francisco Giants, the highest of any player in the draft and the most ever paid by the Giants.

More than 200 Cape League graduates played in the major leagues in 2008, including Tampa Bay's American League Rookie of the Year Evan Longoria (Chatham 2005) and National League Cy Young Award winner Tim Lincecum (Harwich 2005) of San Francisco. The 2008 World Champion Philadelphia Phillies boasted five players from the Cape League – Chase Utley (Brewster 1998 & Cotuit 1999), Pat Burrell (Hyannis 1996), Eric Bruntlett (Cotuit 1999), J.A. Happ (Harwich 2005) and Joe Blanton (Bourne 2001).

Over the years, alumni of the Cape League have captured many of baseball's other top awards, including Most Valuable Player, Gold Glove, Silver Slugger and Fireman of the Year. One of them – former Red Sox catcher Carlton Fisk (Orleans 1966) – is enshrined in the Baseball Hall of Fame in Cooperstown, N.Y.

Today's Red Sox roster includes eight players and one coach with Cape League credentials – Jason Varitek (Hyannis 1991 & 1993), Mike Lowell (Chatham 1993), Mark Kotsay (Bourne 1994), Javier Lopez (Falmouth 1997), Jason Bay (Chatham 1999), Kevin Youkilis (Bourne 2000), Jacoby Ellsbury (Falmouth 2004) and Justin Masterson (Wareham 2005), plus pitching coach John Farrell (Hyannis 1982).
Joe Sherman, CCBL Public Relations Department ([email protected])

John Garner, Jr.
Director of Public Relations & Broadcasting
(508) 790-0394
[email protected]

Joe Sherman
Web Editor & Special Projects Coordinator
(508) 775-4364
[email protected]