Events and Announcements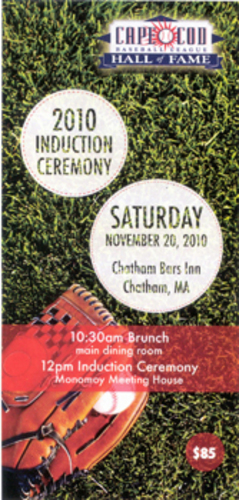 CHATHAM ----- Tickets are still available for the 11th Cape Cod Baseball League Hall of Fame Brunch and Induction Ceremony, scheduled for Saturday, Nov. 20, at the Chatham Bars Inn.

Tickets are priced at $85 each and may be purchased by mailing a check to: CCBL Hall of Fame Tickets, P.O. Box 266, Harwich Port, MA 02646. Ticket-holders will be admitted to a hearty brunch starting at 10:30 a.m., followed by the induction ceremony starting at noon.


CCBL 2010 Hall of Fame ticket.

Committee chairman Jim Higgins announced the names of the 10 men who comprise the 11th Hall of Fame class during the
league's annual First Pitch Brunch in June at the 99 Restaurant in West Yarmouth.

Three former Harwich players and two Chatham teammates head the list, which brings total membership in the Cape League Hall of Fame to 108.

Five new inductees used their time in the Cape League as a stepping stone to the major leagues, including one who is currently a bullpen ace for the Seattle Mariners. They are former Texas Rangers slugger, general manager and current broadcaster Tom Grieve (Chatham), former Boston Red Sox infielder Lou Merloni (Bourne/Cotuit), former major league record-setting closer Wayne Granger (Sagamore), Twins and Indians right-hander Jack Cressend (Cotuit) and Seattle bullpen ace David Aardsma (Falmouth).

Also slated for induction are the Harwich trio of southpaw hurler Peter Ford, pitcher-outfielder Casey Close and slugging outfielder Michael Loggins; late Chatham catcher Tom Weir, and longtime Wareham GM, field manager and player Steve Robbins.

Among the celebrities expected to be in attendance are TV baseball analysts Peter Gammons (NESN, MLBN), one of the presenters, and Bobby Valentine (ESPN), former big-league player and manager who played at Yarmouth in 1967.

The ceremony will be preceded by an updated "Welcome Back" video and will feature new video tributes to each member of the incoming class.

David Aardsma, Falmouth
The hard-throwing Rice right-hander was nearly perfect during the summer of 2002 for the Commodores, pitching in 18 games and posting a 3-0 record, seven saves, a microscopic 0.68 ERA and 45 strikeouts while allowing just five walks and seven hits in 26.2 innings. He led the Owls to the 2003 College World Series before being drafted in the first round (22nd pick) by the San Francisco Giants. The Denver native also pitched in Chicago for both the Cubs and the White Sox and in Boston, where he posted a 4-2 record in 2008 in a setup role for the Red Sox. He is currently the closer for the Seattle Mariners, for whom he posted 31 saves with a 3.44 ERA this season after a 38-save, 2.52 ERA effort in 2009. He will be presented by his Falmouth house parent and current Commodores' president, Helen Kennedy.

Casey Close, Harwich
The versatile pitcher/outfielder enjoyed outstanding summers for the Mariners in 1984 and 1985 and was selected to the All-Star team both seasons. In 1984, the University of Michigan All-America hit .329, with six home runs, 10 doubles, 36 RBI, 36 runs scored and a .529 slugging percentage and was named Baseball America's Player of the Year. The right-hander also turned in a 2-0 mark on the mound, with a 3.91 ERA. He saved some of his best games for the biggest moments, driving in the winning run at Philadelphia's Veterans Field in the All-Star game against the Atlantic Collegiate Baseball League and throwing a scoreless inning against the U.S. Olympic squad. He returned to the Cape the following summer to average .284 with 11 homers and 30 RBI, winning the Daniel J. Silva Sportsmanship Award. He is now a sports agent, with Derek Jeter and Ryan Howard among his 70 clients. Close was a presenter at last November's Hall of Fame induction honoring his friend and Harwich teammate, Joe Magrane. He will be accompanied to the Cape by his wife, Gretchen and their two children. Casey will be presented by former Harwich coach Kevin O'Brien.

Jack Cressend, Cotuit
This two-year All-Star led all Cape League pitchers in wins in 1995 and 1996 before signing with the Boston Red Sox as an undrafted free agent and embarking on a pro career that would last for 11 seasons, including five in the big leagues with Cleveland and Minnesota. As a Kettleer, the Tulane right-hander was 7-1 in 1995 with a 2.44 ERA and was named the league's Pitcher of the Year. He had even better numbers in 1996, posting a perfect 7-0 record with a 1.89 ERA. Over those two seasons, he walked 48 and struck out 117 Cape League batters and was the starting pitcher in both years' All-Star games. A two-way player as pitcher-outfielder, Cressend led Tulane to two NCAA Tournament appearances (1994, 1996) and one Conference USA Tournament title (1996). In 1997, he was named the Red Sox Minor League Pitcher of the Year after leading Class A Sarasota in wins, innings pitched, strikeouts and games started. In 2002, he was a member of the AL Central Division champion Twins, who lost to the eventual World Series champion Angels in the ALCS. Cressend's best season in the majors was at Cleveland in 2004 when he posted a 2.51 ERA in 43 innings pitched and issued nine walks. He appeared in 122 big league games, pitching 160.2 innings, striking out 104 and compiling a 5-5 record and 4.20 ERA. He had the distinction of striking out both the first and last batters he faced in pro baseball.
Jack is now an assistant baseball coach at the University of Houston. He will be presented by former Cotuit GM and house parent George Streeter.

Peter Ford, Harwich
Currently a Cape League vice president, this former Harwich High left-hander was one of the last players to be "grandfathered" by the league, allowing him to play four seasons with the Harwich town team even though his collegiate eligibility had expired. A graduate of Boston College, he pitched the Eagles to a College World Series appearance in 1967. The Harwich native's best season in the Cape League came in 1968 when he went 6-1 with a 2.13 ERA for his hometown team, fanning 70 in 76 innings. He also compiled a 6-1 record in 1966 and posted a stingy 2.61 ERA in 1967. Through his four seasons, the two-time All-Star won 18 games, posted a 3.36 ERA and struck out 209 batters in 241 innings. He was signed by the Orioles and pitched in their farm system before going into education and private business. Peter will be presented by his son, Brett Ford.

Wayne Granger, Sagamore
This pitcher/centerfielder from Springfield played for the first-place Sagamore Clouters fresh out of high school in 1962 and finished among the league leaders with a .329 batting average, a league-leading six home runs and 25 RBI in 76 at-bats. The 6-2, 165-pound Granger was 24 years old when he broke into the big leagues in 1968, with the St. Louis Cardinals. Granger enjoyed a standout professional career, especially in Cincinnati, where he broke knuckleballer Wilbur Wood's major league record with 90 appearances in 1969 while posting a 9-6 record with a 2.80 ERA and 27 saves. He had a league-leading 35 saves and a 2.66 ERA in 1970 for the NL champion Big Red Machine and saved another 19 games in 1972 for Minnesota. During his nine-year MLB career with the Cardinals, Reds, Twins, White Sox, Yankees, Astros and Expos, the lanky right-hander pitched in 451 games, posting a 35-35 record with a 3.14 ERA and 108 saves in 638.2 innings. He attended Springfield College before signing with the Cardinals. Wayne will be presented by his former Sagamore teammate, Jim Winders.

Tom Grieve, Chatham
After this Pittsfield high school baseball star was selected by Washington in the first round of the 1966 amateur entry draft, he and his parents were unhappy with the Senators' offer, so he reported to Chatham, where the Cape League season was getting underway. Grieve played in only 25 games at Chatham before reaching an agreement with Washington and embarking on his long professional career, but his performance during that brief span was enough to earn him entry into the Cape League Hall of Fame. The young outfielder batted .416 and in just 89 at-bats, collected 37 hits ( 12 for extra bases) and drove in 19 runs while scoring 23. Tom has been in baseball ever since – as a player, front office executive and television broadcaster, with most of his time spent with the franchise that originally signed him. He made his major league debut with the Senators in 1970 and remained as the franchise moved to Arlington, Texas, and was rechristened the Rangers. Playing primarily as an outfielder and designated hitter, the right-handed batter finished his 670-game MLB career with a .249 average, 65 homers and 254 RBI. Tom held various jobs in the Texas organization before being named GM in 1985. He moved into the Rangers' broadcast booth in 1995 and he has been there ever since. He will be presented by NESN and MLBN baseball analyst Peter Gammons.

Mike Loggins, Harwich
This slugging outfielder from the University of Arkansas parlayed his 1984 success with the Harwich Mariners into a professional contract, becoming the Kansas City Royals' third round pick (71st overall) in the 1985 amateur entry draft. Although Loggins never made it to the majors, he played seven seasons in the minors, including four solid seasons at the Triple-A level. Mike batted .343 with 39 RBI in 42 games at Harwich while blasting 13 home runs. The switch-hitter was chosen as the league's Outstanding Pro Prospect and was the MVP of the All-Star game at Philadelphia's Veterans Stadium between the Cape League and the Atlantic Collegiate League. He will be presented by his 1984 Harwich house parent, Joan Federici.

Lou Merloni, Bourne/Cotuit
A native of Framingham, Merloni played two seasons in the Cape League, starring at shortstop and second base for Bourne in 1991 and for Cotuit in 1992. A star at Providence College, his best season came at Cotuit when he led the league with a .321 batting average, collecting 13 doubles, two triples and 19 RBI, and compiling a .440 slugging percentage. Merloni secured the batting title by going 5-for-8 in his final two games for the Kettleers. He also earned the league's Daniel J. Silva Sportsmanship Award. He went on to play nine seasons in the major leagues, including six with the Boston Red Sox, before retiring in 2006. He currently works as a studio host and baseball analyst for WEEI radio and Comcast SportsNet New England. Lou will be presented by his former Cotuit manager, Roger Bidwell, now head coach at UConn-Avery Point.

Steve Robbins, Wareham
This longtime Wareham general manager and field manager had the misfortune to head the Wareham franchise during a period when the organization suffered from severe financial woes and lack of community interest. But it was his efforts that kept the franchise alive as he successfully lobbied for lights at Clem Spillane Field and eventually delivered a viable team to a new John Wylde-led organization, which transformed the Gatemen into one of the Cape League's premier franchises. Steve began as a player in 1937, and as field manager and GM, he brought the team into the Upper Cape League in 1946, serving as the league secretary at one time. He represented the town and team in the 1963 merger which formed the Cape League as we know it today.
Continuing as field manager and GM, he helped develop many outstanding players from the local area and was a successful recruiter while also working diligently to build a fan base. He believed that night baseball was the key to success and, after leading a failed attempt in 1957, he finally succeeded in 1964. Steve retired as Wareham GM in 1966. Robbins will be presented by one of his former Wareham players, Gerry Cunniff.
.

Tom Weir, Chatham
In 1966, this Brigham Young University star became the first player in the modern era of the Cape League to win two-thirds of the Triple Crown as he led the league in batting (.420) and RBI (35), both records for a catcher. Weir went on a record-setting binge in late July, hitting three doubles in one game on July 26 and the next day collecting two triples, also a record as were the five straight extra-base hits. Despite hitting just one home run all season, Weir's seven doubles and four triples produced a slugging percentage of .600. He went 1-for-2 and scored a run for the Lower Division in the All-Star Game and was later voted to the 1960s All-Decade team.
After his baseball career ended, Tom returned to school and became a dentist. He also served two years in the U.S. Air Force. Weir died of acute leukemia on May 3, 2007, at the University of Arizona Medical Center in Tucson at age 63, leaving his widow, Lori, two sons, three daughters and 13 grandchildren. Mrs. Weir will accept on her husband's behalf; she will be presented by Tom's brother Mike.