News
04/15/2008 9:14 AM
Article By:
Cape League Hall of Famer Red Wilson
Named Y-D's Honorary Captain for June 28
Benefit Game vs. Falmouth in Brockton
SOUTH YARMOUTH, Mass. – Merrill "Red" Wilson, a Cape Cod Baseball League Hall of Famer and a legendary coach and educator at Dennis-Yarmouth Regional High School for nearly three decades, has agreed to serve as honorary captain of the Yarmouth-Dennis Red Sox when the defending CCBL champions participate in the first "City of Champions Hall of Fame Classic" on June 28 in Brockton.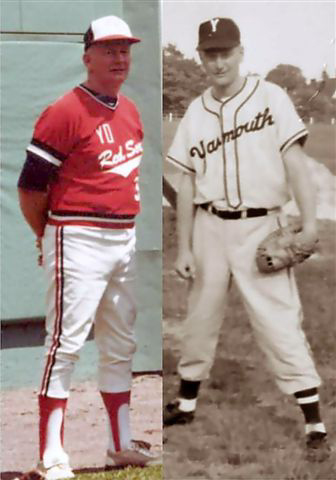 Cape Cod Baseball League Hall of Fame member Merrill "Red" Wilson is shown at left as manager of the Yarmouth-Dennis Red Sox and at right as an all-star catcher for the Yarmouth Indians. Wilson also was a highly successful baseball and basketball coach at Dennis-Yarmouth Regional High School, where the baseball diamond is named for him. He will serve as honorary captain for Y-D when the Red Sox meet the Falmouth Commodores on June 28 at Campanelli Stadium, Brockton.
Y-D's general manager, Jim Martin, made the announcement after receiving confirmation from Wilson, now a year-round resident of Bangor, Maine, that he will be in the Red Sox dugout when Y-D and the Falmouth Commodores meet in the benefit game at Campanelli Stadium.

"Red is the one and only person we considered for this unique honor," said Martin. "We are thrilled and delighted that he accepted and will be part of the Yarmouth-Dennis baseball family again when we participate in this historic game in Brockton. It is most fitting that proceeds will go to the league's Hall of Fame because Red was among those inducted as a member of the hall's first class in January 2001."

A seven-time all-star as a catcher for the Yarmouth Indians in the Lower Cape Cod League, Wilson was named league MVP in 1961 and later served as manager of the Indians and their successors, the Y-D Red Sox. It was a Cape League career that lasted from 1957 until 1986.

The now-retired coach, athletic director and school administrator was honored in 1981 when the baseball diamond at the high school in South Yarmouth was named for him. "Red Wilson Field" serves as home to the school's baseball team as well as the Cape League's Red Sox.

Twenty years later, he was inducted into the Cape League Hall of Fame. He is also a member of the Massachusetts State Baseball Coaches Hall of Fame, the Husson College Sports Hall of Fame and the State of Maine Baseball Hall of Fame.

Wilson was born in Providence, R.I., where he was a standout in baseball and an All-State hockey player at Hope High School. His athletic prowess continued at the University of Maine as he earned All-Yankee Conference honors and captained the Black Bears baseball team in his senior year. He became a teacher-coach at Lawrence High School in Fairfield, Maine, in 1952, leaving in 1955 to join the staff at D-Y, where he began a 28-year career as a teacher, administrator, and baseball and basketball coach.

In 1983, Red and his wife Florence retired to Maine, but the coaching bug bit once again and Wilson joined the staff at Husson College in Bangor, where he coached baseball and women's basketball until finally hanging up his whistle for good in 1989.

His baseball and basketball teams at D-Y were perennial championship contenders and he developed many standout student-athletes over the years, among them his son, Dana, who now lives a few miles from his parents and operates his own successful audio-visual business. Dana and his wife Marsha are the proud parents of Chris, a junior at Bates College who has already been elected 2008-2009 basketball co-captain, and Caitlyn, a senior at Brewer High School.

When then Cape League Commissioner and former player and manager Bob Stead introduced Wilson at the January 2001 CCBL Hall of Fame ceremonies in Chatham, he said his former teacher and coach "made everyone he coached feel like a champion" and concluded that "Red Wilson is the personification of what the Cape Cod Baseball League Hall of Fame is: class, dignity and excellence."
Martin said he hopes Wilson will have a chance to share some of his vast baseball knowledge with this year's young crop of Red Sox players, who will be attempting to give Yarmouth-Dennis its third straight league title and its fourth in five years. The soon-to-be octogenarian (Red turns 80 in August) will be called upon to exchange lineup cards at home plate and to participate in other pre-game activities.

Falmouth will also be naming an honorary captain for the game, Martin said, but the Commodores have not yet announced their choice.

Martin noted that the June 28 game's start has been moved back to 6 p.m. from its original 7 p.m. starting time. "We hope this will allow fans from the Cape to get home a little earlier," he said.