News
04/29/2008 9:18 AM
Article By:
for immediate release: 29 April, 2008
Attorney Tom Gay, General Manager
Of Wareham Gatemen, Receives Award
From Bar Association for Community Service
DARTMOUTH, Mass. – Attorney Thomas P. Gay, Esq., general manager of the Wareham Gatemen, was honored by the Bristol County Bar Association on April 18 when he received the Community Service Award at the association's annual dinner meeting held at the Hawthorne Country Club here.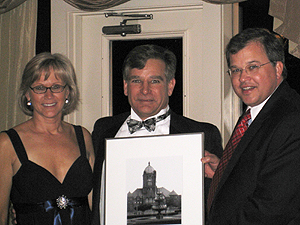 Tom Gay holding the Community Service Award with David White and wife Sheri Gay looking on.
Massachusetts Bar Association President David White introduced Gay and referred to him as "a man who leads by example," one who has made many contributions to the community and has been an active member of the bar for more than 31 years.

"Tom has worked in youth sports to expand and improve programs in Marion and Mattapoisett and the surrounding area. He founded the Friends of Marion Youth Inc., was active in Babe Ruth and has been involved with the Wareham Gatemen of the Cape Cod League for over 11 years.

"Tom, one of the best trial lawyers in Bristol County, has literally influenced the lives of hundreds of youth in this area," continued White.

As Gay was introduced to a standing ovation from the audience of 200 people, he extended his hand to Sheri, his wife of 27 years, and invited her to join him at the podium. How typical of Tom to want to share his honor! "It was through Sheri's help and dedication that I got involved in youth sports," he told the gathering. "She insisted we participate. If I am crazy about baseball, she is crazier than I am!"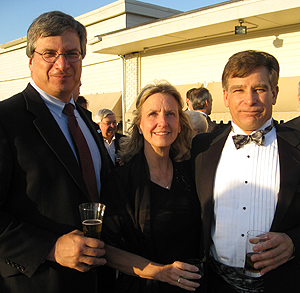 Tom Gay received congratulations from President Judy Walden Scarafile and Peter Scarafile just prior to the award ceremony.
He continued, "From the beginning, it takes a family to get things going ... especially with six boys and one girl. Through our father, we have followed by his example and at 92 he is still the boss." Tom was referring to his dad, attorney Peter Gay, who was also honored that night for 70 years of service to the Massachusetts Bar. Mr. Gay is still practicing law in the Gay family practice in Taunton.

Gay has taken over as general manager of the Wareham Gatemen this season, as longtime GM John Wylde cuts back a bit on his workload with the Gatemen and the league.

One of Gay's first duties is to spearhead the John Wylde Day game on June 13 at Spillane Field in Wareham when the Gatemen open the 2008 season against Falmouth. This will be the first time the Cape League will open with a single game. It is a special night to pay honor and tribute to Wylde, an extraordinary man and a special friend of the entire Gay family.
By Judy Scarafile