News
05/19/2008 9:20 AM
Article By:
Longtime Falmouth GM Chuck Sturtevant
To Serve as Honorary Captain for June 28
Hall of Fame Game vs. Y-D in Brockton
FALMOUTH, Mass. – Chuck Sturtevant, who retired as Falmouth's general manager after the 2006 Cape Cod Baseball League season, has been asked to return to "active duty" for one more game – and he has agreed to do just that. On June 28, he will serve as honorary captain of the Commodores for the first City of Champions Cape Cod Hall of Fame Classic at Campanelli Stadium in Brockton.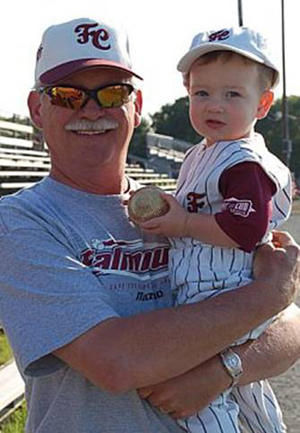 Retired Falmouth Commodores General Manager Chuck Sturtevant is shown with his latest recruit, grandson Cullen Dunn, 2-year-old son of Dan Dunn, Chuck's successor as Falmouth GM. Sturtevant has been named honorary captain of the Commodores for the City of Champions Cape Cod Hall of Fame Classic against Yarmouth-Dennis on June 28 at Campanelli Stadium in Brockton.
The popular Sturtevant, who is considered the primary architect of Falmouth's resurgence as a Cape League power, will be in the dugout with the Commodores when they meet the Yarmouth-Dennis Red Sox at the 5,000-seat minor league ballpark on the campus of Brockton High School.

"Chuck didn't hesitate before saying yes," reported Dan Dunn, his son-in-law and his successor as Falmouth GM. "He was delighted to be asked and we're all thrilled that he accepted," continued Dunn.

"Yes, I was particularly pleased to be the one who asked him to accept this honor," said Dunn, the father of 2-year-old Cullen, one of Chuck's 11 grandchildren. "I guess it's kind of an 'all-in-the-family' thing," Dunn said with a smile.

Sturtevant joins Merrill "Red" Wilson as an honorary captain for the game, proceeds from which will benefit the Cape League Hall of Fame. Wilson, a member of the Hall of Fame's Class of 2000, is now retired and living in Bangor, Maine. Selected by Yarmouth-Dennis several weeks ago, he too was quick to accept the honor.

"These are two highly respected individuals," said Dunn. "Their very presence at our game in Brockton gives it an undeniable touch of class."

Sturtevant and Wilson will present their teams' lineup cards at home plate and will participate in other pre-game activities.

Sturtevant joined the Commodore organization in 1987. His initial duties included fund-raising and selling ads for the team's yearbook. The following year, he was elected team president and two years later he was named general manager and treasurer. When he signed on, the Commodores were a financially strapped organization, relying on nine overworked volunteers to stay afloat with an operating budget of $18,000.

"Over the years, I was able to build our committee size to over 30 volunteers, which helped take some of the pressure off me," Sturtevant recalled. "During those early years, my wife Rose and my daughter Colleen sold ads and ran the concession stand – a thankless job. Meanwhile, Falmouth made great strides as a viable franchise and became very strong financially."

Today, Falmouth is a healthy and highly competitive Cape League member with an annual operating budget of approximately $200,000. Last season, the Commodores made it all the way to the championship finals before falling to Yarmouth-Dennis.

While his contributions to the franchise's financial growth cannot be overlooked, Sturtevant likes to focus on the players who have passed through Falmouth during his tenure, particularly those who have gone on to achieve success in professional baseball.

"In 1991, I signed Mark Loretta, an infielder from Northwestern," Sturtevant recalled. "He returned in 1992 and was the team's most valuable player. In 1993, I signed a young freshman outfielder from Nebraska named Darin Erstad. He had a great year, making the all-star team and being named league MVP. He performed just as well in his second season with us, 1994.

"I remember seeing him during his off time kicking 60-yard field goals at the other end of Fuller Field. He returned to Nebraska as the long field goal kicker on the football team and helped the Cornhuskers win the national championship. He was also the Commodores' MVP in 1993," Chuck said.

"Today, both my '92 and '93 MVPs are roommates on the Houston Astros," Sturtevant said with obvious pride.

Thanks in large part to his Cape League performance, Erstad became the first player selected in the 1995 amateur draft and has been a solid major leaguer since he made his debut with the Angels on June 14, 1996. Loretta was Milwaukee's seventh-round draft choice in 1993 and made his big league debut with the Brewers on Sept. 4, 1995.

One of Chuck's most satisfying Cape League moments came in 2001 when he was asked by Erstad to present him for induction into the Cape League Hall of Fame at the annual ceremonies held at the Chatham Bars Inn. "It was a distinct pleasure," Sturtevant recalled. "I'll never forget his acceptance speech when he said, 'If it wasn't for Chuck giving me the opportunity to play, I'm not sure where I would be today'."

Sturtevant maintains a close relationship with Erstad and his family to this day.

In 2004, Sturtevant was called upon to induct another former Commodore into the Cape League Hall of Fame. This time it was left-hander Eric Milton, who had pitched spectacularly for Falmouth in 1995 and 1996 and became a first-round draft choice of the Yankees. Milton made his big league debut with Minnesota on April 5, 1998, and in 1999 he pitched a no-hitter for the Twins against the Anaheim Angels, duplicating a feat he had accomplished for Falmouth just three years earlier when he came within one walk of a perfect game against Orleans. Milton's most recent big league stop was with the 2007 Cincinnati Reds.

"When you get to see these athletes grow and develop into great professional ballplayers, you cannot help but feel very pleased to know that you had a hand in that development," said Sturtevant.

The human side of his former ballplayers also impresses Sturtevant. That became obvious in 2002 when the Commodores learned that their equipment manager, Arnie Allen, had been diagnosed with incurable cancer. "I spoke with Darin and he had the Angels players, including Adam Kennedy (Falmouth 1996), sign bats and send them to Arnie, who was thrilled to be remembered by these big leaguers. Later, the league honored Arnie at the Hall of Fame with its first Lifetime Achievement Award, and at the end of the 2004 season I had the great honor of naming the diamond at Guv Fuller Field for Arnie," said Sturtevant.

Sturtevant's baseball efforts were not limited to Falmouth alone. He also served on the Cape League's Executive Committee and Board of Directors and he remains a member of its Budget Committee. The league recognized his contributions on two occasions. His 2004 Falmouth team shared the first Commissioner's Cup with Wareham, and in 2006, after he announced his retirement, he was named winner of the Richard Sullivan Executive of the Year Award.

"To have been selected by the commissioner means a great deal to me," Sturtevant said, "and winning the Executive of the Year Award is an honor that I treasure deeply because it was a selection by my peers."

For the past five years, Sturtevant has served as president and CFO for Shepley Wood Products. He lives with his wife Rose in Mashpee. "Our seven children and 11 grandchildren help keep our lives busy," he said. "Without their support and their understanding of how important my commitment to the league was, I never could have completed 20 years with the Commodores."

He continued, "When Dan called me to ask if I would be the honorary captain for the game in Brockton, I was thrilled. I may not be involved day to day any longer, but having Dan, my son-in-law, take over as GM has made me very proud. I look forward to June 28!"

The Brockton game will be hosted by the Brockton Rox of the independent Can-Am League. Rox President Jack Yunits, a former five-term Brockton mayor, has pledged to donate 100 percent of the gate receipts to the Cape League's new Hall of Fame, which will open soon at the John F. Kennedy Museum on Main Street in Hyannis, and the Rox will also pay both participating teams' travel expenses, provide a post-game meal and reimburse the "home" team, Yarmouth-Dennis, for revenue lost by moving the game site from Red Wilson Field in South Yarmouth to Brockton.

"The Rox are really rolling out the red carpet for us," said Dunn, who along with Y-D General Manager Jim Martin and other Cape League officials, checked out the stadium during a recent college doubleheader there between Duke and Boston College. "It's a great ballpark," he enthused. "There isn't a bad seat anywhere and the playing surface is first-rate. I think our players and our fans will really enjoy being part of the first official Cape Cod League game to be played there – especially with all the surprises we have planned for them."

Game time is set for 6:05 p.m. and tickets, priced at $4 for adults and $2 for children 12 and under , will be available at Falmouth and Y-D home games once the Cape League season gets under way on the weekend of June 13-15.