News
07/12/2008 10:40 AM
Article By:
12 July 2008
Three-HR Game by Mets' Dominguez
Was Eighth in Cape League History,
First Since Frank Thomas Did It in 1988
When Chris Dominguez of the Hyannis Mets tied a Cape Cod Baseball League record by slugging three home runs against Falmouth on Wednesday, July 9, it sent longtime league historian Bruce Hack scurrying to the record books. What he found was that Dominguez (Louisville) became the first player in 20 seasons and the seventh in league history to achieve the feat, which has been accomplished a total of eight times.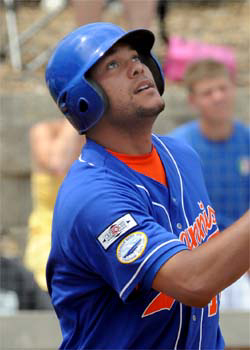 Chris Dominguez (Hyannis Mets)
SpoprtsPix / 2008
Harwich's Cory Snyder (Brigham Young), a member of the Cape League's Hall of Fame (Class of 2003), holds the distinction of being the only player to do it twice – during a three-day span in July 1983.

No player in the modern (post-1963) history of the Cape League has ever hit four home runs in a game.

Here's Hack's rundown on three-home run games in the Cape League:

CHRIS DOMINGUEZ (Louisville), Hyannis vs. Falmouth: July 9, 2008
Third baseman Dominguez joins elite company as he hits three home runs to lead the Mets to a 6-4 victory. The "Louisville Slugger" became just the second player in Cape Cod Baseball League history to go deep three times in a game with a wood bat. MLB great Frank Thomas was the first, doing so in 1988. The fifth-round draft choice of the Colorado Rockies homered in the first, sixth and eighth innings.

FRANK THOMAS (Auburn), Orleans at Wareham: July 14, 1988
Thomas, a future American League MVP and Cape Cod League Hall of Fame member (Class of 2000), hits three home runs at Wareham, tying the league record. Thomas was 4-for-4 with a walk, five RBI and five runs scored for the Cardinals.

BOB LARIMER, Chatham vs. Falmouth: July 12, 1983
Chatham's Larimer ties the league mark with three home runs against Falmouth. Larimer homered to left field in the second inning, center in the fourth and right in the seventh. He had six RBI in the A's 10-9 win.

CORY SNYDER (BYU), Harwich at Chatham: July 11, 1983
Three days after tying the league record for home runs in a game, Snyder of Harwich does it again, hitting a trio of round-trippers off three different Chatham pitchers. The last one left him tied for the season record with 16 in only his 23rd game. He ended the season with 22 homers, a CCBL record that still stands. The Mariners pounded out 28 hits and won, 22-5.

CORY SNYDER (BYU), Harwich vs. Wareham: July 8, 1983
Snyder hits three consecutive two-run homers, all off Jason Loreth, in the first, third and fifth innings. He went deep again in his fourth at-bat, but his bid for home run number four was caught at the fence. The three home runs made it four straight at-bats with a home run for Snyder, who had homered in his last at-bat on July 7. He is the only player in league history to go deep in four consecutive at-bats.

JOE OLKER, Y-D at Falmouth: July 4, 1982
Yarmouth-Dennis's Olker goes 6-for-6 with three home runs in an 18-3 win at Falmouth. Olker's holiday fireworks produced single-game league records for hits, home runs and total bases (17). He homered in the third, fourth and fifth innings, with his second blast hitting a car on Dillingham Avenue beyond the left field fence. Olker had seven RBI and personally outhit Falmouth, 6-5.

WADE ROWDEN (Stetson), Orleans vs. Wareham: June 27, 1981
Drove in four runs with homers his first three times up to lead Orleans to a 9-6 win. In his fourth at-bat, he tried to reach base with a drag bunt. "That last time up I was just trying to get on base and help the team," a modest Rowden told the Cape Cod Times.


JIM LAUER, Chatham vs. Hyannis: July 3, 1977
Chatham's Lauer becomes the first player in the modern history of the Cape League to hit three home runs in a single game, including one from each side of the plate, in the A's 12-4 win over Hyannis.

Bruce Hack (Historian) and Joe Sherman


Interns: Chris Blake, James Chandley, Ashley Crosby, Phil Garceau, Stefanie Marini, Laura Rasmussen