News
07/12/2008 10:41 AM
Article By:
12 July 2008
Kevin Nolan Right at Home Playing
For Commodores at Guv Fuller Field
FALMOUTH, Mass. – Kevin Nolan has bounced all around the Commodore infield.
Good thing it's one he's familiar with.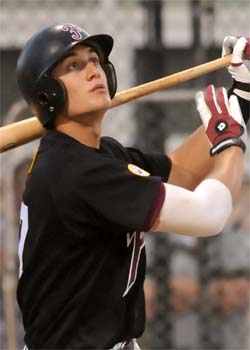 Falmouth infielder Kevin Nolan
photo by SpotrtsPix / 2008
Nolan has gazed out at the diamond since he was 7, attending Commodore games with his grandparents, who became full-time residents of Falmouth 11 years ago.

Now, an upcoming junior at Winthrop, Nolan is the one turning the 6-4-3 double play.

Now, he is the one wearing the Commodore pinstripes.

Now, he is the one fouling off balls that as a kid on a muggy July night he used to chase.

Now, he is living the dream of every kid taking in a game at Guv Fuller Field.

Jack and Lorraine Clark, Nolan's grandparents, are living the dream with him. The two jumped at the opportunity to house Nolan in Falmouth when he received the news he would be playing there for the summer.

"It is an experience just having him here," Nolan's grandfather said. "It is like being the host family and understanding what some of the host families go through. When he comes home, it is always good to talk about the good things and the bad things and what happened during the game."

Nolan began his Cape Cod Baseball League campaign with a bang, going 4-for-5 on opening day in Wareham. His final at-bat that night resulted in a solo shot to left field, the first home run of the Cape season. Three nights later, Nolan's grandmother threw out the ceremonial first pitch to her grandson at the Commodores' home opener.

"It is a great privilege to be playing here. I am very lucky to be playing here and living with my grandparents," Nolan said. "Not too many people get to do that over the summer. It is great competition and it is exciting. I grew up wanting to play here, so it is fun."

Nolan's mom, Brenda, echoes those remarks.

"It is very exciting. We want him to be happy and succeed. It has been a lot of fun to watch him have that success," she said. "When I am not able to come to the games I am able to watch it on the Internet, which is what I do when he is at school, so he knows someone is always watching. When he is at school in South Carolina we are only able to go to a couple of games, so this experience has been very exciting to know all the family can be here."

A regular shortstop at Winthrop, Nolan has showed his versatility, seeing time at short, second and third for the Commodores.

Most recently he has been anchoring the infield at the hot corner.

It is a place where Nolan can most easily glance up to the slopping, grassy hill down the right field line and catch a glimpse of his family seated at the top in fold-up lawn chairs.

"I remember sitting on top of that hill with them watching the games and being one of those little kids running after foul balls. Or being one of the kids out behind the fence playing pickle with all the kids," Nolan said. "I just remember going with my family and my grandparents when I was real young watching these games."

Nolan has been afforded the luxury of having his family at games regularly for the past two summers. And, unlike most players, has been able to live with his family during the summer season.

His hometown is Nashua, N.H., and, last summer, Nolan lived at home with his parents while playing for the Lowell All-Americans of the New England Collegiate Baseball League. The field was only 20 minutes from his house.

"The past two summers have been nice," Brenda Nolan said. "He has lived away during the school year, but has been able to live near home during the summer, so it has worked out really well."

Nolan has given not only his family, but Commodore fans something worth watching. Through Saturday, July 12, he was batting .304 with 10 RBI.

This summer in Falmouth is undoubtedly different for Nolan. Instead of watching from the stands, he watches the stands, fortunate to see his family there to cheer him on.

"It is great having them watching me play everyday," he said. "You couldn't ask for anything more."

Especially, for Kevin Nolan, with such good company in attendance.

Laura Rasmussen, CCBL Intern ([email protected])


Interns: Chris Blake, James Chandley, Ashley Crosby, Phil Garceau, Stefanie Marini, Laura Rasmussen