News
08/09/2008 1:38 PM
Article By:
9 August 2008
THIS WEEK IN THE CAPE LEAGUE
2008
JOHN J. CLAFFEY
TOP NEW ENGLAND PROSPECT AWARD
Harwich Left-hander Ryan Quigley
Named John J. Claffey Award Winner
As Outstanding New England Prospect
HARWICH, Mass. – Growing up in nearby Taunton, Ryan Quigley (Northeastern) would accompany his parents to Cape Cod Baseball League games in Chatham and Cotuit, so he knew that the Cape League attracted the best college baseball players in the country. When he was signed to pitch for the Harwich Mariners, it was an accomplishment in which he took great pride.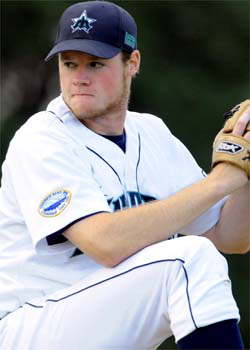 Ryan Quigley
SportsPix 2008
Now, the 6-4, 215-pound left-hander can bask in the glory of winning one of the league's major awards, the John J. Claffey Outstanding New England Prospect Award for 2008.
Quigley is the first Mariner and the first player from Northeastern to win the award in its eight-year existence.

Last year's winner was Bourne infielder Bill Perry of the University of Hartford, a very popular choice because he played his high school baseball on the Cape at Falmouth. Perry, like Quigley, was a high school baseball all-star in the Old Colony League, and both remember watching Cape League games as youngsters.

"I'd always wanted to play here since I was little. I grew up spending summers on the Cape going to Cape League games," Quigley said in an interview last month in the Northeastern News. "I always looked up to those guys. I played in New York last year and I really wanted to come here this year.

"This is the best league out there, so I wanted to see how I matched up against everyone else," Quigley told the News.

A business and finance management dual major, Quigley said he plans to stay in school and get a degree, but he would like to enter the Major League Baseball draft in the future and he sees the Cape League as a stepping stone to accomplishing that goal.

After posting a 3-6 record with a 6.31 ERA in 11 appearances for the Huskies this spring, Quigley's chances for a pro career seemed remote. But he turned things around at Harwich, finishing the regular season with a 3-1 record and a 3.67 ERA to help the Mariners qualify for the East Division playoffs against Orleans. In 34.1 innings, he gave up 28 hits while walking 22 and striking out 43 -- very respectable if not all-star figures.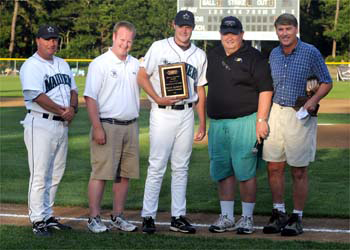 Steve Englert, John Reid, Ryan Quigley, Paul Galop and John Garner
SportsPix 2008
As a Taunton resident, Quigley could have elected to live at home and commute to the Mariners' workouts and games, but he wanted the full Cape League experience.

Players generally stay with local host families, who sometimes invite two or even three athletes into their homes for the summer. These players are treated as part of the family during the eight to 10 weeks they're there. And most of them also hold down part-time jobs to help meet their summer expenses.

Quigley, for example, worked at the Mariners-sponsored baseball clinics for youngsters.

According to the Northeastern News story, "These people … volunteer to take kids in. They really don't know who they are going to get, so it's a big thing on their part that they're letting you into their home for the summer," Quigley said. "My host family treats me like I'm one of their own. It's been a real great experience for me."

The great golf courses on the Cape may have been another attraction for. Quigley, who was a three-year member of Taunton's varsity golf team and a two-time Old Colony League All-Star in golf.

Previous Outstanding New England Prospect winners were Bourne's Perry (Hartford), 2007; Hyannis's Charlie Furbush (St. Joseph's of Maine), 2006; Falmouth's Tim Norton (Connecticut), 2005; Yarmouth-Dennis's Frank Curreri (UMass-Amherst), 2004; Chatham's Chris Lambert (Boston College), 2003; Orleans' Ryan Hanigan (Rollins), 2002, and Wareham's Ben Crockett (Harvard), 2001.

The award is named for the late Wareham Gatemen official John J. Claffey and is presented annually to a player who makes his home in New England and/or plays for a college or university located in one of the six New England states.

Joe Sherman, CCBL Public Relations Dept. ([email protected])

Interns: Chris Blake, James Chandley, Ashley Crosby, Phil Garceau, Stefanie Marini, Laura Rasmussen