News
08/09/2008 1:44 PM
Article By:
CAPE LEAGUE NOTEBOOK 9 August 2008
U.S.'s LaPorta (Brewster '06), Canada's
Stern (Harwich '00) Both Have Sights Set
On Baseball Gold Medal at Beijing Olympics
Two former Cape Cod Baseball League stars are "going for the gold" in Beijing as members of the Olympic baseball teams of their respective countries.

First baseman-outfielder Matt LaPorta (Brewster 2006) is the lone Cape League alumnus on the U.S. squad, while outfielder Adam Stern (Harwich 2000) is playing for Canada.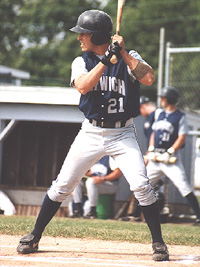 Adam Stern, Harwich 2000
Photo by Sean Walsh / 2000
Stern, a native of London, Ont., played his college baseball at the University of Nebraska. He had a brief taste of life in the major leagues with the Boston Red Sox in 2005 and 2006, and he starred for Team Canada in the first World Baseball Classic in March 2006. He was later traded to the Baltimore Orioles and, before leaving to join the Canadian Olympic team, he was a member of the Norfolk Tides, Baltimore's Class AAA farm team in the International League.

Stern hit .287 with seven doubles and 23 stolen bases at Harwich in 2000.

LaPorta, a product of the University of Florida, was a central figure in a blockbuster trade last month as the Milwaukee Brewers sent three highly regarded prospects – LaPorta, Robert Bryson, Zach Jackson -- and a player to be named later to the Cleveland Indians for reigning Cy Young Award winner C.C. Sabathia. After the trade, LaPorta was assigned to Cleveland's Double-A Eastern League affiliate, the Akron Aeros, where he played in 14 games before joining the U.S. Olympic squad.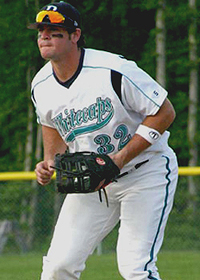 Matt LaPorta, Brewster 2006
Photo by SportsPix / 2006
At Brewster in 2006, LaPorta hit .250 in 30 games, but had five doubles, six homers and 19 RBI and was named winner of the prestigious Daniel J. Silva Sportsmanship Award.

An outfielder-first baseman, LaPorta was the Brewers' first pick (7th over-all) in the 2007 draft and reportedly netted a $2-million signing bonus. He started this season with Milwaukee's Class AA affiliate in Huntsville, Ala., where he hit 20 home runs in 82 games with 62 RBI and a .988 OPS.

He is considered a "can't miss" prospect who will probably find himself promoted to Cleveland when the major league rosters expand in September.

But right now his goal is to bring an Olympic Gold Medal back to the United States, just as Canadian Stern is hoping to do for his country.

DISA & DATA: I haven't been able to find anyone who disputes my contention that an all-time Cape Cod Baseball League record – most games in one day -- was set on Thursday, Aug. 7, when no less than seven games were played. Because of earlier rain-outs, Chatham, Cotuit and Hyannis were forced to play separate-site doubleheaders and Wareham had to host an early afternoon contest with Chatham followed by a night game against Bourne. When the dust – err, mud – had settled, Cotuit had won twice and had clinched the West Division championship. Hyannis wound up losing twice – at Cotuit in a game that started at 11 a.m. and later at home to Falmouth. Bourne took advantage of Wareham's fatigue by edging the Gatemen under the Spillane Field lights and pulling into a tie with Falmouth for second place in the West Division. This necessitated a "play-in" game the following night at Falmouth, where the Commodores got a combined two-hitter from starter Nate Karns (Texas Tech) and reliever Schaeffer Hall (Kansas) to dash the Braves playoff hopes, 3-2 … Milwaukee Brewers left fielder Ryan Braun (Chatham 2000, Cotuit 2002) was named National League Player of the Month for July after hitting .366 with nine home runs and 23 RBI. Braun leads the majors in total bases, but most impressive is his flawless conversion to the outfield from third base. Braun shared the major league lead in errors last year with 26. This year, he has none! … Chatham's John Schiffner, who has managed more games than anyone in the Cape League's modern era, reports he received a congratulatory note from the man whose record he surpassed earlier this season. "Yes, I got a note from Red Wilson congratulating me. It was a very nice gesture on his part," said Schiffner, who finished the 2008 campaign with 679 games managed and a record 357 victories. Wilson, now retired and living in Maine, managed 663 Cape League games over 16 seasons ... Meghan Ryan, CCBL major league liaison intern, reports that Kansas City Royals shortstop Mike Aviles (Brewster 2003) was named co-American League Player of the Week (along with the Yankees' Xavier Nady) on Aug. 4. Aviles batted .577, scored seven runs, drove in five and had three doubles, a triple and two homers, with a 1.000 slugging percentage and a four-hit game. He also became the first rookie in Royals history to turn in four games with at least three hits. All this from a player who batted just .168 in the Cape League with one homer and four RBI … Of the four teams in the 2008 CCBL divisional playoffs, Orleans is the most recent to have gone all the way to the championship. The Cardinals won their second title in three years in 2005, needing three games to dispatch Bourne. Cotuit's last title came in 1999 when the Kettleers defeated Chatham in three games. Harwich has to look all the way back to 1987 for its last championship. That was the year the Mariners prevailed over Yarmouth-Dennis in three games. Falmouth has the longest title drought among the contenders -- 28 seasons. Although the Commodores made it to the finals in 2004 and 2007, their last title came in 1980 when they bested Chatham in a best-of-five series that went the limit … Bourne's elimination from playoff contention means the Braves will have to wait another year before trying to capture its first league title as a franchise and end the town's 44 years of baseball frustration. Not since CCBL Hall of Famer Noel Kinski pitched Sagamore to the championship in 1965 has a Bourne-based team taken all the marbles.
Joe Sherman, CCBL Public Relations Dept. ([email protected])


Interns: Chris Blake, James Chandley, Ashley Crosby, Phil Garceau, Stefanie Marini, Laura Rasmussen