News
08/14/2008 1:55 PM
Article By:
14 August 2008
THIS WEEK IN THE CAPE LEAGUE
Championship Week
Fleury's 9th-Inning Pinch Hit Beats
Cotuit, 2-1, and Delivers Harwich's
First Cape League Title in 21 Years
HARWICH, Mass. -- It's been a long road to a Cape Cod Baseball League championship for the Harwich Mariners, who have finally broken their 21-year drought with a 2-1 win over the Cotuit Kettleers Thursday night before 6,133 fans at Whitehouse Field.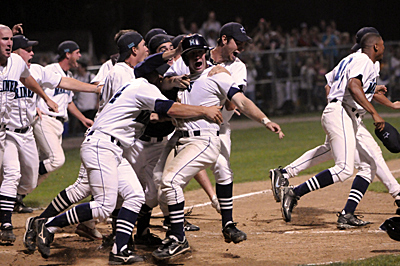 Brian Kemp is swarmed by teammates after scoring the winning run. Pinch hitter Mark Fluery hit a walk off bases loaded single to center field driving in 2 runs as Harwich won the Championship in the bottom of the ninth inning.
swilson / 2008
"It's been 21 long years," said Commissioner Paul Galop as he presented the Arnold Mycock Trophy to Harwich manager Steve Englert. "Here's a little token of appreciation. It's all yours, Harwich."

Mark Fleury (North Carolina) came in as a pinch hitter for Alex Hilliard (Vanderbilt) in the bottom of the ninth inning with the bases loaded and popped a fly ball into right center field that escaped the glove of Cotuit's Brett Jackson (Cal-Berkeley), bringing home the tying and winning runs.

"Coach (manager Englert) told me the inning before to get ready, get loose," Fleury said. "I told him I was ready. The guy (Cotuit closer Drew Storen) was throwing hard, I was just trying to get the bat on the ball up in the air somewhere … it worked out."

Joseph Sanders (Auburn) had opened the ninth for Harwich with a triple to right field that eluded the glove of a diving Evan Crawford (Indiana). At that point, Cotuit manager Mike Roberts decided to pull his starter, southpaw Nick Hernandez (Tennessee), in favor of his closer, Storen (Stanford). But Storen hit Brian Kemp (St. John's) then walked Chase Leavitt (Arkansas) on a 3-2 count to load the bases and set the stage for Fleury's heroics.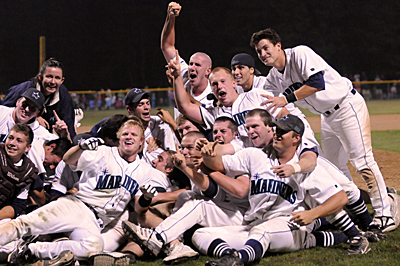 Harwich teammates celebrate the dramatic Championship win.
swilson / 2008
"From start to finish, it was unbelievable," said Harwich assistant coach Marc Thibeault. "These kids never quit. A lot of guys just come up here to showcase their talents, and our kids did that, but they went the extra yard. They bought into the team concept, and about staying the entire summer. They wanted it as much as the coaches."

Robert Stock (Southern California) hit a sacrifice fly in the seventh that scored Dallas Poulk (North Carolina State), giving the Kettleers a 1-0 lead that they carried into the last inning. Stock had hit a two-run homer against Harwich Wednesday, so he personally accounted for every Cotuit run in the championship series.

Fleury and Jason Stidham (Florida State) were named co-winners of the PA SportsTicker Star of Stars Playoff MVP award. Stidham had seven RBI in Wednesday's 11-2 Harwich victory.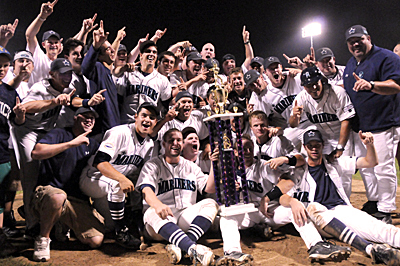 Harwich Mariners with the Championship Tropy.
swilson / 2008
Cotuit's Hernandez threw 115 pitches as he worked eight solid innings, scattering eight hits, striking out six and walking nobody before being relieved by Storen.

Harwich's starter, Chris Manno (Duke), pitched seven innings and allowed one run. He was relieved by Willie Kempf (Baylor) who finished the game and got the win.

"They ground it out all summer long," said Englert. "I feel really happy for the team."

"Englert's the best guy in the world," said Fleury. "He's one of the best coaches I've ever had. He deserved to win more than anyone else."

"I think it was a great season," said Commissioner Galop. "Harwich … very fitting. In their last at-bat, they dramatically win the whole thing."

Ashley Crosby, CCBL Intern ([email protected])

Interns 2008: Chris Blake, James Chandley, Ashley Crosby, Phil Garceau, Stefanie Marini, Laura Rasmussen