News
08/15/2008 1:59 PM
Article By:
15 August 2008
THIS WEEK IN THE CAPE LEAGUE
2008
CURLY CLEMENT
UMPIRE AWARD
Harry Greer Selected for 2008
Curly Clement Umpire Award
In Cape Cod Baseball League
Veteran umpire Harry Greer has received the fifth annual Curly Clement Award, presented for officiating excellence and contributions over the years to baseball umpiring.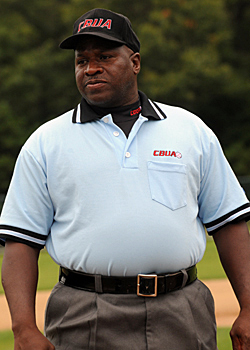 Harry Greer
swilson / 2008
The Clement Award was presented to Greer during the last regular-season game at Lowell Park in Cotuit last week by Sol Yas, Cape Cod Baseball League deputy commissioner and umpire-in-chief, and Nick Zibelli, president of the CBUAO.

"It's a humbling experience to receive an award such as this," said Greer. "I'm very excited being selected from among my fellow umpires. I love being on the Cape during the summer and working for such a great organization as the Cape League."
He added, "Without question, one of my most memorable experiences was at second base during that 18-inning playoff game in Harwich last Sunday."

One of eight siblings (four boys and four girls), Greer makes his home in Philadelphia and has worked as an umpire for the past 22 years, including the past eight summers in the Cape League. He also works during the spring for the ACC, Big East and Atlantic-10 conferences.

Greer worked an all-time personal high 19 regular-season and three playoff games on Cape League diamonds in 2008.

"Harry is a knowledgeable and enthusiastic umpire," said Yas. "Some good umpires tend to be invisible, but that's not Harry. He's an imposing presence, loves the game of baseball and does a terrific job controlling the game on the field, especially when he's crew chief."

He is a former standout football player at Cheyney (Pa.) University and currently works full-time for the city of Philadelphia as a heavy equipment operator.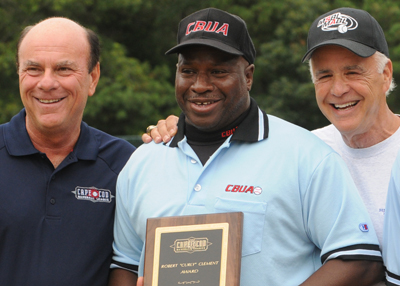 Nick Zibelli, Harry Greer and Sol Yas
swilson / 2008
Greer became interested in umpiring after watching his uncle, Jim Greene, officiate games in Hempstead, N.Y., and also lists fellow umpire Al Davis of the ACC as a contemporary role model.

"Nick Zibelli has been instrumental and supportive in my development as an umpire," said Greer. "I started working with Harry back when he was doing community college games in the Philadelphia area and have watched him rise to become of the top umpires in college baseball," said Zibelli. "He is very serious about his trade, but also knows how to have fun, and that is a good combination."

Robert "Curly" Clement worked as a Cape league umpire over four decades and was inducted into the CCBL Hall of Fame in 2002. He umpired 16 NCAA Division I Baseball Regionals, several ECAC Division I Baseball Championships and two NCAA College World Series during his career.

Affectionately known as the "Candy Man," for his propensity of passing out candy to players, coaches and field managers during on-field disputes, Clement's final Cape League appearance was working home plate at the 2000 CCBL All-Star Game. He passed away in 2006 after a long illness.

Previous Clement Award winners include Tim Carey (2007), Peter Hall (2006), Jim McNally (2005) and Walter Bentson (2004).

John W. Garner Jr., CCBL Director of Public Relations & Broadcasting ([email protected])


Interns: Chris Blake, James Chandley, Ashley Crosby, Phil Garceau, Stefanie Marini, Laura Rasmussen