News
08/15/2008 2:08 PM
Article By:
15 August 2008
THIS WEEK IN THE CAPE LEAGUE
2008
THURMAN MUNSON
BATTING CHAMPION AWARD
Commodores' Cesario Captures
Munson Award as Cape League
Batting Champion with .387 Average
FALMOUTH, Mass. – Jimmy Cesario played his final game as a Cape Cod Baseball League player on July 26 as the starting second baseman for the West Division in the All-Star Game.
Cesario played the entire game, collecting one hit and stealing a base.

The next day, he left Falmouth for Wyoming to join the Casper Ghosts (rookie Pioneer League), having agreed to a contract with the Colorado Rockies, who selected him in the 46th round of baseball's amateur entry draft a mere six weeks earlier.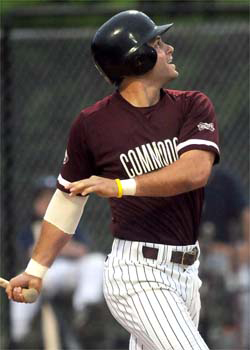 Batting Champion Jimmy Cesario
SportsPix 2008
Cesario also departed with a .387 batting average, which wound up tops in the league, earning the new pro and now former Falmouth Commodore the 2008 Thurman Munson Batting Championship Award.

It's the second straight season that a Falmouth infielder has captured the league's batting title. Third baseman Conor Gillaspie won it in 2007 with a .345 average. He also was named the league's Most Valuable Player.

Cesario, who embarked on his Cape League campaign as a temporary player, also ranked in the top five in hits (53, fifth) and RBI (30, fourth) despite missing the final two weeks of the season.

So far, he has appeared in 11 games with the Ghosts, batting .220 with nine hits and seven runs while sporting a .319 on-base percentage.

"I told him when he left that I was not only going to miss him as a player, but I was also going to miss him as a person," said Falmouth manager Jeff Trundy. "He is a great young man and it was a great loss for us … it was a pleasure to have had the chance to coach him."

While with the Commodores, Cesario, who will turn 23 in October and would have been entering his redshirt senior season at the University of Houston, brought experience and maturity, something that Trundy notes was important to his team.

"He was an integral part of the team and obviously was a good player. The talent speaks for itself. What he brought, which a lot of times was what people couldn't see unless you were around him every day in the dugout, was leadership. He is a great competitor who played the game hard. He respected the game."

Cesario also scored 20 runs, smacked eight doubles and stole nine bases while playing outfield and second base for Falmouth.

"I believe he is going to have a great professional career," Trundy added. "He is going to be fun to follow. He was certainly one of the best players in the league."

Past Cape Cod batting champions include Major Leaguer stars such as Lance Berkman (Wareham '96), Jason Varitek (Hyannis '93) and Thurman Munson, for whom the award is named, who batted .420 in 1967 at Chatham.
Laura Rasmussen, CCBL Inern ([email protected])


Interns: Chris Blake, James Chandley, Ashley Crosby, Phil Garceau, Stefanie Marini, Laura Rasmussen