News
08/16/2008 2:11 PM
Article By:
16 August 2008
Former Yarmouth-Dennis Star Posey
Gets Record $6.2M Bonus from Giants;
Reds Sign Brewster's Alonso for $4.55M
Florida State's All-Everything catcher Gerald "Buster" Posey, who helped lead the Yarmouth-Dennis Red Sox to two straight Cape Cod Baseball League championships, became a multimillionaire Friday night, Aug. 15, when he signed a record $6.2-million contract with the San Francisco Giants, who made him their No. 1 pick, fifth over-all, in the June 5 amateur entry draft.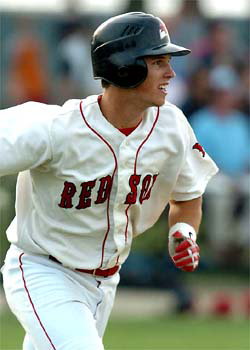 Buster Posey, Y-D 2007
SportsPix / 2007
Also waiting until the last minute to sign was first baseman Yonder Alonso (Brewster 2007), who was chosen seventh by the Cincinnati Reds. Alonso was one of only two first-rounders to receive a Major League contract. It was valued at $4.55 million and included a $2-million signing bonus.

Posey and the Giants barely managed to complete the deal before Friday's midnight deadline, after which unsigned players with college eligibility remaining are free to return to school and await next year's amateur draft. The down-to-the-wire negotiations paid off big time for the 6-2, 200-pound converted shortstop because he received the highest signing bonus of any player in the draft, including Florida high school phenom Tim Beckham, who was selected first by the Tampa Bay Rays and quickly signed for $6.15 million.

It was also the largest signing bonus every paid by the Giants to an amateur player, blowing away the previous mark of $2.55 million that went to Dominican outfielder Rafael Ramirez last month.

Posey captured virtually every award for which he was eligible this spring. He was selected to several All-America and Academic All-America teams, was named Atlantic Coast Conference Player of the Year and led the NCAA in batting average (.472), on-base percentage (.572) and slugging percentage (.908). Showing great versatility, he also led FSU with six saves and did not give up an earned run in eight appearances. In May, he played all nine positions in one game and punctuated the performance by hitting a grand slam.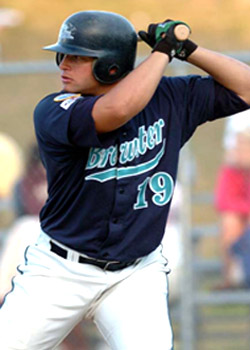 Yonder Alonso, Brewster 2007
SportsPix / 2007
His most recent honor was the Golden Spikes Award as the nation's No. 1 amateur baseball player. He's the first catcher since Boston Red Sox captain and former Hyannis Met (1991 & 1993) Jason Varitek won the award in 1994 and the third Giants player to do so, joining pitcher Tim Lincecum (2006) and slugger Will Clark (1985). Coincidentally, both Lincecum (Harwich 2005) and Clark (Cotuit 1983) are also former Cape Leaguers. A total of 10 Cape League alumni have won the Golden Spikes Award, which is sponsored by USA Baseball and was first presented in 1978.

Posey was a 50th-round pick of the Los Angeles Angels after his senior year in high school, but he opted for college over a modest signing bonus. The Angels drafted him as a pitcher and shortstop and were impressed by his strong arm and above-average speed.

The Giants are counting on Posey as a key component in their rebuilding effort in the post-Barry Bonds era. They're hoping he will be able to reach the Major League level quickly, noting that their current catcher, Bengie Molina, becomes a free agent after next season and his departure would open a spot on the roster as early as 2010.

At Yarmouth-Dennis, Posey enjoyed two All-Star seasons, first as a shortstop and then as a catcher. He batted .289 with eight doubles, two home runs and 16 RBI in 2006 and was one of just four players to appear in all 44 games. He finished second in the league with 46 hits. In 2007, he picked up right where he left off. This time around, he hit .281, with three doubles, four homers and 19 RBI. He was behind the plate for 31 games, played first base in three and the outfield for two.

Alonso, the seventh player chosen in the first round, eventually agreed to a $4.55-million five-year Major League contract which runs through 2011 and guarantees that he will be invited to the Reds' spring training in 2009 and 2010. It also calls for a $50,000 salary for the rest of this season, $400,000 in 2009, $500,000 in 2010, $600,000 in 2011 and $1 million in 2012. He can void the 2012 salary if he becomes eligible for salary arbitration after 2011.

"We think he'll be ready quickly," Reds assistant GM Bob Miller told The Associated Press. "And the other issue is, we have a lot of free agents. We actually have some room. If it had been a really, really tight roster, it would have been much more difficult."

The Reds see Alonso as a natural hitter with power. He led the ACC with 18 home runs as a sophomore in 2007, batting .376 with 74 RBI. This spring, he hit .370, with 21 homers and 66 RBI.

Alonso was one of a handful of marquee players who received votes for the Cape League MVP award in 2007, but he lost out to Falmouth third baseman Conor Gillaspie (Wichita State), who also captured the league's batting title (.345). Alonso finished with a third-best .338 batting average, with 12 doubles, four homers and 25 RBI. He also led the league in on-base percentage (.468) and bases on balls (36) and was one of only two players to appear in all 44 games.

Gordon Beckham (Yarmouth-Dennis 2007), the Chicago White Sox's first-round pick and the eighth player selected over-all, collected a reported $2.6-million bonus Wednesday as he inked a contract with the White Sox. Beckham, who played mostly at shortstop for Y-D, was an East Division All-Star and All-League infielder who led the Cape League in home runs (9), RBI (35) and total bases (82) while compiling a .284 batting average.

An action photo of Beckham graces the cover of the Final Edition of the 2008 Cape Cod League Yearbook.

This spring, Beckham led his Georgia Bulldogs to the College World Series finals while belting 28 homers to tie for the NCAA Division I lead.

Beckham will start his pro career with the Kannapolis (N.C.) Intimidators, the White Sox' affiliate in the low Class A South Atlantic League.

Missouri right-handed pitcher Aaron Crow (Falmouth 2007) and Georgia right-hander Joshua Fields (Y-D 2006) are the only two ex-Cape Leaguers drafted in the first round who remain unsigned.

Shields has completed his college eligibility so he was unaffected by Friday night's deadline. He can sign at any time and is expected to do so shortly with the Seattle Mariners, who selected him at No. 20.

Crow, picked No. 9, could not come to terms with the Washington Nationals, but has agreed to a deal with the Fort Worth Cats of the independent American Association and plans to join that team for the remainder of the season. He will be eligible for the draft again next spring. Since the Nationals were unable to sign Crow, they will receive pick No. 9A as compensation in 2009.

Crow is another Cape League "cover boy." The Commodore ace is shown pitching in the 2007 All-Star Game on the cover of the First Edition of the 2008 Yearbook.

After posting a 3-1 record with a league-best 0.67 ERA at Falmouth, Crow was named winner of the Robert A. McNeece Award as the Cape League's Outstanding Pro Prospect of 2007.

Because he has already signed with a minor league team, he cannot return to play as a senior at Missouri, where he tied for the NCAA Division I lead with 13 victories and spun a 43-inning scoreless streak this spring. Crow believed he was worth considerably more than the "slot" money being offered by the Nationals. His advisers pointed to the fact that 10 college pitchers drafted from 2004-2007 landed big league contracts with an average bonus of $3.3 million and an average guarantee of $5.5 million.

One of them was Luke Hochevar (Cotuit 2003), now pitching for the Kansas City Royals. Hochevar also spent some time at Fort Worth before turning pro.

Other first-round picks who played on the Cape and are embarking on professional careers are catcher Jason Castro (Y-D 2007), Houston, $2,07 million; first baseman Justin Smoak (Cotuit 2006), Texas, $3.5 million; infielder Brett Wallace (Falmouth 2006), St. Louis, $1.84 million; first baseman David Cooper (Brewster 2006 & 2007), Toronto, $1.5 million; outfielder-first baseman Ike Davis (Wareham 2007), New York Mets, $1.5 million; right-handed pitcher Ryan Perry (Orleans 2007), Detroit, $1.48 million; infielder Reese Havens (Cotuit 2006 & 2007), New York Mets, $1,42 million; first baseman Allan Dykstra (Chatham 2006 & 2007), San Diego, $1.15 million; and left-handed pitcher Christian Friedrich (Falmouth 2007), Colorado, $1.35 million.

According to MLB.com, the 27 first-round picks who have signed received an average bonus of $2,484,963, shattering the previous record of $2,154,280 set in 2001. Once Fields and the Mariners come to terms, the average will come down slightly but still will be well above the 2001 figure. This is an 18.4-percent increase from last year's $2,098,083 average, the biggest one-year increase since a 23.1-percent jump from 1997 to 1998.

A total of 218 Cape League players were drafted and many of those taken in later rounds signed earlier and are already playing minor league ball. Notable among them are Falmouth Commodore teammates, pitcher Steven "Shooter" Hunt (2006 & 2007) and third baseman Gillaspie (2007), both of whom went in the supplemental phase sandwiched between rounds one and two.

Hunt, the 31st player drafted, signed with the Minnesota Twins in June for a reported $1.08 million. He was initially assigned to the Elizabethton Twins of the rookie Appalachain League, but was quickly promoted to Minnesota's Class A Midwest League affiliate, the Beloit Snappers, There, he was 1-2 after 19.1 innings spread over four games, with a 3.26 ERA and 19 strikeouts.

Gillaspie, last year's Cape League batting champion and MVP and the 31st over-all draft selection, inked a $975,000 contract with the Giants on Aug. 8, exactly one week before the signing deadline. He reported first to the Arizona rookie league, where he was hitting .286 with three doubles and seven RBI after five games. The Twins say he will probably be promoted soon to either the Salem Keizer (Ore.) Volcanoes of the short-season Class A Northwest League or the Augusta (Ga.) GreenJackets of the Class A South Atlantic League.

Other signees include two shortstops from West Coast colleges, Washington's third-round pick (87th over-all) Danny Espinosa (Chatham 2006) and San Francisco's fourth-round choice (117) Brandon Crawford (Orleans 2007); San Diego's seventh-round pick (225), catcher Adam Zornes (Bourne 2007), and the New York Yankees' 10th-round selection (320), pitcher-outfielder D.J. Mitchell (Bourne 2007).

Espinosa reportedly received a $525,000 signing bonus from the Giants, the highest of any player chosen in the 10th round, while the Yankees are said to have shelled out $400,000 to get Mitchell's signature on a contract.
CAPE COD BASEBALL LEAGUE'S 2008 FIRST-ROUND DRAFT CHOICES
Num
Name
Pos
CCBL Team
College
MLB Team
Signed
Dollars
5
Buster Posey
C
Y-D '06, '07
Florida State
Giants
8/15
$6.2M
7
x-Yonder Alonso
1B
Brewster '07
Miami
Reds
8/15
$4.55M
8
Gordon Beckham
SS
Y-D '07
Georgia
White Sox
8/1
$2.6M
9
Aaron Crow
P
Falmouth '07
Missouri
Nationals
Unsigned
10
Jason Castro
C
Y-D '07
Stanford
Astros
7/12
$2.07M
11
Justin Smoak
1B
Cotuit '06
South Carolina
Rangers
8/15
$3.5M
13
Brett Wallace
3B
Falmouth '06
Arizona State
Cardinals
7/1
$1.84M
17
David Cooper
1B
Brewster '06,'07
Cal-Berkeley
Blue Jays
6/10
$1.5M
18
Ike Davis
1B
Wareham '07
Arizona State
Mets
6/24
$1.5M
20
y-Joshua Field
RHP
Y-D '06
Georgia
Mariners
Unsigned
21
Ryan Perry
RHP
Orleans '07
Arizona
Tigers
7/11
$1.48M
22
Reese Havens
SS
Cotuit '06,'07
South Carolina
Mets
6/12
$1.42M
23
Allan Dykstra
1B
Chatham '06,'07
Wake Forest
Padres
8/15
$1.15M
25
Christian Friedrich
LHP
Falmouth '07
E. Kentucky
Rockies
6/19
$1.35M
x-Signed 5-year Major League contract.
y-No eligibility remaining; can sign anytime.
Joe Sherman, CCBL Public Relations Dept. ([email protected])


Interns: Chris Blake, James Chandley, Ashley Crosby, Phil Garceau, Stefanie Marini, Laura Rasmussen