News
11/12/2008 2:50 PM
Article By:
FORMER HARWICH MARINER TIM LINCECUM
WINS CY YOUNG AWARD
Fast-balling right-hander Tim Lincecum of the San Francisco Giants, who led the Cape Cod Baseball League in ERA when hurling for the Harwich Mariners in 2005, won the National League Cy Young Award earlier today.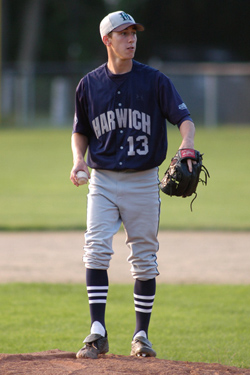 Photo courtesy of Bob Prew, Harwich Mariners
While with the Mariners in '05, Lincecum posted a 2-2 record with a league-best 0.69 ERA and struck out an impressive 68 batters in just 39.1 innings pitched and appeared in 19 games, starting three and saved seven ballgames.

Lincecum is the second SF Giant to win the Cy Young, following in the footsteps of crafty left-hander Mike McCormick, who won the award in 1967.

The slender right-hander received 23 of 32 first-place votes and 137 points in balloting by the Baseball Writers' Association of America. Brandon Webb of the Arizona Diamondbacks got four first-place votes and finished second with 73 points.

National League Cy Young voting

Player

1st
2nd
3rd
Totals
Tim Lincecum, SF Giants
23
7
1
137
Brandon Webb, Arizona D-Backs
4
15
8
73
Johan Santana, NY Mets
4
8
11
55

Others receiving votes: Brad Lidge, Phillies, 10; CC Sabathia, Brewers, 9; Ryan Dempster, Cubs, 4.