News
02/27/2009 8:58 AM
Article By:
Wareham Gatemen, Cape League
Mourn the Loss of a Legend

"Remember kid; there's heroes and there's legends.
Heroes get remembered, but legends never die." – The Sandlot

WAREHAM, Mass. -- The Wareham Gatemen and the Cape Cod Baseball League are mourning the loss of Wareham's beloved former president and general manager, John Wylde. After battling liver cancer for nearly a year and a half, Wylde died at Tobey Hospital early Monday morning, leaving behind countless adoring fans whose lives he touched for 25 years. He was 70 years old. He was a legend.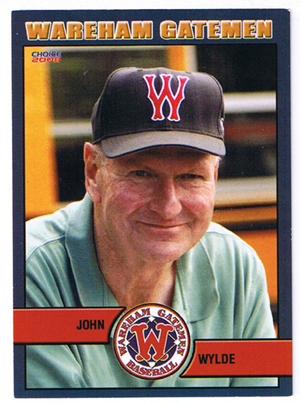 John Wylde 1938- 2009
"We miss John a great deal," the Gatemen organization said in a press release. "Our hearts are weighted with great sadness."

Wylde, a Harvard graduate, moved to Wareham in 1974 with his wife Patty. In 1983, he took the reins of the Gatemen organization, which was on the brink of folding due to lack of interest. For the 25 years that followed, acting as the backbone, heart, and voice of the team, Wylde brought life back to an organization that seemed to be on its last leg.

"It has been said often but must be repeated," the Gatemen release said. "What John did for the Gatemen and the CCBL for the past 25 years would take a dozen people to continue his legacy and dreams, maybe more."

Wylde's generosity knew no boundaries in the Gatemen organization since day one. A new press box, a new infield and a new lighting system are just a few items on the long list of Wylde's contributions to Spillane Field. Every game without fail, he sat in his press box, flawlessly announcing each game in his signature voice. He cherished every single part of the organization; no aspect went ignored. Not even the Wareham High School DECA Snack Bar, whose most faithful patron was Wylde with his trademark two hot dogs and can of soda purchased at every game.

And as if managing an entire organization wasn't enough work, John took on the job of statistician for the Cape Cod Baseball League, a position many people would consider to be a tedious one. But to John, it was just another way of expressing his love for the game. Even after the longest days at the field, Wylde never stopped working until each and every statistic for each and every game was checked and recorded.

"Though John wore many hats within the Gatemen Organization, he will be remembered by our members foremost as a friend," the team's release stated. "John's friendship kept our dedication to our players and team united, and the commitment to the Gatemen family alive."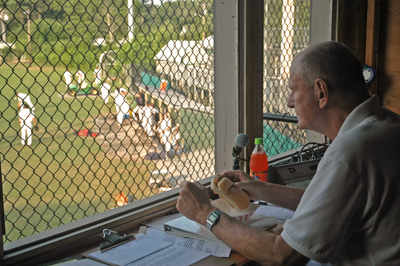 Gatemen baseball and hot dogs
photo by swilson / 2008
At first glance, John Wylde wouldn't necessarily seem like the teddy-bear type. His 6-foot-9 stature and his unmistakable voice that bellowed through Spillane Field's PA system were capable of intimidating just about anybody. But anyone who has ever met John knows that the size of his body is in direct proportion to the size of his heart.

"When I met John after talking to him on the phone about housing a player in 1997, he agreed to come to my house and meet me," said Sheri Gay, secretary and vice president of housing for Wareham. "The doorbell rang and I saw John -- all 6-foot-9 inches of him – standing at my door. I was nervous until we sat down and started to talk. He must have stayed at least an hour, and after that hour, I would do anything for John Wylde. His love for his Gatemen and baseball was contagious."

Making the transition from the regular college season to the Cape Cod Baseball League is not an easy one for a young player. Leaving behind the comfort of friends and family and heading alone to unfamiliar surroundings in order to pursue their dreams of making it to the majors can leave many players feeling nervous and uneasy. One of Wylde's priorities was to ensure the comfort and safety of every single player on his roster.

Travis Banwart, a pitching prospect in the Oakland Athletics' farm system, played for the Gatemen during the summer of 2006, leaving his home in Kansas. Wylde welcomed Banwart with open arms.

"It was the best summer I could have asked for," said Banwart. "John actually let me stay at his home for a couple of days when I got there because my host family was out of town. It was awesome -- letting a total stranger stay at his home."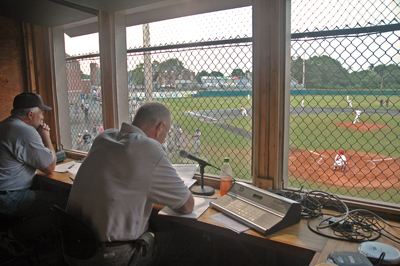 "Welcome to Spillane Field'
photo by swilson / 2008
Jeremy Bleich was a teammate of Banwart that season. Bleich, now a pitching prospect in the Yankees farm system, remembers Wylde and his summer on Cape Cod.

"Every day, he would show up at 1 or 2 in the afternoon for a 7 o'clock game, and he would pull his car up to the door of the locker room" said Bleich. "He stood out there and greeted every player with a smile and a genuine concern for everyone's well-being. He put so much of his time and hard work into the organization and that's why the Gatemen are who they are."

With Wylde running the organization, it is no surprise that his demeanor rubbed off on his coaches, players and volunteers. Wareham has twice been named winner of the Commissioner's Cup – an annual Cape League award that recognizes the organization with the best "professionalism on and off the field ensuring and enhancing the championship caliber of the CCBL."

The Cape Cod Baseball League is comprised almost entirely of volunteers. From host families and interns, to parking lot attendants and batboys, it is the generous support of hundreds of individuals that allows the Cape League to flourish. John Wylde never let anyone go unnoticed or unappreciated. At the end of each summer, he would hold a clambake for everybody who was part of his organization. It was his way of saying thank-you for the hard work and dedication of those who loved his team. He also generously compensated his interns out of his own pocket, a gesture greatly appreciated by the young people who otherwise would have gone unpaid.

"It has been a tremendous honor to work with such hard-working and dedicated individuals who make up the Gatemen organization," said Sheri Gay. "Everyone works hard and we have so much fun together … John has always been an inspiration and was the greatest man to work with. He kept us motivated and kept it fun."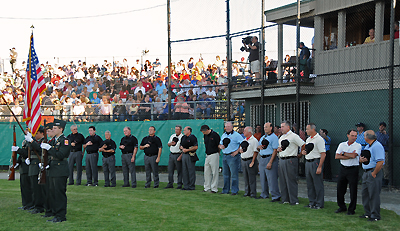 Opening Day 2008 Ceremonies honor John Wylde
photo by swilson / 2008
The Gatemen weren't the only ones who reaped the benefits of Wylde's generosity. The town of Wareham benefitted as a whole. While in Wareham, Wylde served on the Board of Selectmen and Finance Committee for the town. He even taught tennis at the Wareham Recreation Department.

One young man is doing his best to ensure that John Wylde is never forgotten. Zach Rocha, 24, is a reporter for the Standard-Times of New Bedford, and is currently writing Wylde's biography. Rocha began covering the Gatemen for his newspaper in 2001 and was influenced greatly by Wylde.

"No one has had a bigger impact on my journalistic career than John Wylde," said Rocha. "Not just my career, but my life … I didn't even like baseball, but there was something about John that made me come back every summer. He carried himself with such genuineness and respect so consistently it was staggering … If I meet a handful of people like John in my lifetime, I'll be shocked. No one deserves more respect and deserves to be more admired than him."

Rocha's book, which will carry the title, "Ladies and Gentlemen … John Wylde," will be one of the many ways the Gatemen community will remember John Wylde. Remembering him is the easy part. Replacing him will be the impossible part.

Cape League President Judy Walden Scarafile, upon learning of John's passing, said, "John will be sorely missed by the entire Cape League family. I cannot think of anyone who has touched so many people in the baseball community like John did. He was the first to volunteer for a committee and he certainly enjoyed working on so many aspects of the Cape League ... obviously stats and scoring, but also by-laws and finances. It will take an army of people to replace what John has done.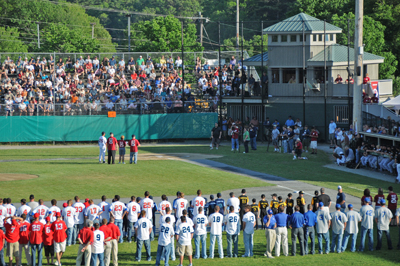 John Wylde Day Tribute 13 June 2008
photo by swilson / 2008
"There is a large void in the Cape League now and we are very saddened by the death of John," she concluded.

John Garner, the league's director of public relations and broadcasting, remembers his first encounter with John Wylde. "It was around 1989 and I heard this distinctive Ivy League voice resonating in the basement of the Bushnell Center when I was assistant commissioner at the ECAC. The Cape League was having a meeting at the big conference table downstairs after hours and I went down to see what was going on.

"John was so tall that he barely fit as he was walking down that winding staircase. I distinctly remember what a commanding presence he was and how eloquent he spoke. He made a lasting impression that stayed with me for the past two decades. I've had the opportunity to work with him on many projects during the last nine years, especially with official scoring and Major League Baseball issues. He was the 'go-to' guy when it came to baseball statistical analysis between the Cape League and Major League Baseball.

"John will be sorely missed!"

In a little over three months, the boys of summer will return to Cape Cod. The tradition of Cape Cod League Baseball will carry on, as it has for at least 125 years. Gatemen volunteers will report to Spillane Field for duty in June as usual, only this time, with the determination to keep the memory of John Wylde alive. And John undoubtedly will be watching – and scoring -- every game from his press box in the sky.

By Katy Fitzpatrick, Cape Cod Baseball League