News
08/10/2008 11:09 AM
Article By:
10 August 2009
THIS WEEK IN THE CAPE LEAGUE
2009
B.F.C. WHITEHOUSE
OUTSTANDING PITCHER AWARD
Y-D Red Sox Chris Sale
Named Winner of Whitehouse Award
As Cape League's Pitcher of the Year
YARMOUTH, Mass.-- Red Sox hurler Chris Sale (Florida Gulf Coast) sailed to the top of the list of pitchers this season earning him the BFC Outstanding Pitcher Award for the 2009 Cape Cod Baseball League Season. Sale was received the award after the first game in Round 2 of the playoffs at Red Wilson Field.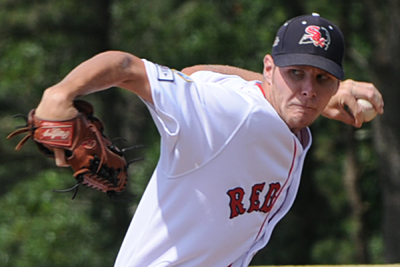 Chris Sale, YD Red Sox, Pitcher of the Year
Photo by swilson 2009
"It's exciting," said Sale. "I never really checked my stats during the year. I didn't really know how I was holding up to the rest of the pack as far ERA, strikeouts, and what not but it was very surprising and very gratifying."

The 6-foot-6 lanky lefty showed tremendous tenacity during the regular season in his 9 starts. He was sporting a record of 4-2 before the playoffs, tied for first in the league for wins, and leading the league in strikeouts with 57, with an astounding 57-9 strikes-to-walk ratio. Sale saw the most action of any pitcher this summer with 55 innings pitched, and he sports the third lowest ERA at a miniscule 1.47.

"All summer long he had a quality start every time he went out," said Red Sox Field Manager Scott Pickler. "We didn't support him a couple of times when we didn't get enough runs for him. He's the best pitcher in this league without a doubt. He's going to be very good when he goes to pro ball next year. He had a great summer. He was consistent all year."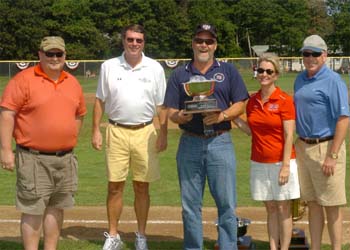 Allen Sale, father of Chris Sale, accepted his son's award as the Outstanding Pitcher of the year. Chris was warming up in the bullpen. Commissioner Paul Galop, Vice President Peter Ford, President Judy Scarafile and Senior Vice President Jim Higgins were part of the pregame ceremony.
Photo by SportsPix 2009
Sale's stats helped keep the Sox at the top of the pack in team pitching. For the majority of the season, they were ranked first until the Orleans Firebirds edged them out of the top spot right before the playoffs. The Sox finished the season with an impressive 2.79 ERA and 28-15 record.

"I wanted to come up here and make the All-Star team and come out here and do as well as I could," said Sale. "But as far as what I've done, I didn't expect to come up here and be MVP or Pitcher of the Year. I've always wanted to do that, but I didn't expect to do as well as I have been."

Sale certainly exceeded his own expectations this summer, not only making the All-Star team for the Eastern Division, but being named MVP as well. While Sale only threw 6 pitches in total, he retired all of the batters he faced giving up no walks and no hits after relieving Brewster's Kyle Blair (San Diego) in the third inning.

"Fenway Park was exciting," said Sale. "It was kind of one of those once in a lifetime things. You set foot out there, and look around, and you're like 'Oh my gosh,' I didn't spend a lot of time out there on the mound, I only threw like 6 pitches, but it was a really great experience."

With the season just about over, it's not only Sale's skills that will be missed, but his personality and camaraderie as well. Sale will head back to Florida Gulf Coast University in a few weeks to begin his junior year where he is a Criminal Justice major.

"He's a great teammate," said Pickler. "He's like everybody else on this team. He competes when he gets on the mound, and he's had a great personality for our club."

Katy Fitzpatrick CCBL Intern (Fitzpatrick@capecodbaseball.org)

Interns: Chris Blake, James Chandley, Ashley Crosby, Phil Garceau, Michael Campbell, Katy Ann Fitzpatrick