News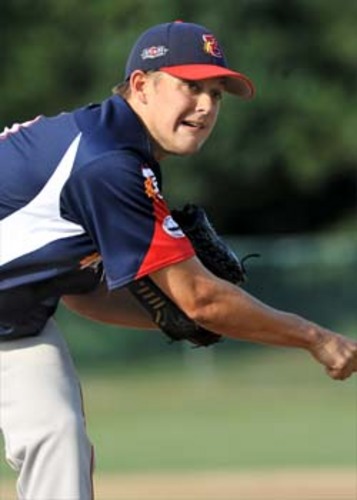 06/29/2013 8:10 AM
Article By:
Bourne pitcher Jaron Long (Ohio State University) is a junior right-hander hailing from Scottsdale, Ariz. This spring Long posted a team-high 68 strikeouts. In 2012 he led the Buckeyes in ERA (2.66) and innings pitched (101.1), and was named to the All-Big 10 First Team.

The son of Yankees hitting coach Kevin Long, he is back for his second summer with the Braves. He was 3-0 for Bourne last season, with 32 strikeouts in 36.1 innings and a 3.46 ERA.
What was it like growing up with your dad coaching?
It's been awesome. I used to spend every summer going away for the whole summer -- my mom would come whenever she could. But I remember going to Columbus when he coached for Triple A there, and I'd stay the whole summer and go in with him every day and be around all the guys. When he worked for the Yankees and got called up there, I continued to do that and just spend my summers around the ballpark. There's so many things you can learn. You can just see the professionals' mentality, so that definitely helped. The way they work, and the concentration level, and the way they go about their business are all things that can separate any of those guys from anyone else. It's that professionalism that they can bring.
What was your most memorable experience with your dad?
I was there in 2009 when they won the World Series (over Philadelphia). I was at Game 6 when they clinched. I'd say that's probably the most memorable moment. I went to Games 4, 5, and 6. I remember it like it was yesterday, and it was just a great experience.
Did you grow up a Yankees fan?
I did not. The Yankees used to be my least favorite team and then once my dad started working for them, they immediately became my favorite team. I guess it's just one of those things, you know? I used to like the Diamondbacks because I grew up in Arizona.
What's it like being on the Cape for you?
Being on the Cape is awesome. I was here last year as well, so just coming back and the atmosphere, the way the people support the league and the way it's talked about, the players... It's a great experience and my dad actually played here, too, so it's pretty cool that I have the opportunity to play here. He played for the Wareham Gatemen, I want to say in '88. I know he won the league with Wareham. (The Gatemen did indeed win the league title in 1988).
How's your host family?
I have a great host dad. This is my second year with him. I talked to him all through the season when I was away from the Cape. We used to talk at least once a week, so I had a great relationship with him. He's like family to me. His name's Harris Shenker.
How's your relationship with Field Manager Harvey Shapiro?
I really like Harvey. We built up a nice relationship last year and I talked to him on the phone while I was gone, and when I told him I needed another place to play this summer, he just welcomed me back. I really like the way he runs the ballclub. He's just a great guy.
Anything to prove this year?
I definitely just want to come out here and win some games and put forth my best performance, and hopefully at the end of the day it's a lot of wins