News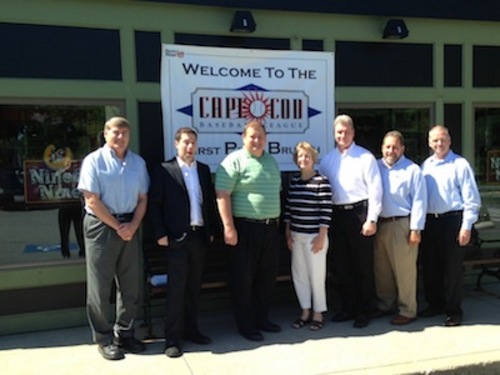 07/01/2013 4:36 PM
Article By: John Garner Jr.
Next summer will mark the 20th anniversary of the infamous Major League Baseball strike that turned into the longest work stoppage in the history of professional sports, an eight-month marathon of name-calling, courtrooms and picket lines.
The strike began Aug. 11, 1994, prompting cancellation of the remainder of the regular season and World Series for the first time in 90 years, and costing players and management in excess of $1 billion. Before games resumed the following April 25, popularity in the game was at its lowest since the 1919 Black Sox scandal.
Attendance plunged 20 percent in 1995 from a record average of 31,612 in 1994 to 25,260 in '95, and it took Cal Ripkin's historic chase of Lou Gehrig's consecutive-game streak and Mark McGuire and Sammy Sosa's single-season home run race to win back fans.

The strike had far-reaching ramifications that trickled down to all levels of the sport, including the Cape Cod Baseball League, which depended on Major League Baseball's sponsorship dollars to pay for wooden bats and balls, among other things.
When MLB was forced to pull the plug, the Cape League was in dire need of replacing these sponsorship dollars, which helped offset operating costs at the league and franchise level. That's when regional sponsors such as Ocean Spray stepped to the plate and helped replace the gaping financial hole left by the MLB work stoppage.
"Ocean Spray came riding in like a knight in shining armor and virtually saved the day," CCBL President Judy Walden Scarafile said. "We were facing a tough financial situation and Ocean Spray played a major role in helping us.
"During that winter, we had several meetings to create a 'wish list' of things that were most important and others we could cut. We refused to change our policy of no admission charge. The games would remain 'free' no matter what. The next important item was wood bats as we didn't want to switch back to aluminum, even if it meant saving money. Offering players the opportunity to play with a wood bat had become a signature aspect of the Cape League."
With a current league annual budget of $550,000 (more than $2.5 million counting the teams) and almost no income generated by ticket sales or television/radio rights fees, Scarafile is charged with the monumental task of securing corporate sponsorships for the nation's best collegiate summer league that has produced more than 250 current and 994 all-time major league players.
She and her CCBL marketing committee have accomplished this with aplomb, year after year raising more than a half-million dollars in support for the league often in down economic climates. This support comes from numerous corporate friends, most of whom return year-after-year, thanks to the return on their investment.
Current CCBL senior deputy commissioner Sol Yas was in his first year as assistant GM for the Brewster Whitecaps and remembered that several people thanked him for keeping baseball alive on the Cape.
After a one-year absence, Major League Baseball returned as the league's biggest sponsor and has been a strong advocate of the CCBL for several decades.
A highly visible sponsor of the Cape League is the Yawkey Foundation, which in addition to its annual sponsorship program, donated $300,000 in annual grants, earmarked to all 10 CCBL ballparks over a five-year span, matched by the teams which has greatly enhanced safety and asthetic playing conditions.
Stop & Shop is another proud sponsor of the "best college summer baseball in the USA," with stores all over the region.
Another longtime major sponsor for the league is Chatham Bars Inn, which hosts the CCBL Hall of Fame ceremony in mid-November and an annual Gentleman's Smoker in support of the Cape Cod Baseball League in September.
One of the longest running partnerships since 1988 is with Coca-Cola, the official soft drink of the Cape League that boasts no artificial flavors and no added preservatives since 1886.
Two other local sponsors are Cape Cod Potato Chips, whose factory is located on 100 Breeds Hill Road, and Cardiovascular Consultants of Cape Cod, whose motto is "Great care is always in play." Its affiliate, Cardiovascular Institute of Beth Israel Deaconess Medical Center, has continued to support the League as well.
The Cape Cod Five Cents Savings Bank has a rich tradition on Cape Cod and has served as a community bank since the Franklin Pierce presidential administration in 1855.
The Red Sox Foundation uses the power of baseball, the team and Red Sox Nation to create community partnerships that improve the lives of children across New England.
One of the most active corporate friends is Eye Health Services with CEO Randy Shepard, which houses 10 offices in from Quincy to South Yarmouth and boasts "Expert Eye Care Close to Home."
Fuller Family Foundation is another proud supporter of the CCBL.
Curry College of Milton and Plymouth is celebrating its 10th year of support for the League. Its president, Ken Quigley, is an active participant and summer resident of Cape Cod.
The official restaurant of the Cape League is the Ninety-Nine, which feeds players, coaches and fans at its restaurants in West Yarmouth, Centerville, Mashpee and Falmouth. Great meals, Great deal!
Family owned and operated and founded on the South Shore, Sullivan Tire and Auto Service has been another strong supporter of the league.
Reebok is a national sporting goods company that supports the Cape League and provides players with uniforms, undergarments and spikes, while Hy-Line Cruises, operated by the Scudder family, is located on Ocean Street in Hyannis and is "more than just a ferry ride" to Martha's Vineyard and Nantucket. Eastern Bank has sponsored the League for four years with a special fan giveaway at season openers.
Among the newest partners are Rockland Trust, the presenting sponsor of the CCBL Hall of Fame and Friendly's, official ice cream of the CCBL and a sponsor of the Friendly's-Cape League All-Star game in South Yarmouth slated for Saturday, July 27, along with Axis, official bat of the game, and Diamond, official baseball of the CCBL.
Another new sponsor is Cape Cod Health Care, which oversees Cape Cod Hospital in Hyannis and Falmouth Hospital, while First Student is proud to be official transportation sponsor of the CCBL.
The JFK Hyannis Museum on Main Street in downtown Hyannis houses the Cape League Hall of Fame and baseball exhibit.
Barnstable Bat, On Deck Sports, Cape + Island License Plate, Baseball Factory and Sunderland Printing round out the group of sponsors. Support from Cape Cod Regional Transit Authority, Cooperative Bank of Cape Cod, Advanced Embroidery, Eye Health and Rogers & Gray Insurance have all supported Red Shirt Fridays, which support troops who protect our freedom.
Providing outstanding coverage is the Cape Cod Times, which has been "hitting grand slams since (its inception in) 1936" and SportsPix, with CEO Jan Volk, is official photographer of the CCBL. "When games are over, the ACTION continues."
Who's Hot: Andrew Daniel (San Diego) of Yarmouth-Dennis leads the CCBL with a sizzling .421 batting average, taking over the lead from the Mariners' Aaron Barbosa (Northeastern), who's hitting .370 …Clayton Smith (St. Louis) of the Y-D Red Sox hurled seven shutout innings in a 4-0 win at Harwich during the Cape League Sunday Night Baseball Game of the Week broadcast on WEEI Cape Cod … Andrew Thome (North Dakota) of Hyannis became the first pitcher to earn three wins in a 6-3 win at Falmouth on Sunday … One of the most dominating pitchers has been 6-0, 220-pound southpaw Andrew McGee (Monmouth) of Chatham, who leads the league with 20 strikeouts and has a 2-0 record with a 0.50 ERA in 18 innings, allowing one walk and 13 hits … The Cotuit Kettleers own the best record in the Cape League with a 10-5 record for 20 points, two points ahead of Western Division rivals Hyannis and Falmouth … Chatham leads the Eastern Division with a 9-5-1 record for 19 points, a point in front of second-place Harwich.
Down on the Farm: There's a plethora of Cape League alumni performing well in Boston's minor league system, including Pawtucket's top two leading hitters, Alex Hassan (Y-D), who's batting .383 and Jackie Bradley Jr. (Hyannis) who's hitting 313 with four homers and 16 RBIs. Also of note is former Boston College hurler Terry Doyle (Y-D), who's 5-5 and leads the PawSox with 78 Ks in 62 2/3 innings pitched and a 5.03 ERA. Anthony Ranaudo, who didn't allow an earned run for Brewster in 2010, leads Portland with a 7-2 record, 86 Ks in 79 inings pitched and a 2.28 ERA. Former UConn right-hander Matt Barnes (Wareham) is 4-4 with 78 Ks in 62 2/3 innings pitched and a 5.03 ERA.
John Garner Jr., Director of Public Relations & Broadcasting