News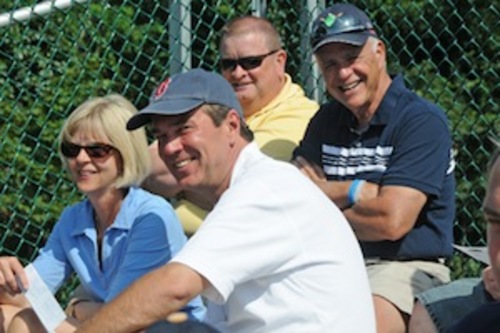 07/02/2013 7:56 PM
Article By: CCBL Public Relations Office
Curry College and the Cape Cod Baseball League … now that's a unique partnership. In a summer league loaded with players from more than 100 colleges and supported by 35 sponsors, how is there one and only one college sponsor?
"That is by design. This is a very special sponsorship." League President Judy Walden Scarafile said with a big smile.
Ten years with one sponsor is unusual in this challenging economy. Many sponsors nowadays support an organization for two to four years and then shift their focus in another direction. Not so with Curry College.
The 10th anniversary of the Curry College sponsorship will be celebrated Wednesday, July 3 at Lowell Park in Cotuit at 5 p.m. Chris Lawson, Curry's Vice President of Institutional Advancement, will throw out the ceremonial first pitch. Lawson and his family have been a Kettleers host family for five years.
"I remember the day in late November of '03 when Randy Shepard (Eye Health Services sponsor) called me and said he had a friend who might be interested in becoming a Cape League sponsor. I called Ken Quigley, president of Curry College, and within the five-minute phone call, Ken and Curry College had signed on," Scarafile said, referring to a letter she kept from November 2003. " I am sure Randy laid the groundwork and told him a lot about the league and sponsorship. I think Ken had committed before the actual call."
There are only a few categories in which the Cape League offers exclusivity, and this is one of them.
"If organizations and people are judged by those they associate with – as our Mothers always told us – Curry College couldn't have a better association than the Cape Cod Baseball League and its people. We're both proud and grateful for the association between the Cape League and Curry. It's been a great relationship for the College and its students and alumni," Quigley said.
What better way to commemorate the 10 years of this partnership than the start of the Fourth of July weekend with fireworks galore!