News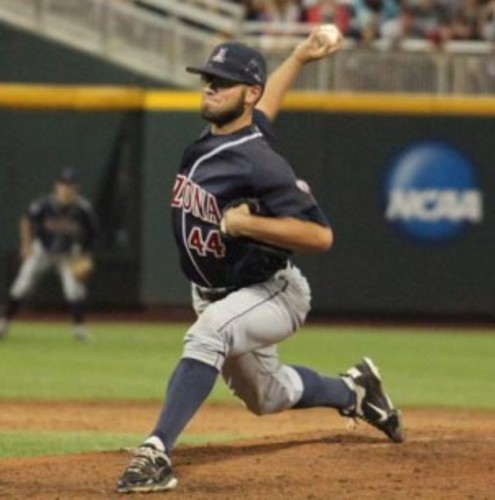 07/07/2013 5:58 PM
Article By:
ORLEANS, Mass. – It's rare for any sports team to be dominant at one position for a long period of time. It is even rarer to be dominant at that position with a different player every year. Yet somehow, the Orleans Firebirds have managed that feat.
With Matt Troupe (Arizona) off to a blistering start, it seems that for the fourth consecutive season, the Firebirds can claim they have the best closer in the Cape Cod Baseball League.
It all started back in the 2010 season with a starting pitcher named Marcus Stroman (Duke). Stroman came into the Cape League highly regarded as a top performer on an Atlantic Coast Conference powerhouse at Duke - but as a starter, not a reliever. Manager Kelly Nicholson had a hole at closer that summer and filled the need with one of his best available pitchers. It ended up being an excellent decision.
Amazingly, Stroman did not allow a run all summer, finishing the regular season with 10 saves and 32 strikeouts in 25 innings. His unbelievable numbers earned him an All-Star selection. His strong work continued into the playoffs, in which he worked three innings and picked up a win and a save, allowing just two hits and walking none. His Cape League numbers were eye-popping and, combined with his four years of strong play at Duke, led him to be the first Blue Devil ever taken in the first round of the MLB Draft, going 22nd overall to the Toronto Blue Jays in 2012.
The next season, Nicholson brought in Trevor Gott (Kentucky), who had established himself as the Wildcats' closer after just one year. Gott, too, found instant success in Orleans, and was one of the most talked about players of the 2011 season. In 21 innings, he recorded 12 regular-season saves and picked up the save in the Cape League All-Star game. Additionally, he posted a 1.28 ERA, while striking out 26 batters.
As well as Gott performed in the Cape League, he was perhaps even better in his three years at Kentucky. During this past season, Gott went 4-1 with a 1.20 ERA and 35 strikeouts and set the school's single-season save record with 12. His impressive numbers earned him a sixth-round selection by the San Diego Padres in this year's MLB Draft. He left Kentucky as the all-time saves leader, despite pitching only through his junior year.
The Firebirds thought they were set at closer going into the 2012 season with returning All-Star Gott and freshman sensation Matt Troupe in the fold too, but neither ended up racking up the saves last summer. Gott lasted less than two weeks before an injury sent him home early, and before Troupe arrived following the College Baseball World Series, Kyle Crockett (Virginia) had already moved into the closer's role.
Crockett had been an anchor in the Cavaliers' bullpen during his first two years, but had not taken over as closer. With Orleans, he saw a chance to shine in a high-pressure position and made the most out of his opportunity. In 24 innings last summer, Crockett posted a gaudy 0.75 ERA while picking up six saves and striking out 28. The All-Star was dominant in the playoffs as well, not allowing a run in 5 1/3 innings of work and getting two saves and 11 strikeouts for the Firebirds, who surprised many with an Eastern Division final appearance.
Thanks to his impressive Cape League showing, the spotlight shone even brighter on the Virginia reliever this past year, and he didn't disappoint. As the closer in Charlottesville, he went 4-1 with 12 saves and a 1.70 ERA. Crockett finished his college career with an impressive 12-3 record and 1.98 ERA, and will be remembered as one of the best relievers in school history. Crockett was drafted by the Cleveland Indians in the fourth round of the 2013 MLB Draft, and has been talked about as one of the most majors-ready players taken thanks to his superior control and velocity.
Finally, this season's star saves man is Troupe. After showing up late in 2012 thanks to a College World Series championship run with Arizona, Troupe pitched 2 2/3 scoreless innings before leaving early with an injury. He has returned with a vengeance this summer, and sports a perfect 0.00 ERA with four saves in 7 1/3 innings pitched. Troupe has allowed only seven baserunners - three hits and four walks - while fanning 15. He is well on his way to following in former Firebirds' footsteps as an All-Star and the league's best closer.
For Troupe, that's just the beginning. Already an NCAA champion, his numbers indicate that he could follow in his former Firebird closers' footsteps as a high draft pick. In his first two years as the Wildcats' closer, Troupe went 12-1 with 15 saves and 93 strikeouts. With still another year before draft eligibility, the sky's the limit for this Orleans killer closer.
Nicholson understands the importance of finishing the game strong, and whether he has simply been fortunate to have such solid relievers on his roster or if his experience as a pitching coach has helped these players master the art of closing, one thing is certain: Orleans is becoming known for its closers.