News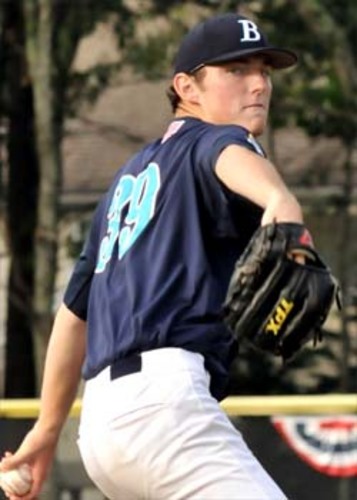 07/15/2013 9:28 AM
Article By:
PITCHER: Brandon Leibrandt – Brewster
Despite the heat that last week brought on, Cape League players continued to play their hearts out, and their efforts never go unacknowledged. In his third outing on the mound this summer, Brewster Whitecaps pitcher
Brandon Leibrandt
(Florida State) worked an incredible game against Y-D last week, landing himself Coca-Cola Pitcher of the Week honors.
Leibrandt pitched seven shutout innings against Y-D last Tuesday, striking out three and only allowing just four hits and a walk in a 1-0 victory. He has an impressive 2.25 ERA with five strikeouts in the 12 innings pitched.
He is the son of Charlie Leibrandt, who spent 14 years in the majors with the Cincinnati Reds, Atlanta Braves, Texas Rangers and Kansas City Royals and helped the Royals to a World Series in 1985. Leibrandt, who hails from Alpharetta, Ga., went 10-4 for Florida State this spring with a 3.44 ERA with 77 strikeouts and was named a Freshman All-American by First Team Baseball America in 2012.
PLAYER: Max Pentecost – Bourne – C
Now that we've reached the middle of July, players have to find a way to work through the hot, muggy conditions for their respective teams. Bourne's
Max Pentecost
(Kennesaw State) beat the heat by bringing it full force this week, earning him Coca-Cola Player of the Week recognition.
Despite the Braves' loss to Falmouth last Tuesday, Pentecost put up a solid fight, knocking three extra-base hits, including two doubles and a grand slam. Against Orleans, he finished with four RBIs and two homers in an 8-6 extra-inning victory over the Firebirds.
Originally from Winder, Ga., Pentecost is attending Kennesaw State University. This hot hitter cleaned up this spring, finishing with a .302 slugging average and leading his team with 30 RBIs and three home runs in 2013.