News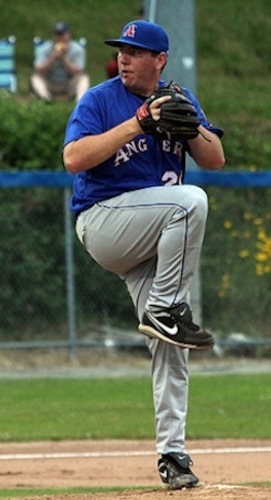 07/16/2013 5:03 PM
Article By:
CHATHAM, Mass. – With the 2013 Cape Cod Baseball League season more than halfway over, the Chatham Anglers are the current kings of the league.
With a 19-8-1 record, they sit five points ahead of the Cotuit Kettleers for the best record in the Cape League lead and hold a confident nine-point lead over the Harwich Mariners in the Eastern Division title race through Monday's games.
The Anglers are currently riding a four-game winning streak, and have won 12 of their last 15. Their success has been consistent all season, which has not been the case for a number of years. Chatham has the longest championship drought in the East Division, with 14 long summers having gone by since it won a 1998 title.
Only two teams, Falmouth and Hyannis, have had longer droughts, but both have had more overall success in recent years than Chatham. Since 2002, the Anglers have not advanced past the first round of the playoffs and have failed to reach the postseason seven times during that stretch.
That's all about to change, as Chatham is primed for a long postseason run and the fans can feel the excitement in the air. One of the Anglers' biggest fans is Jim Eldredge. Eldredge played for Chatham in 1961, and was the President of the team in the '80s. He's seen the ups and downs that the team and the town have faced, but has a good feeling about this year's squad.
"I do (like their chances)" Eldredge said. "They should finish in first place in the division and have home-field advantage in the playoffs."
Eldredge thinks he knows why the Anglers are back on track this season too. "We've had great pitching over the years, but not the best of hitting. This year we have a little of both," he said. He's not wrong. Chatham currently boasts the league's best pitching staff (2.63 team ERA) and the best offense in the East (133 runs scored).
Andrew McGee (Monmouth) has taken notice of his team's all-around efforts as well. "If we keep playing the way we're playing, I think we have a pretty good shot," McGee said. "Everyone seems to be doing their job. Pitchers are pitching good and hitters are hitting good and that usually leads to wins."
McGee has been the Anglers' MVP thus far, dominating on the mound with an impressive 2.84 ERA and 24 strikeouts and a 2-1 record. He said he thinks Chatham's success has less to do with individual efforts and more to do with team cohesiveness. "There's a lot of team chemistry on the team," McGee said. "You'd think we've been playing together for a while."
McGee added that resilience had been a key for the Anglers this summer. "We have a bunch of players who hate to lose, as you can tell by all of our walkoff wins and late-inning comebacks," he said.
Creighton Nickerson, a Chatham fan since 1970, agrees. "They do make it interesting every game," he said, laughing.
McGee, Eldredge and Nickerson are all part of a growing Anglers bandwagon. Nickerson, who has seen many a Chatham effort fall short, was reluctant to predict a championship this early, simply saying, "It's going to be interesting to see what happens."
All three emphasized how important a championship would be for fans. Chatham has long waited for another title after winning two times in the first five years under longtime manager John Schiffner.
"It would be a blessing," Eldredge added. "It's been such a long time."
Even as a first-year player, McGee has found a connection with his host town, and winning for them has intensified his drive to win. "The town is really behind us. You walk around town and you see a bunch of people wearing Chatham (Anglers) gear," he said. "Winning a championship would be a huge boost to the community."
At long last, Chatham supporters have a lot to look forward to, and as we approach the All-Star game and the stretch run, the excitement will only continue to build. For the first time in years, the question on the minds of fans at Veterans Field is not "Will we make the playoffs?" but rather "Is this the year we end the drought and take home the championship?"