News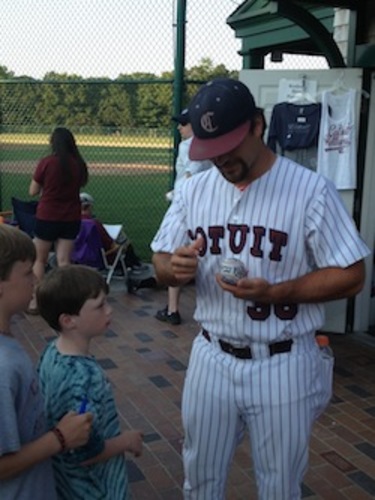 07/17/2013 5:08 AM
Article By:
COTUIT, Mass. – Mike Ford, the Cotuit Kettleers' pitcher and first baseman who's leading the Cape League in batting average (.407), slugging (.663), on-base percentage (.495), and is tied for the league lead in home runs (5), has agreed to sign with the New York Yankees, pending a physical. He will report to the Yankees' Class-A affiliate in Staten Island on Friday.
While Ford says he was approached by several teams, the Yankees were the first to make an offer. As a kid who grew up idolizing Tino Martinez and Mariano Rivera in Belle Mead, N.J., the Yankees were a natural fit.
"I've been a Yankees fan my entire life, and I was fortunate enough, I felt like it was a great fit," Ford said before Cotuit's home game against Bourne on Tuesday night. "I was just really happy with everything."
Ford couldn't resist the chance to say goodbye to his Kettleer coaches and teammates at Lowell Park, and spent the evening meeting with fans and signing autographs.
"It's tough. I became really close with all these guys and it's just tough to leave. It's such a great atmosphere and such a great league, but it will benefit my career. Hopefully it'll benefit my career."
Despite winning the Ivy League Pitcher and Player of the Year honors while at Princeton, Ford's name wasn't called last month during the MLB First-Year Player Draft. While he was admittedly perturbed by the oversight, he came to the Cape League to continue to work. As evident by his numbers, all that hard work paid off.
"I came up here with a little chip on my shoulder and trying to prove myself a little bit. I felt really good all season … and once it happened, it was a pretty quick turnover," said Ford, who expects to sign a formal agreement over the next two days.
Now, going into his senior year, he plans to finish school over the next two fall semesters.