News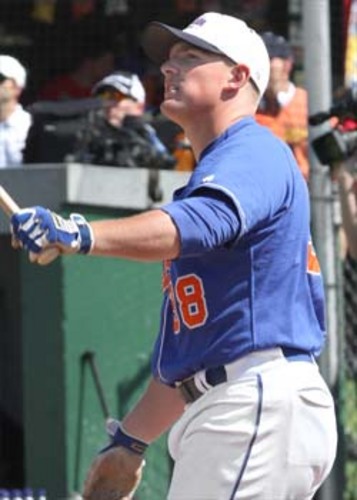 07/27/2013 7:47 PM
Article By:
SOUTH YARMOUTH, Mass. – As the crowd trickled into Red Wilson Field, free ice cream in hand, fans flocked to the stands to watch the Home Run Hitting Contest, a Cape League tradition that kicked off the Friendly's Cape League All-Star game.
This year Skyler Ewing (RIce) of the Hyannis Harbor Hawks, who stepped up at the last minute to fill in for an injured West slugger, swept the competition.
Ewing kicked off the first round with seven homers, already distinguishing himself from the competition. He was followed by Falmouth hitter and West All-Star Casey Gillaspie (Memphis), who had five, and a solo hit by fellow Harbor Hawk Jeff Schalk (UAB).
Brewster lefty Aaron Brown (Pepperdine) started off the East batters with a solo hit. Chatham All-Star JD Davis (Cal State Fullerton) brought on the heat by knocking seven of his own hits out of the park, earning him a ticket to the second round against Ewing. The East was rounded out by Orleans' Chris Marconcini (Duke), who held his own with four.
The second round fired up Ewing, who hit six more over the fence. Davis, who didn't hit any homers in the second round of the hitting contest, found redemption at the end of the game when he knocked one out of the park to help the East win against the West.
Ewing, who has four homers in regular-season action, totaled an impressive 13 homers during the contest.
"Going in this competition, I was just thinking about if you hit a few home runs, that's fine, just relish in the moment," Ewing said following his victory. "I just got into a rhythm. I was just trying to stay calm and get a good hit on the ball."