News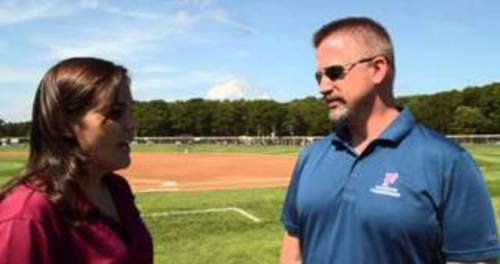 08/10/2013 10:42 PM
Article By:
Sometimes, you get it right on the first try. Newcomer Eric Zmuda was presented with the John Wylde General Manager of the Year Award for his efforts and dedication shown in his first year as the general manager for the Falmouth Commodores.
Taking over the role during a pivotal time of change for the Commodores, Zmuda immediately stepped up to the challenges before him with an affable, unassuming and team-oriented "can-do" attitude. Along with the rest of the board, he set about helping bolster the Commodores' organization, raising money to remodel the press box and working with Manager Jeff Trundy to provide him with the keys to a winning season.
But if you asked him who really deserved the attention, Zmuda would be the first to mention everyone else.
"I was extremely surprised," Zmuda said. "I don't think this was anything that would have been expected. But I think that award really goes to everyone who has done such a great job for us here."
"We have such a great supporting staff – the board of directors, the coaches, the players as they came in – it has made the job easier. It's still very hard. Without their support, I could not have done any of this."
This is only the third time this award has been presented, with former Hyannis GM and current League VP Bill Bussiere winning the inaugural award in 2011. Y-D's Jim Martin was presented the award last year.
The award is named after the late John Wylde, former GM and President of the Wareham Gatemen, who died in 2009 after battling cancer. Wylde's dedication to both the Gatemen and the league had such a profound influence that the echoes of his work are still felt. The award is given to the general manager who best exemplifies the qualities that Wylde held dear: hard work, dedication and a passion for the Cape League.
The Commodores finished the regular season as co-champions of the Western Division before losing to Cotuit in the first round of the playoffs.