News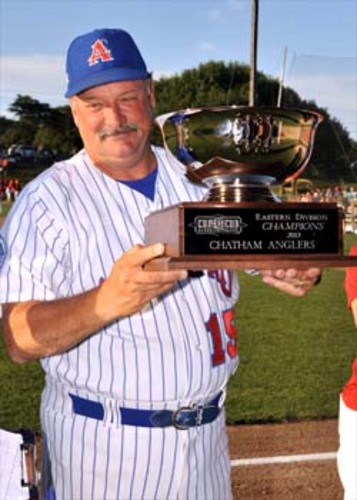 08/14/2013 8:42 AM
Article By:
For the second time in his 21 seasons as skipper of the Chatham Anglers, manager John Schiffner has been honored with the Mike Curran Manager of the Year Award after leading his team to a 26-17-1 record and first place in the Cape Cod Baseball League with 53 points.
The unanimous selection by his fellow managers around the league was an honor, said Schiffner, who last won the award in 1999, when he managed his team to a first-place finish in the East with a 30-14 record and defeated Orleans in the Eastern Division finals before losing to Cotuit in the championship series.
"It's always a surprise," said Schiffner, on receiving the award. "There are so many other deserving guys who did a great job. (Falmouth's) Jeff (Trundy) did a wonderful job, considering what happened over the winter and he came out with a playoff-bound team. (Hyannis's) Chad (Gassman) did a really great job with his team, (Orleans') Kelly (Nicholson) winning a lot of those games late. Everybody had a good year."
The Anglers had what could be described as a magical season, finishing with their first winning record since 2007 (they went 25-16-3 that year), clinching a playoff berth long before the end of the season, and winning their first President's Trophy (awarded to the team with the most points) since 1999.
"They gelled together as kids and friends and they had each other's back," Schiffner said of his 2013 team. "They really came together as a team. They battled for each other, the pitchers came down late in the game to help the hitters, to just be there and be supportive. Hitters responded with big base hits. They've been a dream team, a tremendous group of kids and a tremendous pitching staff."
Schiffner has been at the Chatham helm since 1993, making him the longest tenured manager in the league. In his 21 years as skipper in Chatham, he sports a 460-419-21 record, with two league championships, four division titles and five regular-season division titles.
Two other current managers – Y-D's Scott Pickler (2009, '10) and Orleans' Kelly Nicholson ('05, '08) – are also two-time winners of the Mike Curran Manager of the Year award.
Presented since 1978, the award is given to the field manager whom the league feels has turned in the best regular-season performance.