News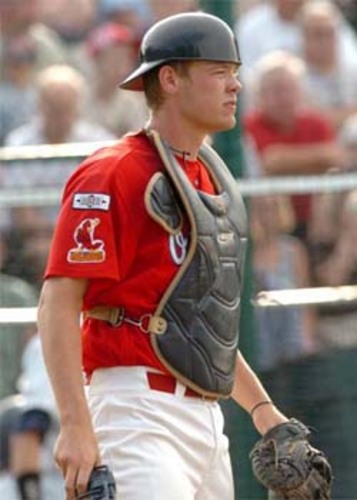 11/24/2013 3:19 PM
Article By:
The Cape Cod Baseball League held its plaque unveiling ceremony for its newest Hall of Fame inductees recently at the JFK Hyannis Museum.
From current and former major leaguers to Cape League MVPs and administrators, all types of contributors were involved in the festivities.
Inductees included current MLB player and two-time American League All-Star Matt Wieters of the Baltimore Orioles as well as former Colorado infielder Garrett Atkins, Daniel Carte, Merrill Doane, Ed Drucker, Mickey O'Connor, Jim Prete, and all-time CCBL saves leader Ryan Speier.
Speakers at the ceremony included Dan Dunn, curator of the Cape Cod Baseball League's Hall of Fame, John Allen, executive director of the JFK Museum, Cape League president Judy Scarafile, and John Garner Jr, director of Public Relations and Broadcasting.
In 2007, Wieters wrapped up a brilliant collegiate baseball career at Georgia Tech and was named a First Team All-American for the second time. The Orioles catcher joins fellow Georgia Tech stars Jason Varitek and Nomar Garciaparra in the CCBL Hall of Fame. Wieters, catcher/DH for the 2006 Orleans Cardinals (now Firebirds), was winner of the Robert A. McNeese Outstanding Pro Prospect Award. He posted a .307 batting average and belted eight homers. He had 39 hits plus an on-base percentage of .417. In 2007, he was Baltimore's first-round draft selection (fifth overall). He made his major league debut on May 29, 2009, against the Detroit Tigers. Matt was selected for the 2011 and 2012 AL All-Star teams and earned Gold Gloves the same two years.
When asked how the Cape Cod Baseball League affected his offensive and defensive game, Wieters said: "I advise players to come to the Cape League. You get to play a ton, and it's the first precursor to minor league baseball."
Wieters was the Yellow Jackets' closer for two years, and shared duties another year. When asked how being a closer affected his offensive game, Wieters said, "It helped me more catching. Since I know how much adrenaline is pumping in the situation, it helps me calm the pitcher down."
Speier, a former Radford College reliever, set the modern day Cape-League record with 16 saves for the Bourne Braves in 2001, allowing 10 hits with one walk and one unearned run in 20 innings, while striking out 35 batters. He pitched a scoreless ninth with one strikeout for the West in the CCBL All-Star game and was named the league's Russ Ford Outstanding Relief Pitcher.
He signed with Colorado in 2001 and made his major league debut with the Rockies on April 4, 2005. The 6-7, 210-pound Frankfort, Ky., native pitched five big league seasons for Colorado from 2005-09, posting a 7-3 record with a 3.99 ERA in 90 games, including a 3-1 mark when the Rockies faced the Red Sox in the 2007 World Series. Speier hurled three postseason games in '07 and earned a save in the NLCS game against Arizona. In 2013, he was an assistant coach at Radford.
Regarding how the Cape League prepared him for the MLB, Speier said, "I went to a smaller Division I school, but we played teams like Auburn and South Carolina. The Cape League teams were like an All-Star team of college players."
When asked if he passed on anything to players at Radford he coached from his time in the Cape League, he said, "One did actually come up here, and I really pushed him to get here. It's a great opportunity."