News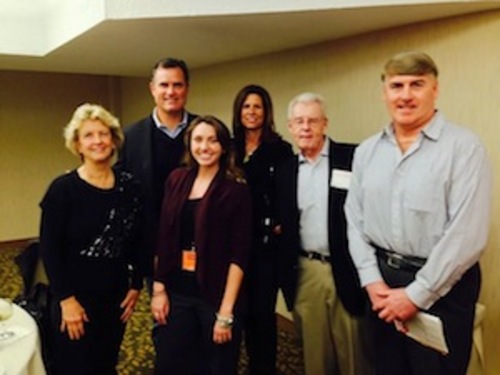 01/18/2014 5:40 PM
Article By: John Garner Jr.
For the second consecutive season, the Falmouth Commodores belted a grand slam with their Hot Stove Panel Fund-Raiser at the Sea Crest Motel on Thursday.
Once again, Boston Red Sox manager John Farrell, Hall of Fame sportswriter Peter Gammons, New York Yankees scout Matt Hyde and Falmouth Commodores field manager Jeff Trundy headlined a panel discussion before a delighted crowd of 250 baseball aficionados.
The event served as a major fundraiser for the Commodores to help pay for renovations at Guv Fuller Field. Last year, they upgraded their press box with money raised from the affair and hope to install safety netting behind home plate with this year's proceeds.
The affable Farrell pitched for the then-Hyannis Mets in 1982 and one of his fondest memories was sleeping in a tool shed and painting houses in Hyannisport, where he could look into the Kennedy Compound.
"Every morning I'd wake up and hit my head on something with the sound of skunks scurrying about," the World Series-winning manager said. "I was working for a contractor during the day and I'd fall asleep in the dugout during the games. The Cape in 1982 was a little different than 2012."
Putting their trust in the Cape League, John and his wife Sue Farrell raised three sons who played in the Cape League, including Jeremy (Falmouth, 2007) and Shane (Falmouth, 2009) and the 6-6, 200-pound Luke, who played for the Commodores in 2011 and Wareham Gatemen in 2012, going 4-4 with a 4.46 ERA with Falmouth.
"We knew all three boys wanted to play on the Cape because of its great reputation as a (premier) summer league," Sue Farrell said. "So there was little doubt where they would end up and one wanted to follow the other one here."
Last summer, Luke pitched for Idaho Falls in the Pioneers League while Jeremy hit .253 for Winston-Salem in the Carolina League. Shane is working in the Chicago Cubs scouting department.
All three Farrell sons lived with Tim and Emily Schorer in Falmouth during their summers playing for the Commodores. They invited Farrell to speak at Falmouth's Hot Stove events the past two years.
"The Cape League performance hold a lot of weight for major league scouts," said Farrell, who expects former Cape Leaguers Jackie Bradley Jr. (Hyannis 2009, '11) and Brandon Workman (Wareham, 2008-09) to be integral parts of the Red Sox roster, along with right-handed hurlers Anthony Ranaudo (Brewster, '10) and Matt Barnes (Wareham, '10) waiting in the wings.
"Right now, we have six solid starters heading into spring training and good young arms at our top level of the minor leagues," Farrell said. "Anthony and Matt are both talented pitchers who we expect big things from."
After an injury-plagued junior season at LSU, Ranaudo was drafted in the sandwich round by the Red Sox and used the Cape League to strengthen his pitching arm. The 6-7 right-hander did not disappoint with a perfect 3-0 record while not allowing an earned run for the Whitecaps before shutting it down right before the CCBL All-Star game.
Ranaudo went 11-5 with a 2.96 ERA, 8.2 strikeouts per nine innings and 3 walks per nine in 140 innings with the AA Portland Seadogs and Triple-A Pawtucket Red Sox. He was selected to the Major League All-Star Futures game and Eastern League All-Star game.
The hard-throwing Barnes posted a 6-10 combined record for Portland and Pawtucket with a 4.13 ERA in 113 1/3 innings with 142 strikeouts.