News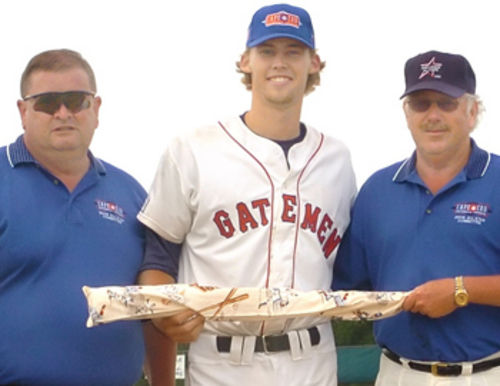 02/02/2014 9:18 AM
Article By:
Former Boston Red Sox bullpen stalwart Daniel Bard (Wareham, 2005) has signed a minor league deal with the Texas Rangers. The 6-foot-4, 215-pound right-hander had been released by both the Red Sox and Chicago Cubs in 2013 and is hoping to jump-start his ailing career in the Texas sun.
From 2009 to 2011, Bard was a solid setup man in the Boston bullpen, posting a 2.88 ERA while striking out 213 and walking 76 in 197 innings. Many considered him the heir apparent to Red Sox closer Jonathan Pappelbon, who was nearing free agency. But when Pappelbon signed with the Philadelphia Phillies prior to the 2012 season, the Red Sox moved Bard into the starting rotation, an experiment that failed dismally.
Bard's confidence was shot and his command had vanished. Not only could be not hit his spots, he could rarely hit the strike zone and he was issuing walks at a rate of 6.5 per nine innings. He finished the season with a 5-6 record, a 6.27 ERA and more walks (45) than strikeouts (39) in 60 1/3 innings.
Demoted to the minors in 2013, he pitched 16 1/3 innings across four levels of the Boston organization, walking 29 batters and striking out nine. He appeared in only two games for the Red Sox, yielding a hit, a run and two walks in one inning of work. Over the last two seasons, Bard's control has been horrible. He has walked 101, hit 18 batters and thrown 21 wild pitches in 107 ½ big-league and minor-league innings.
The Red Sox finally gave up on him in September, and he was claimed off waivers by the Cubs, whose president, former Boston GM Theo Epstein, knows how effective the big right-hander once was.
Bard finished the season in the Cubs' bullpen, although he never appeared in a game. It was suggested that he try to work out his problems in winter ball, but after three terrible outings in the Puerto Rican winter league in which he retired only one of 13 batters while walking nine and hitting three, the Cubs decided to non-tender him and he became a free agent.
The 28-year-old right-hander underwent Thoracic Outlet Syndrome surgery on Jan. 2 to correct a nerve issue, and MLB Network's Peter Gammons has surmised on his blog that it was TOS that may have been the cause of Bard's struggles. The surgery, which involved removing part of a rib above Bard's collar bone, was performed in Dallas by Dr. Gregory Pearl. Gammons writes that Bard will begin throwing in a couple of weeks and will attend spring training with the Rangers.
Commenting on the signing, Texas general manager Jon Daniels called Bard "one of the elite relievers in the game for probably a three-year run … This is taking a chance on a guy with a pedigree at being one of the best at what he does."
Bard was Boston's first-round pick (28th overall) in the 2006 draft out of the University of North Carolina after an impressive 2005 season at Wareham. Bard posted a 3-3 record in 10 games, all starts, while leading the league in both innings pitched (65) and strikeouts (85). He issued only 20 walks and his 1.25 ERA ranked third among all CCBL pitchers. He was a second-team Summer All-America selection and he and UNC southpaw teammate Andrew Miller (Chatham) were rated the top two pro prospects in the league by Baseball America.
Bard and Miller, who would be reunited as teammates on the Red Sox from 2010-2013, were the starting pitchers for the West and East squads, respectively, in the 2005 Cape League All-Star Game at McKeon Field in Hyannis. The East won the game 1-0 and Bard was voted West Division Most Valuable Player by the MLB scouts in attendance.
-ccbl-