News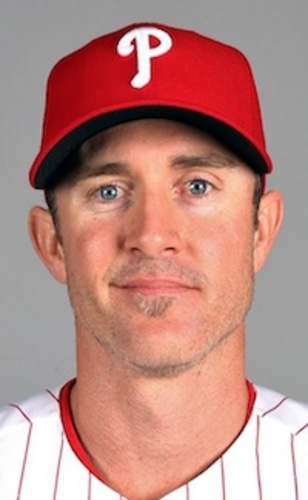 04/14/2014 3:05 PM
Article By:
Philadelphia Phillies veteran second baseman Chase Utley, a two-season Cape Cod Baseball League star in the late 1990s, is arguably the hottest player in baseball today.
The 35-year-old Utley extended his torrid start by blasting the tiebreaking home run among his three hits Sunday as the Phillies beat the Miami Marlins 4-3 to complete a three-game sweep and improve to 6-6. Utley broke a 3-3 deadlock with two outs in the eighth inning by driving a 1-0 pitch from Mike Dunn into the right-center field seats.
Utley now is batting an even .500 (20-for-40) with six doubles, three homers and 10 RBIs. He missed two games with the flu, but has hit safely in the 10 games in which he has played.
Utley's spring training performance gave no clue that he would get off to such an impressive start. He hit .242 in 21 Grapefruit League games, with three doubles, three RBIs and no home runs. But once the bell rang to begin the regular season he's been a veritable hitting machine. Entering Sunday, he was batting .472 with two home runs, four walks, five doubles and riding a nine-game hitting streak. On Sunday, he added three hits in four at-bats, including a double and the go-ahead homer to raise his average to .500 and his slugging percentage to .778.
Four of Utley's 20 hits have given the Phillies a lead and nine have been for extra bases. His .537 on-base percentage is the best in the major leagues. Utley, who has accumulated 840 strikeouts (versus 554 walks) in 1,332 major league games, is seeing the ball better than ever, fanning just twice so far this season.
Manager Ryne Sandberg is delighted with Utley's resurgence after his All-Star second baseman's struggles with a chronic knee condition in recent years. "I just see him in really good shape, moving really well on the field defensively, running the bases and staying so active on the bases that maybe that shows how well he's feeling," Sandberg told reporters Sunday. "I think (his health is) a non-issue. He's just having quality at-bats, seeing the ball well. He's one of the guys making pitchers throw strikes to him. He's just in a real good zone."
Utley's fellow Phillies seem to be following his lead with an improved approach at the plate. Hitters are more selective, seeing more pitches and getting on base more frequently. Entering Sunday's game, they led the NL in walks and were third in OBP.
"Obviously the more guys we have on base, the more opportunities we're going to have to score," Utley said Sunday. "Obviously on-base percentage is important. Trying to get a good pitch to hit is important. Right now, we're executing, which is a good sign."
A five-time National League All-Star, Utley has spent his entire 12-season major league career with Philadelphia, the team that made him its first-round draft pick (15th overall) in the 2000 amateur draft following an outstanding college career at UCLA and two solid seasons in the Cape League at Brewster (1998) and Cotuit (1999).