News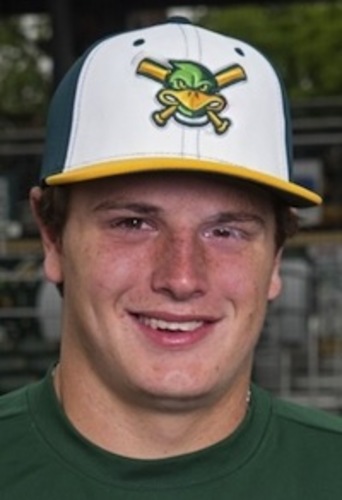 06/12/2014 4:19 PM
Article By:
Sons of two Major League Baseball notables are honing their skills on Cape Cod Baseball League diamonds this summer.
Tate Matheny (Missouri State), whose father Mike Matheny guided the St. Louis Cardinals to the World Series last year, and Cavan Biggio (Notre Dame), son of retired Houston Astros great Craig Biggio, made their Cape League debuts on opening night Wednesday for Falmouth and Harwich, respectively.
Each player's famous dad also used the Cape League as a steppingstone to the major leagues – Matheny the elder as a member of the 1990 Cotuit Kettleers, and the senior Biggio with the 1986 Yarmouth-Dennis Red Sox.
Tate Matheny played center field Wednesday and went 1-for-4 in Falmouth's 7-3 loss to the Brewster Whitecaps, while Cavan Biggio was hitless in three at-bats for Harwich, playing second base as the Mariners beat his father's old Cape League club, Y-D, by a score of 7-2.
Tate was born a few months before his father embarked upon a 13-year playing career that included stops in Milwaukee, Toronto, St. Louis and San Francisco. As a result, the young man grew up around the professional game, soaking up the environment, the nuances, the terminology.
"I wanted to be throwing, catching, hitting, whatever I could be doing," he told Winsconsin State Journal writer Jim Polzin during a 2013 interview. "Being able to grow up in an environment like that is just the biggest blessing I could have ever asked for."
Polzin spoke with Donnie Scott, Tate's manager last summer with the Madison Mallards of the Northwoods League. "He's just got that baseball savvy," Scott said. "He knows how to play the game. He understands it very well, especially for his age (19 at the time). He knows how to go about his business and do the right things."
Tate said his father's schedule as a big league manager hasn't precluded him from following his son's fledgling career. The Cardinals' skipper would try to catch Tate's games online whenever possible last summer, Tate said. Presumably, Mike will do the same this summer as the Commodores stream all of their games online and are scheduled to be seen on national TV on July 23 when they host Brewster in a game to be televised by Fox College Sports Atlantic.
"Any little thing he notices, it's amazing, and it's really quite an advantage to me," Tate said, citing an example that came early in the '13 college season when the young outfielder was mired in a slump. As Tate said, "I couldn't hit a beach ball." The younger Matheny asked his father for advice, and Mike told Tate he should try raising his hands and closing his stance. "Sure enough, next at-bat I hit a home run off the scoreboard," Tate said.
It was Mike's suggestion that helped Tate increase his power numbers last summer. Tate, who finished his freshman season at Missouri State with a team-leading .336 batting average and four home runs, collected eight doubles, four triples and eight homers in his Northwoods League season, batting .279 with 41 RBIs in 54 games.
St. Louis selected Matheny in the 23rd round of the 2012 MLB First-Year Player Draft. He's hoping a strong showing in the Cape League this summer followed by a solid 2015 college campaign will propel him into a much higher draft position when he becomes eligible again a year from now. He'll be happy if he can go higher than his dad, the Brewers' eighth-round pick in 1991.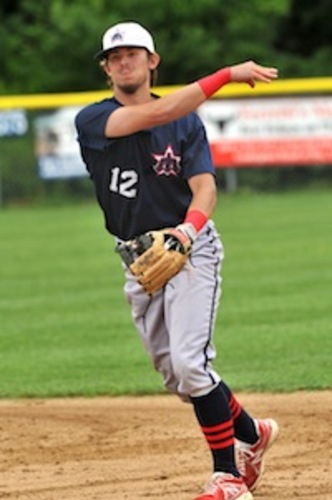 Cavan Biggio, a 29th round selection of Philadelphia in the 2013 draft, had been projected to be chosen much sooner, so it was a no-brainer that he turn down the Phillies' offer and join his older brothers Conor and Quinn at Notre Dame. Now Cavan and Conor are baseball teammates again, just as they were when they won back-to-back state championships playing for their father-coach at Houston's St. Thomas High School.
Quinn is enrolled in the College of Arts and Letters as a film, television and theater major.
Irish head coach Mike Aoki likes what he's seen of Cavan, who was one of last year's most highly touted recruits. He was ranked No. 1 among second baseman and No. 21 overall prospect nationally from the class of 2013. "He rarely chases out of the strike zone … has that discipline," Aoki told longtime Houston writer Keith Calkins. "But he also has that mix where he'll still turn it loose. He's not trying to just make contact, he's looking to do some damage. For a young hitter, that combination is really difficult to master … and Cavan comes in with that.
"After one at-bat is over, regardless of the outcome, Cavan goes right into the next one. And you don't find that in a lot of kids. He has a different mindset, actually has a big league attitude in terms of going about his business," Aoki told Calkins.
Brother Conor is delighted to have Cavan as a teammate. "It's awesome," he told reporter Calkins. "(I) cannot lie. He asked me for advice during all the recruiting and I just said, 'whatever makes you happy. If you want to come play with me, then great. But if it's not something you really want to do, then don't do it.' But he's here and it's really ended up working out. Best part is I have someone to travel home with now."
Mom Patty is happy with the arrangement as well. "Conor has always taken care of Cavan," she said. "That's why Cavan is so quiet. Conor did all the talking when they were growing up … But seriously, they've always been best friends. Cavan followed Conor around everywhere."
Proud papa Craig, who played his entire 20-year MLB career with Houston (1988-2007) after the Astros made him their first round draft choice out of Seton Hall in 1987, finished with 3,060 career hits to become the ninth player in the 3,000 hit club to get every hit with the same team.
These days, he does some scouting for the Astros and is likely to find an excuse to watch Cavan play on the Cape at some point this summer. It would be fitting if Cavan's performance earned him a spot on the East Division squad and Craig could be in the stands for the July 27 All-Star Game in Bourne. If not, he can catch it on FCSA's live telecast to the nation.
DISA & DATA: There's also a Girardi on the Cape this summer, and, although his dad's name is Joseph, he's not the son of New York Yankees manager Joe Girardi (Cotuit, 1984). Nick Girardi, (Manhattan College) is a left-handed pitcher with the Chatham Anglers … Continuing with the name game, congrats go out to Casey Gillaspie (Falmouth, 2013) and Lukas Schiraldi (Chatham, 2013). Casey, like brother Conor Gillaspie (Falmouth, 2007), was a first-round draft pick (28th overall to the Tampa Bay Rays). Conor, who was both MVP and batting champion in the CCBL in '07, was selected in the first round in 2008 by the San Francisco Giants and is now the starting third baseman for the Chicago White Sox. Both Gillaspies starred at Wichita State. Schiraldi, son of former big league pitcher Calvin Schiraldi, won the B.F.C. Whitehouse Award as the CCBL's Outstanding Pitcher last summer and was just drafted in the 15th round by the Seattle Mariners … Although the final count is not in, it's safe to say the Cape League will not break any draft records this year. The unofficial number of CCBL players drafted now stands at 203, but does not reflect drafted players who are on Cape League rosters for the first time this season. These players cannot be counted until they actually get into a CCBL game.