News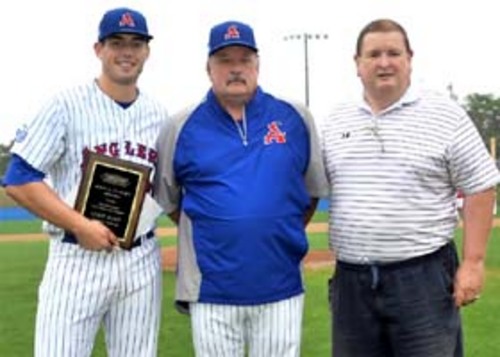 08/04/2014 11:33 AM
Article By:
CHATHAM, Mass. – Beneath the foggy skies of Chatham on Sunday night, two Anglers were recognized for their standout performances this summer.
First baseman A.J. Murray (Georgia Tech) won the Manny Robello 10th Player Award and fellow Angler Chris Shaw (Boston College) was honored as this year's recipient of the John J. Claffey award as the New England Top Prospect.
This award was named on behalf of late Wareham Gatemen official John J. Claffey and is presented annually to a distinguished player who hails from New England and/or plays for a New England college or university.
Originally from Lexington, Mass., Shaw plays for the Boston College Eagles. Shaw has made New England his home and his field for his entire life, punctuated this summer by playing in arguably the nation's best amateur summer league.
"It's a tremendous honor," Shaw said after receiving the award. "I'm really happy to receive it because this speaks to my whole game."
Shaw has been quite the power hitter this summer. Leading the league with seven homers and tied for second with 31 RBIs, Shaw sports an impressive .278 batting average. The southpaw's hitting was put to the test when he was a finalist in the Home Run Hitting Contest finalist before last weekend's Cape League All-Star game.
Most recently, Shaw was recognized as last week's Coca-Cola Player of the Week. The Angler earned this honor following an incredible week, highlighted by his three homers for the Anglers in two outings.
Shaw has a lot to take back to school with him after this summer's experiences. "A ton of at-bats against unbelievable pitching. To have that experience going into the next season's ACC will be extremely beneficial."
Playing on teams so close to his stomping grounds is extremely special for Shaw. The advantage of playing for both a New England college and summer league is the opportunity to see your teammates in both venues.
"During the summer we've had six BC guys down here," Shaw said. "It's been really cool seeing some of our guys being successful down here."
Former New England Top Prospect Award recipients include Ryan Hannigan (Orleans, 2002), Ryan Quigley (Harwich, 2008), Tyler Horan (Wareham, 2012) and Tommy Lawrence (Chatham, 2013).