News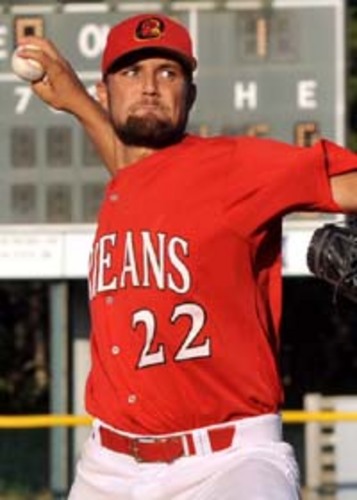 08/12/2014 12:53 PM
Article By:
Kolton Mahoney (BYU) was honored with the 2014 Cape Cod Baseball League's B.F.C. Whitehouse Outstanding Pitcher Award for his incredible season on the mound with the Orleans Firebirds.
The award is an incredible achievement that has been won by such standouts as Chicago White Sox All-Star Chris Sale, who was honored after his 2009 season with the Yarmouth-Dennis Red Sox.
Mahoney, a 2014 CCBL East All-Star, finished the regular season with a rather deceiving 3-2 record, appearing in seven games over the course of the summer – six of which were starts. Mahoney allowed just 27 hits and 12 walks in 37 1/3 innings to finish with a stunning 1.04 walks and hits per innings pitched. Of those 27 hits, just four were for extra bases. Three were home runs and one was a double. His 47 strikeouts yielded a terrific 11.33 strikeouts per nine innings ratio. This stingy pitching allowed Mahoney to finish with a sparkling earned run average of 1.93.
Despite appearing in a starting role for much of the season, Mahoney began the summer in the bullpen. In the Firebirds' first game of the season against Chatham, he came on for four innings of shutout relief, allowing just two hits and striking out seven Anglers to earn the save – his only one of the season.
Following his stint as a reliever, Mahoney won his first three games as a starter before taking a loss in his fourth start and fifth appearance. Over that three-game winning streak, he allowed just three earned runs and eight hits while striking out 21 batters in 17 innings.
Mahoney went 0-2 over his next three starts to close out the regular season, but he never once allowed more than two earned runs in a game and never left before tossing at least five complete innings.
Displaying his ability to pitch in clutch situations, Mahoney turned in his best performance in Orleans' first game of the postseason against Yarmouth-Dennis. Despite a lack of run support early, he kept the Firebirds in it and put his team in a position to win. Ultimately, he notched the win after going a season-high seven innings of shutout baseball, yielding just four hits and one walk while striking out a season-best 13.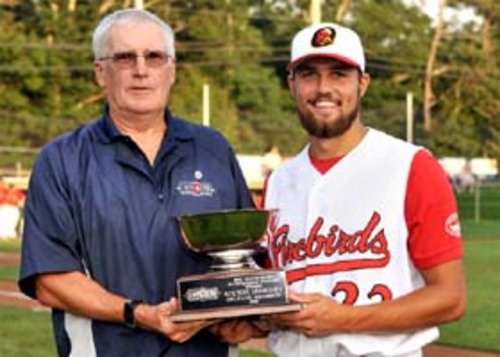 During his sophomore season at BYU, Mahoney went 6-6 with a 3.97 ERA and 69 strikeouts in 88 1/3 innings pitched. Though his season numbers were not as eye-popping as his numbers in the Cape League, there was one game that truly stood out. On March 6 at Nicholls State, Mahoney tossed just the seventh no-hitter in BYU history. His outstanding performance featured 11 strikeouts and just two walks.
On receiving the B.F.C. Whitehouse Award, Mahoney said: "It felt great. It's just an honor. I didn't realize that I had done that well, I was just out here pitching and doing my thing."
He went on to describe what it means to be named the top pitcher at such a high level of competition.
"It was really good to know that my stuff can beat their stuff at times."
The season has helped Mahoney hone his skills on the mound and continue to improve during this truly rewarding summer.
"I just had a lot of consistency. That's what I came out here to really learn," Mahoney said. "It was a lot of fun. Just a great opportunity."