News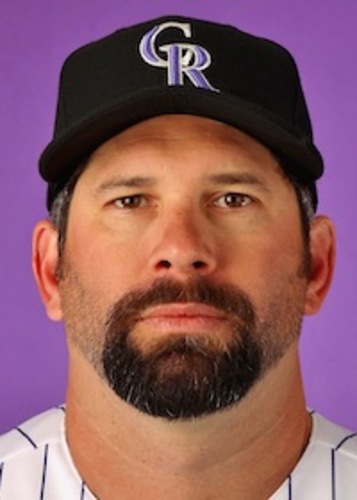 08/18/2014 3:35 PM
Article By:
HIGH AND INSIDE – Unlike most Major League Baseball franchises, the Colorado Rockies had never retired a player's number in their 22-year history – until Sunday. Todd Helton (Orleans, 1994) became the first to be so honored in a ceremony preceding the Rockies' doubleheader with the Cincinnati Reds. The Rockies unveiled a plaque bearing Helton's No. 17 on the façade of the second deck railing next to one with the initials of Keli S. McGregor, the team's late president, and Jackie Robinson's No. 42, which has been retired throughout Major League Baseball. "I'm proud to say I'm a Colorado Rockie for life," said Helton who retired after the 2013 season, ending a stellar 17-year career. "There's no greater honor for me than having my number retired from the team that I put my heart and soul into." In an earlier media conference, the five-time NL All-Star was asked if there was any reason he chose to wear No. 17. It turned out that when he reported to his first big league spring training camp, that was the number he was given. "I showed up and it was in my locker and I certainly wasn't going to say anything," Helton said. "I just took the number and stuck with it." … Third baseman Conor Gillaspie (Falmouth, 2007) walked and hit a grand slam in four trips to the plate as the Chicago White Sox held on to defeat the Toronto Blue Jays 7-5 Sunday. Gillaspie's first-inning slam provided the first four runs in what ended up as a six-run ChiSox outburst. Gillaspie has five home runs, 46 RBIs and an impressive.311/.363/.456 slash line on the season. Manager Robin Ventura (Hyannis, 1987) wasn't surprised by Gillaspie's drive to deep right-center. ''When he hits it good, it's going to go,'' the manager said. Chicago right-hander Scott Carroll (Falmouth, 2006) pitched 5 2/3 innings and allowed five runs on eight hits and three walks as he won for the fifth time against seven losses. The Cape League's batting champion (.345) and MVP in '07, Gillaspie led Falmouth to the postseason and an eventual loss to Yarmouth-Dennis in the playoff finals … Although Gillaspie had to leave the Cape early that season to return to school at Wichita State, his current White Sox teammate, second baseman Gordon Beckham (Y-D, 2007), stuck around and helped the Red Sox sweep the Commodores in two straight games to win their second consecutive Arnold Mycock Trophy as CCBL champs. These days, Beckham knows he may be playing out the string as a member of the White Sox as rumors about his future in Chicago continue to circulate. With a $4.175 million salary this year, Beckham is the team's sixth-highest paid player and is headed toward his last year of salary arbitration before he can become a free agent after 2016. If offered, Beckham would be in line to make more than $5 million, but it seems unlikely the White Sox will tender an offer. His .220/.264/.341 batting line with seven home runs and 36 RBIs put him at or near the bottom for all MLB second baseman, lessening his trade value with each passing day. Through it all, the former Georgia star hasn't let his offensive woes affect his fielding. In a recent 10-inning win over the Giants, Beckham made a diving stop and glove flip to start a double play in the ninth inning and he hit a game-winning single in the 10th. With younger and less-costly second-base prospects such as Carlos Sanchez, Marcus Semien and Micah Johnson (Cotuit, 2011) waiting in the wings, Beckham realizes his days in a White Sox uniform are numbered. "The White Sox have been extremely good to me – they've hung with me through some struggles," Beckham said. "I've been through a lot of ups and downs, but I feel like I've come to play every day. That's all I can really do, whether the hits fall or don't." … The Houston Astros are hopeful that outfielder Alex Presley (Chatham, 2005) will rejoin the team within the next few days. He's been out since July 8 with an oblique problem and he's now rehabbing at rookie-level Tri-City … Another former Cape Leaguer who is anxious to return is San Francisco first baseman Brandon Belt (Harwich, 2008), currently sidelined with post-concussion syndrome. Belt also missed 12 games last month after suffering an earlier concussion on July 19. Giants manager Bruce Bochy is cautiously optimistic about Belt's return: "I can't assume that until our doctors tell us what they think," the manager said.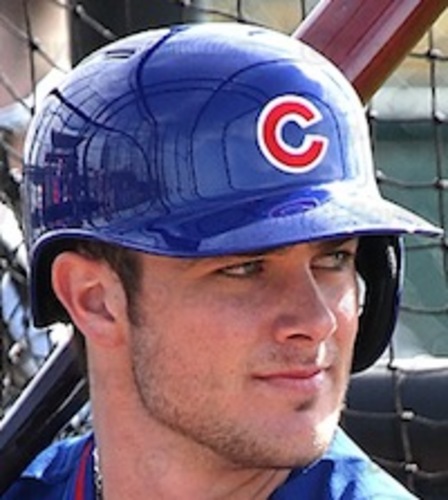 LOW AND OUTSIDE – Iowa Cubs third baseman Kris Bryant (Chatham, 2011) is listed as day-to-day after an MRI Sunday showed that the Triple-A slugger suffered only a bruise near his big left toe. Bryant left Saturday night's 5-3 loss to visiting Salt Lake after aggravating an injury that occurred earlier in the week. The Des Moines Register reported that Bryant, a top prospect of the Chicago Cubs, walked off the field and to the team's clubhouse with a trainer prior to the start of the third inning. X-rays taken at a local hospital were inconclusive, prompting Sunday's MRI. I-Cubs manager Marty Pevey said the injury stemmed from Bryant fouling a pitch off his foot earlier in the week. Bryant walked in his only plate appearance Saturday night, but felt discomfort before running to second on a fielder's choice. He remained in the game for one more inning. "After the walk tonight, he started to feel it," Pevey said. The second overall pick in the 2013 draft has advanced rapidly through the Chicago Cubs' system and began the 2014 campaign ranked as their No. 2 prospect, according to Baseball America. In 56 games with Iowa, Bryant is hitting .306 with 13 doubles, 18 home runs and 45 RBIs. Two nights before Bryant's surprise departure, the 22-year-old slugger walked off in a different way. The first 1,000 fans entering the park had received replica Bryant jerseys from the I-Cubs, then the 22-year-old slugger rewarded them with an extra gift, a home run over the center field wall in the 12th inning for a 6-5 walkoff win over visiting Las Vegas. It was Bryant's 40th round-tripper, his 18th since being promoted to Iowa from Double-A Tennessee, and it gave him a two-HR cushion over Texas Rangers prospect Joey Gallo for the minor league lead. Mike Olt (Orleans, 2008-09) also homered for Iowa, while Las Vegas' Matt Reynolds (Y-D, 2011) hit two home runs and Josh Satin (Bourne, 2007) and Allan Dykstra (Chatham, 2006-07) added one apiece ...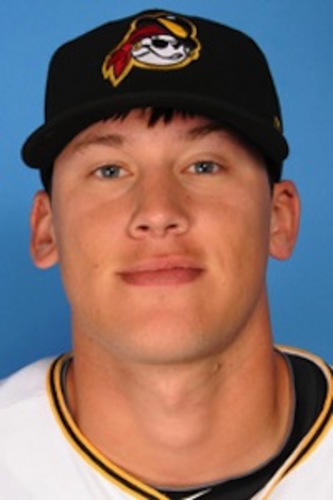 The West Virginia Power may have the worst record in the Class A South Atlantic League, but the Pittsburgh affiliate has one shining star – shortstop JaCoby Jones (Harwich, 2011-12), the Pirates' third-round pick (87th overall) in the 2013 draft. Jones, who was hitting .292/.353/.505 with 22 home runs and 69 RBIs after 113 games in his first full minor league season, smashed his third grand slam, drove in a career-high five runs and went 3-for-4 as the Power pummeled Lexington 13-3 Friday night. The slam was Jones' sixth homer in his last 10 games. The former LSU star began his pro career by batting .311 in 15 games for short-season Jamestown last summer, giving him an impressive two-year slash line of .294/.354/.499 … James Ramsey (Y-D, 2011), No. 5 prospect in the Cleveland Indians organization, had a perfect 5-for-5 night Thursday as he led the Columbus Clippers to a 7-4 International League win over Lehigh Valley. The 24-year-old center fielder from Florida State fell a triple short of the cycle as he collected four RBIs, tying his personal best in that department, and raised his batting average 23 points to .314. Ramsey doubled in the first inning, singled home runs in the fourth and sixth, belted a two-run homer in the third and doubled with two outs in the eighth. Selected by St. Louis with the 23rd overall pick in the 2012 draft, Ramsey was dealt to Cleveland in the July 30 deal that sent right-handed starter Justin Masterson (Wareham, 2005) to the Cardinals. When the trade took place, Ramsey was hitting .300/.389/.527 with 13 home runs and 36 RBIs in 67 games for Springfield. His Columbus teammate, right fielder Matt Carson (Brewster, 2001), hit his ninth Triple-A home run in the game against the Philadelphia Phillies' top affiliate … Further down the minor league ladder, at Class A Advanced Inland Empire, Los Angeles Angels farmhand Dennis Raben (Orleans, 2007) went 4-for-6 with a homer, six RBIs and a stolen base in his team's 12-9 win over visiting Lake Elsinore. Through his first 12 games this month, Raben was hitting .511 with 24 RBIs and seven homers, including four in a three-game stretch from Aug. 4-7. The 6-foot-3, 220-pound slugger originally signed with Seattle after being drafted in the second round (66th overall) in 2008. Reliever Mike Morin (Bourne, 2010-11), on a rehab assignment from Los Angeles, gave up a hit but struck out two in a scoreless ninth to record the save for Inland Empire. Lake Elsinore's Jeremy Blatz (Falmouth, 2011) went 3-for-5 with two doubles, two RBIs and a run scored ... Cape League Hall of Fame member and right-handed reliever David Aardsma (Falmouth, 2002; class of 2010) apparently is nearly ready to return to active duty with the Triple-A Memphis Redbirds. Aardsma, rehabbing from a groin injury that has sidelined him since mid-June, struck out two in a scoreless eighth inning Friday night for the Gulf Coast League Cardinals. Before going on the DL, Aardsma had excelled as Memphis' closer, with a 0.91 ERA and 11 saves in 28 appearances encompassing 29 2/3 innings of work.