News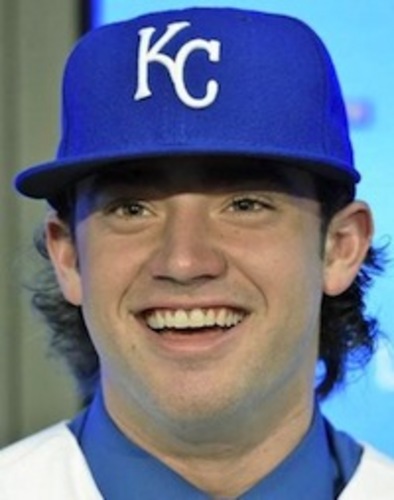 09/07/2014 1:17 PM
Article By: CCBL Public Relations Office
Coincidence or fate?
When Kansas City rookie Brandon Finnegan (Falmouth, 2013) recorded his first strikeout in the sixth inning of the Royals' 6-2 loss to the Yankees on Saturday, it came against another former Commodore, Jacoby Ellsbury (Falmouth, 2004). But that was probably the last thing on Finnegan's mind as he looked out over the 45,262 fans in Yankee Stadium who witnessed his big league debut.
"I was like 'Oh, wow' … didn't even notice that many people were here," said the first Cape Cod Baseball League alumnus from the draft class of 2014 to make it to the big leagues.
The roar of the crowd alerted him to the next batter. As "Hypnotize" by The Notorious B.I.G. flowed through the stadium's speakers, Finnegan turned to face shortstop Derek Jeter.
"I didn't have to look to know who it was," the rookie said. "It's kind of hard not to hear a place like this when that guy walks to the plate."
Treating Jeter as any other batter, Finnegan challenged the Yankee second baseman with a 94-mph fastball. Jeter struck out on a late swing, the punchout punctuating a solid two-inning big-league debut for the 21-year-old southpaw from Texas Christian University. Finnegan retired all six batters he faced in the sixth and seventh innings, displaying a steady fastball, a sweeping slider, an improving changeup and fierce determination on the mound.
Seventeen of the 26 pitches he threw were strikes, including four of six first pitches.
When the Royals called him up on Monday from Double-A Northwest Arkansas, manager Ned Yost indicated Finnegan would need to prove himself in low-leverage situations before he could receive more critical assignments. Finnegan passed his first test with flying colors and Yost's eyes lit up when he spoke about the youngster, noting that Finnegan "wasn't freaked out by anything."
Finnegan's self-assurance was evident back in June when the Royals introduced him in a Kauffman Stadium press conference after signing him to a $2.2 million bonus contract as their first-round draft pick (17th overall). "A lot of people say I'm like C.J. Wilson (Angels) or Derek Holland (Rangers) and I think I am," he said. "I'm a big fan of David Price, too. I feel like he's a bulldog on the mound … that's how I take it when I'm on the mound. I'm not 6-foot-4, I'm only 5-foot-11, but I feel like I've got the stuff that's good enough to pitch in the pros right now."
"He certainly has the stuff to get major league hitters out," Royals general manager Dayton Moore said at the time. "Obviously, we want to get him ready as soon as we can." Moore said Finnegan would bypass rookie league or low-A ball and be start his career at Advanced-A Wilmington of the Carolina League. The GM said his development would be monitored "week to week, month to month."
Finnegan did not disappoint the Royals' brass. He dazzled Carolina League hitters, allowing just five hits and two walks while striking out 13 and compiling a 0.60 ERA in 15 innings as a starter. His success prompted an early August promotion to Northwest Arkansas, KC's Texas League entry, where he was shifted to the bullpen. He found Double-A hitters a bit more challenging, but still managed a 2.25 ERA in eight appearances encompassing 12 innings. Again, he walked only two while fanning 13.
Presumably, the Royals had planned to have Finnegan open the 2015 campaign at Omaha in the Triple-A Pacific Coast League. But if he continues to handle big league hitters as he did on Saturday, he could become a permanent member of the KC staff instead.
Addressing the situation, manager Yost said, "He handled the low-leverage situation really well (so) we'll just kind of keep bumping him up from there, and see what we've got. But I'll tell you what: His stuff was good. He threw strikes. He wasn't overwhelmed."
Team officials feel Finnegan's arsenal could aid the first-place Royals in their stretch run in the tight American League Central race. Kansas City holds a two-game lead over second-place Detroit, also a loser on Saturday.
Whatever happens, Finnegan is nonplussed. "I just look at it the same way I did when I was in college," Finnegan said. "It's still the same game ... no different. Of course, there's bigger names and a lot more people in the stands, but it's still baseball."