News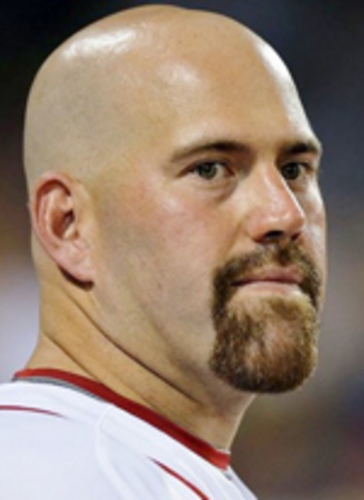 02/20/2015 12:40 PM
Article By: CCBL Public Relations Office
Kevin Youkilis (Bourne, 2000), a member of the Boston Red Sox's 2004 and 2007 World Series championship teams, has been hired as a special assistant by Chicago Cubs team president Theo Epstein, his former GM in Boston.
Youkilis, a Gold Glove caliber infielder at first and third base, compiled a .281 batting average in 10 seasons with the Red Sox, Chicago White Sox and New York Yankees. He is expected to work with the Cubs' minor league players, several of whom are also former Cape League stars.
Minor League Player of the Year Kris Bryant (Chatham, 2011), a third baseman, and catcher Kyle Schwarber (Wareham, 2012-13) both are non-roster invitees in the Cubs' big league camp this spring and will be getting plenty of attention.
Since being drafted second overall in 2013, Bryant has put up an extraordinary .331/.431/.673 slash line with 58 homers and 159 RBIs in 832 minor league plate appearances. He posted a 1.036 OPS in 297 plate appearances at the Triple-A level last season. Schwarber, last June's fourth overall draft pick, enjoyed a very impressive first pro season with three Single-A level teams. His slash line read .344/.428/.634 with 18 home runs and 53 RBIs in 72 games and his OPS was 1.061 in 311 total plate appearances.
Youkilis, who will turn 36 on March 15, started the 2014 season with the Rakuten Golden Eagles of the Japanese Pacific League. He batted .215 in 21 games, but was released from his contract when he was forced to return home for treatment of plantar fasciitis. He announced his retirement last Oct. 30.
An eight round draft selection by the Red Sox in 2001, Youkilis won the 2007 American League Gold Glove for first baseman. He was named to the AL All-Star team in 2008, 2009 and 2011 and received MVP votes in '08 and '09. In 2008, he won the Hank Aaron award, which is presented annually to the best hitter in each major league.
Youkilis was a two-time All-America and earned All-Conference USA honors from 1999-2001 at the University of Cincinnati. He concluded his college career as the Bearcats' all-time leader with 53 homers, 279 runs, 206 walks and a .499 OBP. He was named to the Conference USA All-Decade team in 2004.
In his first Cape League at-bat as Bourne opened the 2000 season against Cotuit, Youkilis hit a first-inning home run, duplicating a feat achieved by Red Sox legend and Baseball Hall of Famer Carlton Fisk (Orleans, 1966), who also went deep in his first Cape League plate appearance.

Playing in 40 games for Bourne, Youkilis finished sixth in the league in batting at .309, hit two home runs and collected 14 RBIs. He also had six doubles and three triples, scored 21 runs and was successful on seven of nine steal attempts. Living up to the nickname he would later earn in the big leagues – "the Greek God of Walks" – he worked opposing pitchers for 40 bases on balls.

Youkilis was chosen as the starting third baseman on three CCBL All-Star teams that summer: the West Division squad, which fell 7-6 to the East on July 22 in Brewster; the All-Cape squad, which played Team USA to a 12-inning, 2-2 tie in Chatham on July 29, and the postseason All-League team.

Although the game against Team USA ended in a tie, Youkilis' parents, Mike and Carolyn, went home winners. They won $2,500, the largest 50/50 raffle payoff anyone could recall, thanks to the huge crowd, estimated at between 8,000 and 8,500 fans, which filled Veterans Field.

In recent years, Youkilis has been mentioned as a possible candidate for election to the Cape League Hall of Fame, but he made it clear that any such honor would have to wait until his playing days were over. With that requirement now met, it seems only a matter of time before he will be making a November trip to Chatham for a date with Cape League immortality.
Mark Gonzales of the Chicago Tribune reports that Youkilis and his brother Scott recently bought a brew pub in Los Gatos, Calif., that they plan to reopen this summer.
-ccbl-