News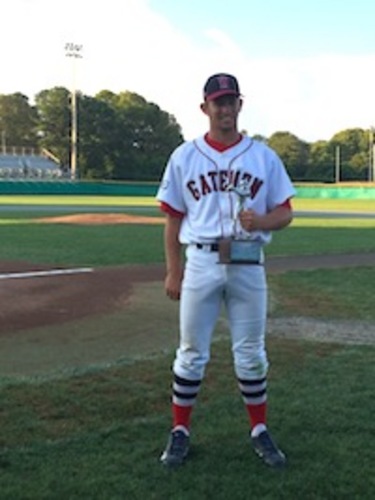 08/05/2015 9:17 PM
Article By:
The 2015 Thurman Munson Batting Champion Award was presented to Andrew Calica (UCSB) of the Wareham Gatemen earlier this week.
A Chula Vista, Calif., native, Calica was batting .427 entering his last game against the Cotuit Kettleers and was on the verge of entering Cape Cod Baseball League lore. Calica was poised to be the first Cape League player in 25 years to finish the season hitting better than .400. All he needed was a hit and he delivered, going 1-for-3 to achieve the feat.
"My approach is just a little more fine-tuned during this summer," Calica said. "I think I do feel more comfortable with a wood bat (but) that has nothing to do with the material. It just feels more comfortable in my hands."
This summer, Calica's first with the Cape League, he had 16 multi-hit games, which helped keep his batting average over .400 for all but five games of the regular season. Calica's batting average dipped to .371 after the Gatemen beat Hyannis on July 18.
Since then, Calica was batting .500 (24-for-48) heading into the final regular-season game against the Kettleers. He also became the seventh Wareham player to lead the Cape League in slugging.
"I usually early on will look for a fastball middle away," Calica said. "I try to be on time for that and I know that if I'm on time for it I can usually hit that (opposite) side of the field pretty well."
As a member of the UC Santa Barbara baseball team, Calica finished the 2015 season batting .329 with 69 hits, 19 RBIs, 13 doubles and 41 runs scored. He also received All-Big West Honorable Mention in his third season with the Gauchos.
On top of his power at the plate, Calica uses speed to his advantage when moving around the bases. He successfully recorded 15 stolen bases with the Gauchos last season and finished with eight swipes with the Gatemen this summer.
"It's noticeable that I put the ball on the ground more often than not (and more) than an average player would," Calica said. "I try to put the ball hard in play wherever I do and I just try to be aggressive."
Before Tuesday night's game, Calica was crowned the league batting champion. Afterward, he was presented with the Sylvia Bigelow Outstanding Position Player Award on behalf of the Wareham Gatemen.
"Andrew Calica came in and did exactly what we needed," Wareham GM Andrew Lang said during the presentation.
With two honors under his belt, Calica found it difficult not to smile even after the season-ending loss to the Bourne Braves in Game 2 of the West Division semifinals.
"It's just been a great experience for me," he said. "It's hard to explain it all in words. It's been a great ride, I've made a bunch of friendships … It's just a testament to the great teammates I had and the great coaching I had around me."