News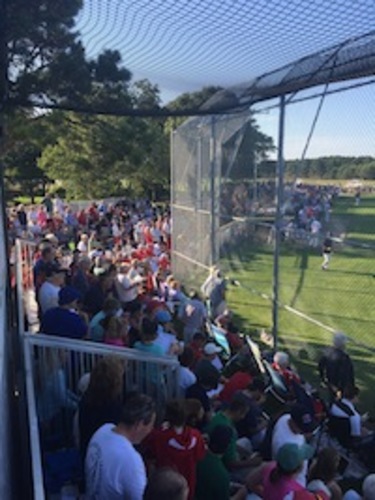 08/10/2015 8:16 PM
Article By:
Red Sox 9, Hyannis 3: The Yarmouth-Dennis Red Sox scored four runs in the first inning and never looked back, leveling the Cape Cod Baseball League championship series on Monday to force a deciding Game 3. Heavy rain and thunderstorms in the area prompted the winner-take-all game to be rescheduled for Wednesday, Aug. 12, at 6 p.m. at Hyannis' McKeon Park.
Tommy Edman (Stanford) started off the bottom of the first with a single, and a walk to Gio Brusa (Pacific) saw Donnie Walton (Oklahoma State) at the plate with two on, one out. Walton blasted one over the fence to give Y-D an early 3-0 lead.
With the bases cleared, Dallas Carroll (Utah) singled to keep the inning alive. Tyler Houston (Butler) hit a line drive to the third basemen for the second out, and Carroll's attempt to tag back at first resulted in a throwing error and Carroll advanced to third on the play. Michael Donadio (St. John's) produced at the plate with two outs on a single off Hyannis pitcher Vance Tatum (Mississippi St) to score Carroll and put the Red Sox up 4-0.
Y-D tacked on two more runs in the second inning on one swing of the bat. Chris Hudgins (Cal State-Fullerton) singled, moving to second on a sacrifice bunt by Cole Billingsley (South Alabama). Edman came to the plate and had a moonshot of his own to give the Red Sox a 6-0 lead.
The Harbor Hawks did not go down quietly, getting three runs back in the fourth inning. Austin Hays started the rally with a single, followed by a walk to Matt Thaiss (Virginia). Jacob Noll (Florida Gulf Coast) singled to load the bases and Colby Bortles (Mississippi) put the ball in play hard for a two-run single to make it 6-2. With Noll still on third, Jake Rogers (Tulane) did his job with a sacrifice fly and Hyannis cut the deficit in half.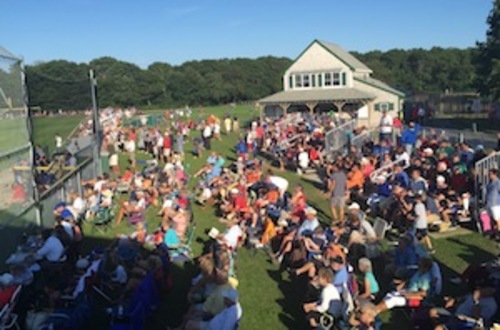 Y-D tacked on an insurance run in the bottom half of the fourth. Singles by Billingsley and Edman began the inning. After a strikeout and a flyout, Carroll knocked in Billingsley with a single.
A Hyannis error allowed the Red Sox to take an 8-3 lead in the fifth. With Joshua Vidales (Houston)and Hudgins on with singles, Billingsley came to the plate with runners on the corners and one out. Hyannis catcher Rogers saw Vidales with a large lead and threw to third with no Harbor Hawk there to cover.
Vidales scored the eighth Red Sox run on the night but Y-D was eager for more. Brusa singled in the bottom of the eighth and advanced to third on a passed ball with Walton at bat. A hard-hit single by Walton scored Brusa to make it 9-3.
Y-D starter Ricky Thomas (Fresno State) left after 7 2/3 innings to an extremely well-deserved standing ovation. He finished with 10 strikeouts, allowed five hits and gave up two earned runs. Reliever Dalton Lehnen (Cincinnati) struck out one in 1 1/3 innings of no-hit ball.
Tatum was saddled with the loss and exited after 4 2/3 innings. He fanned three, allowed 14 hits and walked two batters.