News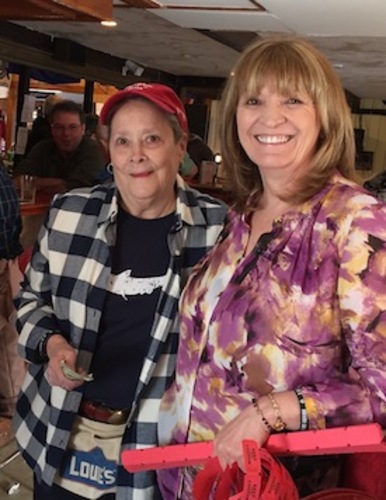 03/13/2016 1:40 PM
Article By:
The Bourne Braves' third annual meat raffle, held last weekend at the Aptuxcet VFW Post 5988 in Bourne, was an unqualified success.
A mixture of board members, host families, volunteers and fans intermingled to support an organization that is a huge part of the local community. The atmosphere was lively, with laughter and talk of baseball filling the room. One couple, who has ties to the Cape, traveled from Marlboro to support the Braves. They try to get to at least 10 games during the season, but this was the first offseason event they had attended.
Nate
Grist
, the public address announcer for the Braves, drove up from Rhode Island to sell
raffle tickets and to talk about the upcoming season with his fellow baseball enthusiasts.
Braves president Nicole Norkevicius explained the popularity of the event.
"Our team has a lot of local, year-round fans, several of which are members of the VFW," Norkevicius said. "The meat raffles give our board members, host families and local fans a chance to socialize and reminisce about last season or how their players are performing for their college teams and raise money in a casual, laid-back environment."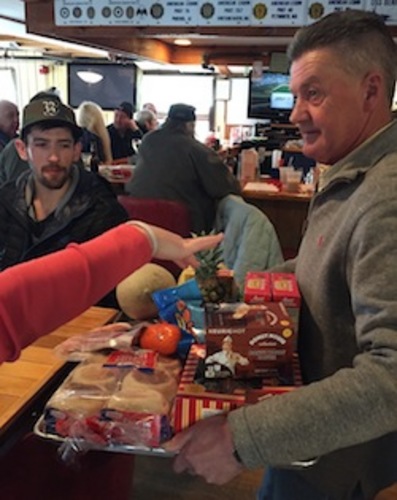 Nancy Weston, secretary for the Braves and a member of the VFW, was on hand to help sell raffle tickets. Members of the Ladies Auxiliary also volunteered their services. There are strong ties between the Bourne Braves and the VFW. The Ladies Auxiliary coordinates the scheduling of the color guard, with assistance from the American Legion in Sandwich, for veterans' nights at the Braves' home games at Doran Park.
In addition to the trays of choice meats, a wide array of donated items also was up for grabs. Gift certificates to local restaurants and stores, alumni memorabilia, and Bourne Braves and Cape Cod Baseball League merchandise were some of the prizes to be had.
The Bourne Braves, like the other nine franchises that make up the Cape Cod Baseball League, are an all-volunteer organization. They rely heavily on fundraising to offset the operational costs of the team. Items such as baseballs, bats and other equipment are often paid for by monies raised at events such as the meat raffle.
Bourne's 2016 season begins on Friday, June 10, at 6 p.m. at Doran Park, when the Braves face the Hyannis Harbor Hawks. For a complete game schedule and more information about the Bourne Braves, please visit
bournebraves.org
.