News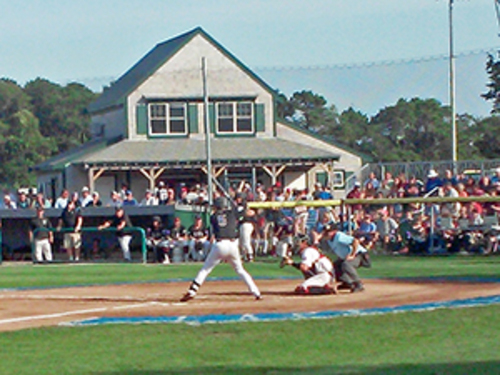 08/12/2016 7:02 PM
Article By:
The Yarmouth-Dennis Red Sox defeated the Falmouth Commodores this evening, 9 -4, in game two of the Cape Cod Baseball League championship series. Y-D's victory forces the series to go to game three, which will be hosted by the Commodores tomorrow night at 6PM.

Y-D jumped out to an early lead against Falmouth, scoring three runs in the 1st inning. With two outs on the board, Will Toffey stepped up to the plate and hit a towering shot over the center field fence, driving in Kevin Smith. Deon Stafford Jr. was next at bat and hit a homerun of his own clearing the fence in right center field.

The Commodores got on the scoreboard in the 2nd inning when Joshua Watson scored on a single from Cadyn Grenier. Corey Dempster ended the inning for Falmouth by making a spectacular diving catch in center field with the bases loaded.

Falmouth stuck again in the 3rd inning, scoring one run. Deacon Liput hit a double to left field to start the inning and scored on a passed ball. Toffey minimized Falmouth's damage by recording a double play to end the inning.

Y-D answered Falmouth's run by scoring two runs in the bottom of the 3rd. Matt Winaker hit a double to the gap in left center field, driving in Stafford Jr. and Brendan Skidmore. Y-D's hitting continued in the 4th inning, scoring two runs. Smith hit a homerun to left field driving in JJ Muno, who was on base with a bunt single.

Falmouth shortened Y-D's lead to 7-4, scoring two runs in the 7th inning. JJ Matijevic and Tristan Gray came up big for the Commodores, each hitting solo homeruns. Y-D came back at Falmouth in the 7th, recording two more runs. Toffey hit a single to start the inning and scored on a passed ball. Stafford Jr. crossed home plate for the third time after tagging up on a sacrifice fly by Skidmore, making the score 9-4.

The winner of tomorrow's game at Falmouth will be crowned the 2016 Cape League champions. The Red Sox are looking to win their third straight title, while the Commodores are seeking their first championship since 1980.