News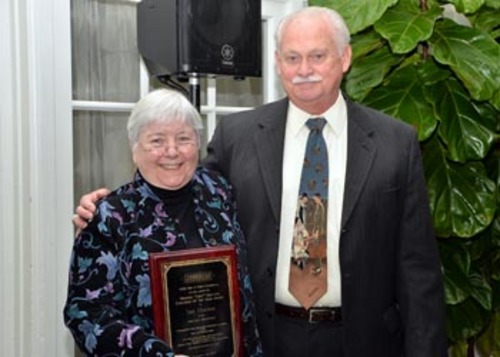 11/22/2016 7:35 AM
Article By:
Sue Horton, the Orleans Firebird's general manger, was presented with the Dick Sullivan Executive of the Year Award, this past weekend. The award was given to Horton as part of the Cape Cod Baseball League's Hall of Fame Induction ceremony at the Chatham Bars Inn.

Horton was introduced by Cape League president, Chuck Sturtevant, who, as he noted, was the first recipient of the same award ten years ago, in 2006.

Sturtevant had high praise for Sue, touting her many accomplishments within the league and the Orleans organization. When the time came to select the executive who would receive the award, Sturtevant said there was no need for discussion. "This was probably the easiest selection of any over the years," he told the crowd.

Sue Horton has been general manager for 16 years but she's been involved with Orleans since the early 1980s. Under her direction, teams she has assembled have compiled a 415-314-21 record. She has also helped form two CCBL championship teams—2003 and 2005—while bringing more than 50 future major leaguers to Orleans.

Horton was honored to be selected. "My sincere thanks to the selection committee for this honor. Knowing how hard all the volunteers work to ensure the league's success, it's humbling to be chosen."

She realizes that being an all volunteer organization, no one person deserves all the credit. She said, "A wise person once said, "Friends are family you choose for yourself," and that has certainly been my good fortune throughout my years of involvement. Thank you to our wonderful coaches, athletic trainers, interns, committee members, host families and volunteers who do the heavy lifting, and the players who keep it all fresh, fun and exciting."

Horton had an additional reason to celebrate. Not only did she receive her award, but her 2010 summer son, former Firebird and current St. Louis Cardinal, Kolten Wong, was inducted into the league's Hall of Fame. His presence at the event made the day all the sweeter.

The Dick Sullivan Executive of the Year Award was first given in 2006 for distinguished service, which includes franchise and/or league management participation, outstanding leadership qualities enhancing the franchise and/or league reputation and success, professional behavior, timeliness of required reporting mechanisms, proactive guidance for student-athletes and overall performance that exceeds expectations by going above-and-beyond the call of duty.

This award is named after Dick Sullivan of Chatham, who's served the CCBL with distinction in various capacities including past commissioner, past president and past vice-president.
PREVIOUS WINNERS:
2006 - Chuck Sturtevant, Falmouth Commodores
2007 - John Wylde, Wareham Gatemen
2008 - Steven Wilson, CCBL
2009 - Sol Yas, CCBL
2010 - Paul Logan, Cotuit Kettlers
2011 - Don LeSieur, Orleans Firebirds
2012 - Tom Gay, Wareham Gatemen
2013 - Randy Shepard, CCBL
2014 - John Garner, CCBL