News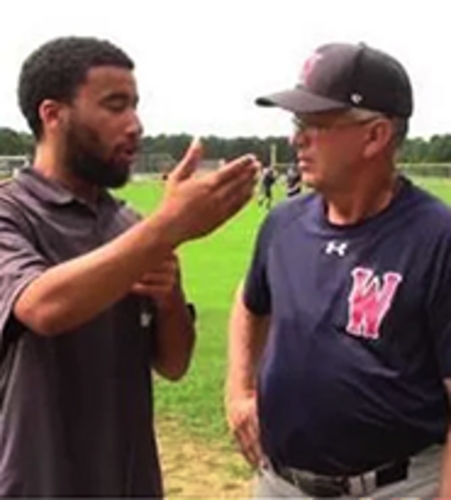 05/08/2017 5:15 PM
Article By: Jacob Tobey
The first thing you need to know about Gatemen pitching coach Jim Lawler is this: he knows how to make his pitchers better and he has a system for it.
Lawler has been coaching college baseball for more than 30 years and with that experience he knows exactly how to handle college pitchers. With each player coming to the Cape League with a different skillset, there has to be a plan to improve those skills and make sure the player at the end of the season is better than the one that started it. Lawler has that formula but what is the process like to select and then follow the pitchers through their college seasons before they show up for the summer?

The Cape League season for the coaching staffs does not just start a month before the season. It is a yearlong process to acquire a full squad of pitchers and position players. Communication is the first step, as Lawler will first talk to college coaches, pro scouts, and former players to gain information on each pitcher that Wareham is interested in. It is not just General Manager Andrew Lang who picks the players, but the entire staff including first year field manager Don Sneddon.

Lawler talked about this lengthy process, "After we select and sign a contract with the pitchers, then we do weekly follow-up and conference calls as a staff to cover each player. We talk to one of the coaches at the [player's] college each week through updated stats and emails. We develop a plan after we see how many innings each pitcher throws in the spring season."

Keeping up with every pitcher in the preseason can be challenging but Lawler has many ways of doing so. He receives film from college coaches and when asked if he travels to go see every pitcher in person Lawler said, "No budget for that but we all try to see as many games that we can get to. ESPN 3 and games on cable are a big help to follow."

The Gatemen pitching guru also cites the health of the pitcher's arm is key to the plan. A pitcher may be signed in early-mid winter but by the end of the spring season not be able to throw during the summer due to injury. Wareham's staff has to carefully monitor the pitcher and see if he is available to play. This cycle is very common with every Cape League team, as the transaction log before the season is already four to five pages deep.

With a mix of starters and bullpen pitchers all coming to the Cape, there is also a method to determine what role they will have during the summer. Lawler explained, "Starters are picked and used in a piggyback system. This means you list five starters and then assign another pitcher to follow up. The pitcher's then try to switch roles and the starter switches to reliever the next start. [It] doesn't always follow this format but that is where we start. Our daily plan is to use three pitchers a game. We have a 60-pitch max pitch count that we follow."

Rare exceptions to this 60-pitch count max are in play. Just last summer in Wareham's ace Gunner Leger's last start versus the Hyannis Harbor Hawks, the Gatemen elected to keep Leger in after he exceeded 60 pitches, so he could work himself out of a jam and end the inning. Leger ended up throwing 71 pitches but normally Cape League teams will follow their maximum pitch counts.

With the whole staff deciding on what pitchers to bring in, a special relationship is needed between the pitching coach and the field manager. Lawler talked about the day to day routine with Sneddon, "Don and myself will have daily coaches meetings prior to each game to go over all details for that next game. Each pitcher is put on a once-every-five-day-rotation to be totally rested. Bullpens are scheduled between each start depending how the pitcher recovers. There is constant communication with the pitcher and our staff and how we can help him."

Winning is not the main goal when you come to play or coach for the summer and Lawler reiterates this, much like many Cape League coaches do, "I am all about development for each pitcher and help them fine tune their game for the college the next year. Watching pitchers handle the pressure of MLB Scouts at each game, evaluating them for next year draft. The scoreboard is secondary to me! Developing these pitchers to go back to their college better than when the came."

Lawler also mentioned the importance of Wareham's baseball operations interns , "A big help last year was Andrew Lang having baseball interns help us at practice and at game and post game. The interns are a critical part of the staff. They sit in on coaches meetings each day and we get their voice to help to know more about each player and how to help each player. The Cape summer is the highlight for some of these players from their entire college years."

The scoreboard after every game will either say Wareham won or lost, but that goes unnoticed with Lawler. When the final out is made, he is either submerged in his clipboard filled with notes going over how his pitchers did that day, or he's already talking to tomorrow's pitchers because Lawler always sticks to his plan and his plan is players first, scoreboard second.