News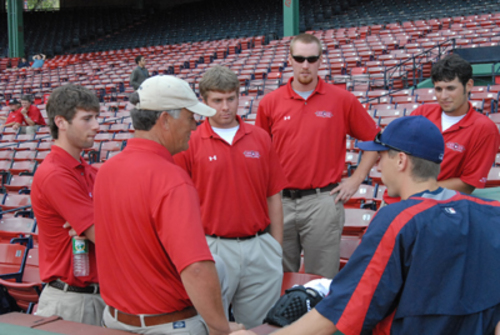 11/15/2017 12:13 PM
Article By: John Garner Jr.
WEST YARMOUTH, Mass. –Seven former players and one long-time administrator will be inducted into the 2017 Cape Cod Baseball League Hall of Fame on November 18th at The Chatham Bars Inn.
Players include major leaguer pitchers Justin Masterson (Bethel, San Diego State) of Wareham and Jeremy Sowers (Vanderbilt) of Wareham; pitcher Dennis Long (UConn) of Hyannis, league batting champion Tim McIntosh (Minnesota) of Chatham, power-hitting Steve Newell (UMass-Amherst) of Wareham and former Major League infielder and current coach Joey Cora (Vanderbilt) of Chatham.

Being inducted as player, coach, field manager and umpire is Tom Yankus (Williams) of Orleans and as administrator, former Falmouth and Bourne GM Chuck Sturtevant, current CCBL President. CCBL Commissioner and Hall of Fame Committee member Paul Galop made the announcement Sunday during league's First Pitch Brunch at the 99 Restaurants.

In alphabetical order, here is the Class of 2017:

Dennis Long, Hyannis
Right-hander Dennis Long, who pitched at UConn, played three seasons with the Hyannis Mets, from 1977-79. His final year in the Cape League was a memorable one. The Mets claimed the CCBL championship and Long's 8-1 season was key to that success. He also represented the Mets on the 1979 All-Star Team. Over his Cape League career, he was one of a just a few hurlers who won 18 games over three seasons, compiling a cumulative 3.20 ERA and impressive 18-7 mark overall. He was then drafted in 1980 by Texas where he played minor league ball for the Rangers and Mets for two years. Long has continued to be involved in baseball on a coaching level, founding the Dennis Long Athletic Advantage in 1984, offering private instruction to young pitchers and position players. He also continues to live on in Summer Baseball where he's in his fifth season as field manager and pitching coach for the Mystic Schooners of the NECBL in Mystic, Conn.

Justin Masterson, Wareham
The side-winding Bethel product was a Gatemen closer in 2005, compiling a 3-1 record with 10 saves and a 1.15 ERA. He finished 21 of 22 games he appeared in and allowed just 19 hits in 31.1 innings pitched with 39 strikeouts and nine walks. The 6-foot- 6-inch 260-pound RHP was drafted by Red Sox in the second round of the 2006 MLB Draft and made his MLB debut with Bostonjust two years later. He was the first Red Sox pitcher since 1912 to make first four consecutive starts at Fenway Park and not lose. Masterson has also played for Cleveland, St. Louis and is currently in the Dodgers organization. He is known for a live, sinking fastball, the former AL All-Star selection placed in the top 10 of the American League in 2013 for the Indians for wins (14), strikeouts (195), complete games (3) and led the AL with three shutouts.

Timothy McIntosh, Chatham
When the Cape League returned to wood bats in 1985, it was the first time many players had hit with wood. That year, the Minnesota product enjoyed a remarkable season. McIntosh led the league in hitting with a .392 batting average, winning the Thurman Munson Award for batting. He also led the League in hits (60) and tied for first place in doubles (13). He was second in runs scored (39), and third in RBIs (32) and slugging percentage (.569). Tim was drafted in the third round of the 1986 MLB Draft by the Milwaukee Brewers and played pro ball for 15 years, five at the Major League level and 10 at the minor league level. He also worked as a scout and minor league coach for the New York Yankees. He is currently a scout for the Los Angeles Angels.

Steve Newell, Wareham
UMass-Amherst right-handed-hitting slugger Steve Newell was the Minutemen's 1973 season-leader in batting average (.374), home runs (5) and RBIs (33). Newell led Coach Dick Bergquist's Minutemen to the NCAA Tournament berths in 1971 and '73 where they lost to Harvard and Delaware in the District 1 playoffs. The summer of 1973 Newell continued that ferocious clip, playing outfield for the Wareham Gatemen. The 6-foot-2-inch, 185-pound slugger batted .340 which was the third-highest average in the CCBL. He also led the League with 11 homers, was a member of the CCBL All-Star team and was the recipient of the Pat Sorrenti Award as the league's Most Valuable Player. Newell played three seasons in the Montreal Expos' minor leagues, hitting .298 for Class A Jamestown in NY-Penn League in 1973 and spending next two years with Quebec in the Class AA Eastern League in 1974-75. Newell's college teammate in 1972-73 was the inaugural CCBL Hall of Famer and future Cy Young winner Mike Flanagan.

Jeremy Sowers, Wareham
Hailing from Vanderbilt when he came to Cape League in 2003, Sowers spent the season with the Gatemen as a starter, but caught the eye of Major League scouts long before then. The stylish southpaw threw four no-hitters for his high school team in Louisville, Kentucky, appearing in two high school championships and as senior, he was named to Baseball America's High School All-America team. He was then drafted by the Cincinnati Reds in 2001, but chose to attend Vanderbilt, where he earned numerous awards his freshmen and sophomore years. In the Cape League, he compiled a 4-3 record with a 1.20 ERA, and 64 strikeouts and led in innings pitched (67.1) and second in complete games (two). At the end of the season, he was named to the 2003 CCBL All-League Team. Sowers was the sixth pick overall in the 2004 MLB Draft by Cleveland. He spent 2005 in the Indians' farm system and made his Major League debut in 2006. That season, he tossed back-to-back shutouts, where he was the first Indians' rookie since Dick Tidrow in 1972, and finished with a 7-4 record. He spent the next three seasons in the Cleveland organization. He then earned his MBA and returned to baseball with the Baltimore Orioles. Currently, he's an assistant in the Tampa Bay Rays baseball operations department.

Joey Cora, Chatham
Quick on base paths and a keen eye at the plate, Vanderbilt infielder Joey Cora played a stellar season, primarily at second base for 1984 Chatham A's. He won the Pat Sorrenti MVP Award and finished second in hitting (.373), first in stolen bases (28) and best walk-to-strikeout ratio (31/9) in the league. He played in the CCBL vs.Team USA Olympic game (named MVP) and was named to the final CCBL All-Star Team. He was then drafted by the San Diego Padres and played 11 years for the Padres, White Sox, Mariners and Indians. Overall he compiled a career .277 batting average. and .569 slugging percentage. Following, he became a bench coach for the White Sox and Marlins and is currently third base coach for the Pittsburgh Pirates.

Chuck Sturtevant, Falmouth, Bourne, CCBL
Chuck Sturtevant started his 31st year in the league as Cape Cod Baseball League President. Chuck started in 1987 with the Falmouth Commodores as President and from 1989-2006 served as GM and Treasurer. Chuck then served four years as a Vice President with the league, where he was involved in CCBL All-Star games at Fenway Park. Chuck then moved to Bourne where he was treasurer for two years and GM for four. Following, he succeeded Judy Walden Scarafile as Cape League President after the 2015 season. Aside from his presidential duties, he has been a member of the Cape League's Executive Board, Finance Committee and Hall of Fame Committee. Chuck was the first recipient of the Dick Sullivan Executive of the Year award in 2006 and was named John Wylde General Manager of the Year in 2014-15. Chuck and his wife Rose reside in Mashpee. He is a graduate of Northeastern and is controller at Teledyne Test Services, Marion, Mass.

Tom Yankus, Orleans
Pitcher Tom Yankus's baseball journey began at Choate Rosemary Hall, from which he graduated in 1952, before heading off to Williams, where he played varsity ball and was named to the Williams College All-Time Baseball Team. He then signed with the New York Yankees in 1956 and played minor league ball in Montana, Washington and North Carolina, before serving in Navy. In the Cape League, the left-hander played three seasons for the Orleans Cardinals and distinguished himself with three winning seasons (8-3, 10-1, 9-1), a no-hitter in 1965 Fourth of July game and as a member of three All-Star teams (1963-65). He spent 56 years teaching at Choate and coaching baseball. After his playing career, he served as a CCBL umpire and with Orleans as a field manager (1974-80) and assistant coach. He retired from teaching in 2014, and currently works with the pitching staff at Wesleyan.