News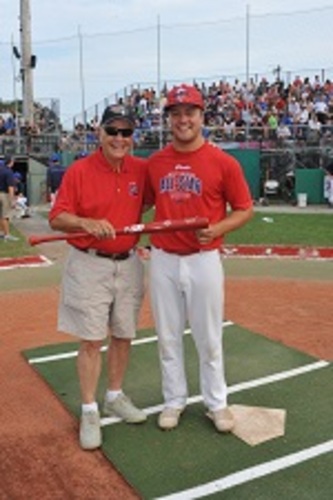 07/23/2017 8:55 AM
Article By:
Stephen Scott (Orleans) was crowned home run champion Saturday afternoon in the 2017 Cape Cod Baseball League Friendly's Home Run Hitting Contest. Batting from the left side, Scott covered the area beyond the right field wall with souvenirs at Clem Spillane Field in Wareham as he belted his way to victory over the other five competitors.

The 2017 Home Run Hitting Contest featured six of the premier sluggers the league has to offer. Representing the East Division was Chandler Taylor (Brewster), Stephen Scott (Orleans) and 2017 all-star selection Romy Gonzalez (Orleans). Competing for the West Division were Jake Anchia (Wareham), Marty Bechina (Falmouth) and 2017 all-star selection Greyson Jenista (Cotuit).

Fans were treated to an abundance of impressive sights as the participants combined for 21 home runs in the first round of the contest. Romy Gonzalez opened the event sending the first swing of the competition over the left field wall. From there, Stephen Scott and Chandler Taylor took over. Together, the lefties sent 16 balls of the right and center field fences throughout the remainder of the contest.

The East Division featured the bulk of the home runs on Saturday. Gonzalez finished with four and Scott and Taylor found themselves in an all-East final round after crushing six and five home runs respectively in round one. However, that isn't to say West batters didn't impress as well.

Jake Anchia led the West with four home runs in round one, all of which into the left field bullpen or stands at his home field in Wareham. All-star selection Jennista connected on only two home runs, but both were moonshots receiving "ooh's" and "aahs" from the excited crowd. Bechina failed to put one over the fence despite some hard hit balls throughout his round.

In the final round Scott went first, roping one ball over the right field wall and two more into center field. Scott hit arguably the longest home run of the day with his second successful pop, in the final round, going well over the 412 sign in center. Chandler Taylor followed Scott's round with a pair of his own home runs to right center. In the end, Taylor was unable to overcome Scott's three home runs as he popped up the final out of the contest.

Scott joins an elite group of hitters to win the Cape League home run hitting contest. Over the years MLB stars Frank Thomas (1988), Todd Helton (1994) and current Red Sox first baseman Mitch Moreland (2006) have all been crowned home run champion at the Cape League All-Star game.
The Home Run Contest was established at the Cape League All-Star game in 1988 and has kicked off the entertainment for the afternoon ever since. The format for the contest consists of two, eight-out rounds in which the two top home run getters, no matter the division, move on to the final round.