News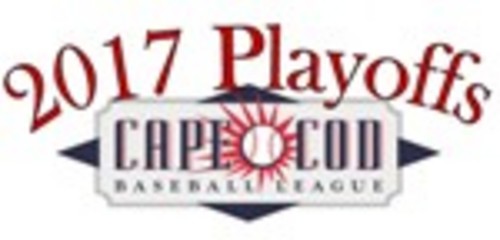 07/30/2017 12:00 PM
Article By: CCBL Public Relations Office
The Eastern Division Playoff teams will be Orleans, Yarmouth Dennis, Brewster, and Chatham. Orleans and Y-D have earned home field advantage for the first round. Who they play and seeding in the division is still to be determined.
In the Western Division; Falmouth has secured home field for the first round. Cotuit, and Bourne have made the playoffs and the fate of Hyannis and Wareham has yet to be determined.
The Cape League Playoffs will begin Saturday August 5th.

How Teams and Homefield are Determind.
I. FIRST ROUND: Eight teams

• Top team in each division hosts the fourth place team within their division in a 2 out of 3 series. Game 1 and Game 3, if necessary are home games for the first place team. • The second place team in each division hosts the third place team within their division in a 2 out of 3 series. Game 1 and Game 3, if necessary are home games for the second place team. • There are no play-in games. In the event of ties, a tiebreaker system will be utilized to determine not only home field advantage, but also who is in the playoffs if there is a tie to determine the participants. record vs. each other – if same, then record vs. divisional opponents – if same, then record vs. other teams in either division with higher point total – if same, then team with higher number of wins during regular season- if same, team with better run differential total - flip a coin

II. SECOND ROUND: Four teams

• First round winners in each division play each other in a 2 out of 3 series. The home team will be determined by the higher point total in the regular season. If those numbers are the same, the same tiebreaker process is used. Games 1 and 3, if necessary, will be home games for the team determined to be the higher seed.

III. CHAMPIONSHIP: Two teams

• To begin the day immediately following the finish of the longest second round playoff series • Between winners of each division playoffs in a 2 out of 3 series. • Hosting duties alternate each game • Top point-getter gains home field advantage (odd-numbered games) • Tie in points for championship home field advantage reverts to the team from the division that won the All-Star game. If the All-Star game was cancelled or ended