News
12/10/2001 2:51 PM
Article By:
for immediate release: 10 December, 2001

CCBL Hall of Fame
Set to Induct Second Class of Enshrinees

Tickets Are Now On Sale

CHATHAM -- Tickets are now on sale for the Second Annual Cape Cod Baseball League Hall of Fame Induction Ceremony Weekend, slated to culminate on Jan. 19, 2002 at the Chatham Bars Inn with seven former Cape League players and officials entering the hall of fame as enshrinees.
On the heels of an impressive, sold-out inaugural induction ceremony last January, this year's CCBL Hall of Fame ceremonies and events again promise to be sold out; an amazing roster of inductees includes New York Yankees third baseman Robin Ventura (Hyannis Mets, 1985), Kansas City Royals lead-off man Chuck Knoblauch (Wareham Gatemen, 1987), Anaheim Angels all-star Darin Erstad (Falmouth Commodores, 1993 & 1994), former Big League star Terry Steinbach (Cotuit Kettleers, 1982), former CCBL Commissioner Fred Ebbett, former Boston Red Sox hurler Cal Burlingame (Cotuit Kettleers) and Tony Plansky (Bourne Braves).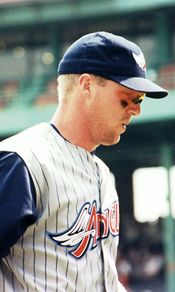 Former Cape League MVP and all-star Darin Erstad (Falmouth '93 & '94) of the Anaheim Angels will be enshrined in the Cape Cod Baseball League Hall of Fame on Jan. 19, 2002. Tickets are now on sale for the event.
Sean Walsh/CCBL File Photo

There are three different functions during the CCBL Hall of Fame weekend, all with limited availability. Tickets will be sold on a first-come, first-served basis with no availability for standing room tickets. Sponsored by Cape Cod Potato Chips, the first Hall of Fame Weekend function will be the Welcoming Reception, slated to be held Friday, Jan. 18, 2002 at Chatham Bars Inn at 7 p.m. Tickets are $25 per person with very limited availability.
The Welcoming Reception will be followed Saturday, Jan. 19, 2002, with the CCBL Hall of Fame Luncheon at 1 p.m. in the Main Dining Room at Chatham Bars Inn. The Induction Ceremony will be held at the Monomoy Meeting House at Chatham Bars Inn immediately following the luncheon.
WBZ-TV4's Scott Wahle will again be the Master of Ceremonies. Tickets for the luncheon and Induction Ceremony are now available at $75 per ticket. Upon completion of the Induction Ceremony, the U.S. Army-sponsored Farewell Reception will be held at Chatham Bars Inn starting at 5 p.m.Tickets for this private reception - a social gathering to congratulate this year's Hall of Fame inductees -- are $25 while supplies last.


Former Cape League batting champion Chuck Knoblauch (Wareham '87) was recently signed by the Kansas City Royals after another solid World Series with the NY Yankees.
Sean Walsh/CCBL 2001

Former Major League all-star catcher Terry Steinbach, who hit .431 for the Cape League batting crown in 1982 and hit a home run in his first-ever Major League at-bat, is seen here in a home plate collision in 1997 with former Baltimore Orioles Iron Man Cal Ripken Jr.

Photo Courtesy the Oakland Athletics
Tickets may be purchased from any Cape Cod Baseball League team, by calling the CCBL Public Relations Department at (508) 385-6260 or by contacting CCBL Hall of Fame Committee chairman Paul Galop at (508) 945-4417.
Last year's inaugural inductees included the late Thurman Munson (Chatham Town Team 1967), Mo Vaughn (Wareham 1987-88), Frank Thomas (Orleans 1988), Arnold Mycock (Cotuit GM 1950-1995), Jeff Reardon (Cotuit 1974-1976), Merrill "Red" Wilson (Yarmouth player, coach and manager 1957-1986), Daniel J. Silva (1st CCBL Commissioner), Lennie Merullo (Barnstable 1935/Chicago Cubs), Mike Flanagan (Falmouth 1972), Eddie Lyons (Mgr. Wareham, Chatham, Hyannis and Falmouth), Dick Bresciani (Publicist 1967-1972) and Bill Enos (Orleans 1936; MLB Scout).