News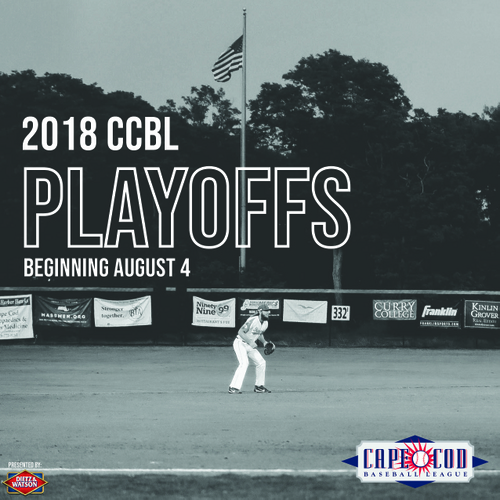 08/02/2018 8:26 PM
Article By: CCBL Public Relations Office
2018 Cape Cod Baseball League Playoffs Presented by Dietz & Watson
TOTAL SEEDINGS (throughout playoffs)

1. Yarmouth-Dennis Red Sox, 59 points
2. Wareham Gatemen, 52 points
3. Hyannis Harbor Hawks, 51 points
4. Falmouth Commodores, 49 points
5. Cotuit Kettleers, 48 points
6. Chatham Anglers, 47 points
7. Harwich Mariners, 38 points
8. Brewster Whitecaps, 30 points

EASTERN DIVISION - Round 1 - Best 2 out of 3
UPDATED Saturday August 4th due to rainouts,

Sunday, August 5, 2018
Brewster at Yarmouth-Dennis at 4PM
Harwich at Chatham at 7 PM

Monday, August 6, 2018
Yarmouth-Dennis at Brewster at 4 PM
Chatham at Harwich at 6:30 PM

Tuesday, August 7, 2018
Brewster at Yarmouth-Dennis at 4PM, if necessary
Harwich at Chatham at 7 PM, if necessary


WESTERN DIVISION - Round 1 - Best 2 out of 3

Sunday, August 5, 2018
Cotuit at Wareham at 6:30 PM
Falmouth at Hyannis at 6 PM - Postponed due to field conditions

Monday, August 6, 2018
Wareham at Cotuit at 3 PM
Falmouth at Hyannis at 6 PM

Tuesday, August 7, 2018
Cotuit at Wareham at 6:30 PM, if necessary
Hyannis at Falmouth at 6 PM
Wednesday, August 8, 2018
Falmouth at Hyannis at 6 PM, if necessary


The second round of the playoffs will be announced when the teams are set. All second-round games must start on the same day.



Each round is best 2 out of 3, so let's break down the first round matchups.

East Division

Yarmouth-Dennis (1) vs Brewster (8)

The first game of the series is set for Saturday, August 4th at 4 PM. The series between these teams sits at 2-2-2, all even for each squad. Although it is the 1 vs 8 seed, anything can happen in the CCBL, and it should be a good matchup. Y-D has some good offensive tools in Noah Campbell and Andrew Dachsbach. On the other side, Conor Grammes has been a workhorse for Brewster, boasting seven homers on the year. Game two will take place in Brewster at 4 PM on Sunday the 5th, and if game three is necessary, a 4 PM start is scheduled at Y-D Monday the 6th.

Chatham (6) vs Harwich (7)

The first game of this series will also take place on August 4th, first pitch however is scheduled for 7 PM. Chatham has yet to lose to Harwich this year, going 6-0 in the regular season. It should be interesting, though, as it is a 6 vs 7 seed matchup. The Anglers have big starter Alek Manoah who has the most strikeouts in the entire league at 48 this season. It should be fun to see him go up against Mariners Tanner Morris and Andre Lipcius who have played big roles in their offense. Game two will be Sunday the 5th in Harwich for a 5:30 PM start, and if game three is necessary, they will head back to Chatham for a 7 PM start on Monday, August 6th.

West Division

Wareham (2) vs Cotuit (5)

This matchup in the regular season ended in a tie at 2-2-2. Game on will be Saturday in Wareham for a 6:30 PM start. Both teams boast a few explosive offensive players in their lineups, including Wareham's Jeremy Ydens and Austin Shenton, and Cotuit's Jonathan Robertson and Michael Toglia. Game two will take us to Cotuit for a 3 PM start on Sunday, and if necessary, game three will go back to wareham for another 6:30 PM start.

Falmouth (4) vs Hyannis (3)

Falmouth finished the season with the upper hand against Hyannis holding a record of 4-2 against the Hawks. Two of arguably the best hitters in the Cape League this season will be facing each other in Hyannis' Matthew Barefoot and Falmouth's Kyle Stowers. Both players have been nothing short of amazing at the plate this year. Game one is scheduled for Saturday at 6 PM in Hyannis, followed by a Sunday start in Falmouth at 5:30 PM. If game three is necessary, we will head back to Hyannis for a 6 PM first pitch.