News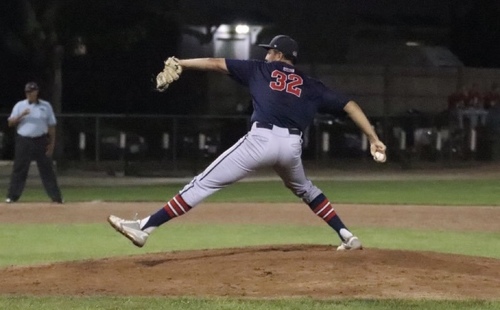 08/02/2019 8:53 PM
Article By: Joseph Barrett
The beginning of August marks a special time on Cape Cod, the start of the Cape League playoffs. Eight teams began their efforts last night, and will continue to do so until the championship is in their grasp.

As Harwich traveled to Chatham in game number one of their respective series, it was the pitching that propelled the Mariners to their 1-0 victory.

The fans were present and accounted for at Veterans field, but Harwich's Connor McCullough had plans that may have aimed to disappoint the Chatham faithful. The Kansas native was tasked with shutting down the opposing Anglers, and the 19 year old delivered with ease.

The righty pitched six innings, and the numbers piled up as a result. McCullough walked just three batters while striking out five, all in his no-hit effort.

The marksman's all-star teammate replaced him in the seventh inning, that being Joe Boyle. The righty proudly represents Notre Dame during the collegiate season, and it appears the luck of the irish has lingered with him on Cape Cod.

Boyle faced nine total Anglers in his playoff debut. Of those players, six of them were victims of the almighty strikeout, and the save was his.

The combination of McCullough and Boyle kicked off the 2019 playoffs in impressive fashion, as their eye-opening performance surely turned heads throughout Veterans field.

With all of the speed, timing, and patience exemplified by the duo, the offense on the club still needed to deliver in some sort of fashion. Both lineups were of course quiet, but Hal Hughes provided a crucial spark for his team.

The LSU representative was a perfect three for three on the night, and can proudly say he has a perfect average in the 2019 playoffs.

The lone RBI of the game belonged to Chris Galland. The Boston College speedster showed off his patience at the plate, as he supplied the winning run for his club in the sixth inning.

Of the 1,865 fans in attendance, not many would have suspected the near flawless pitching display put on by McCullough and Boyle. It was a win for the Mariners on the road, and the team aims to defend Whitehouse field tonight at 5:30 p.m.